Gahner receives JRMC Legend Award
The award is voted on by employees.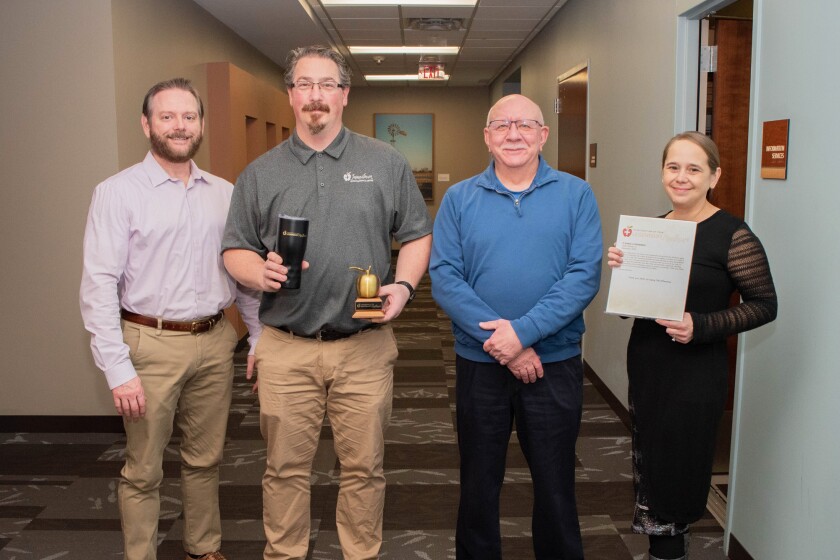 We are part of The Trust Project.
JAMESTOWN — Jamestown Regional Medical Center recently announced Mitch Gahner as its most recent Legend Award recipient.
The Legend Award is the most prestigious distinction for a JRMC employee. The award recognizes employees who exceed expectations and are the difference in the lives of those they serve.
JRMC's Plant Secretary Brianna Mayhair nominated Gahner, who serves as the hospital's help desk technician.
"Mitch is legendary in so many ways. He is quick to assist in any problem, no matter how small or minor, with a positive attitude. IT does not get the credit it is due," Mayhair wrote.
Gahner joined the JRMC team in 2018.
"Mitch is so deserving of this award," said Bev Fiferlick, JRMC chief financial officer. "IT teams work tirelessly behind
the scenes, making sure everything works for all of our employees and patients at JRMC."
Jeff Gunkel, IT manager, said Gahner's work ensures JRMC can continue offering "the very best" in patient care.
Each month, JRMC employees cast nominations for the next Legend Award winner. Once nominations are in, JRMC's 350 employees vote on their favorite nominees and their stories.
The purpose of the Legend Award is to inspire, motivate and capture the moments that define JRMC. The goal is to help employees and volunteers connect to the sense of purpose that brought them to the organization. This award is for employees who've made extreme efforts to benefit their patients and colleagues.
"The nominations inspire staff members to continually be the best, exceed expectations and make the difference in the lives of those we serve," said Mike Delfs, JRMC president and CEO. "Mitch is a perfect recipient for this award. He is prompt
and pleasant whenever our teams need support. His help ensures that JRMC can continue to offer legendary care to the
community."
The Legend Award first began in 2012. Since then, more than 40 individuals have been named Legends and more than
120 employees were nominated.
To read the stories of more Legends, visit jrmcnd.com .