New Jamestown business includes golf simulators, ax-throwing bays
Pit Stop Sports in Jamestown is open from 10 a.m to 10 p.m. Monday through Sunday and serves food and beverages, including beer and wine.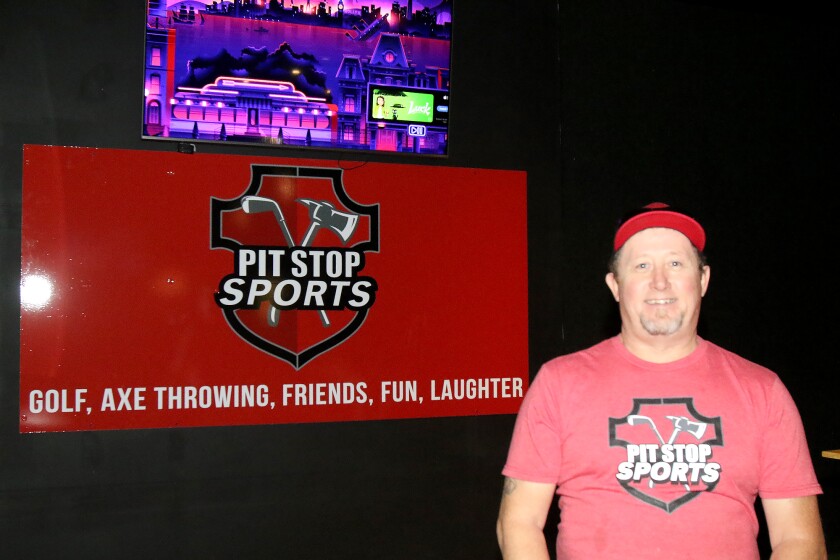 We are part of The Trust Project.
JAMESTOWN – Golf and ax-throwing enthusiasts now have an indoor location in Jamestown to perfect their hobbies.
Pit Stop Sports recently opened at 117 4th St. NW. It is in the same building as Pit Stop Express Lube.
Pit Stop Sports includes four golf simulator bays and four ax-throwing stations. The business will also serve food – pizzas and fried foods – alcoholic beverages such as beer and wine and soft drinks.
Owner Mike Hansen said the idea to turn part of the building into Pit Stop Sports originated with installing just one golf bay instead of having multiple bays. He said the building is huge and he wasn't using a portion of the building for the Pits Stop Express Lube business.
"It was free. I already paid for the building and pay to heat it," he said. "It was like a bonus."
Kim Cellmer, the golf simulator manager, said local golf courses are downloaded on the software for the simulators that golfers can play. He said golf courses in Jamestown, Carrington and Gackle among others have been downloaded.
"You can come play at the Jamestown Country Club all winter," he said.
Hansen said golfers can choose from more than 20,000 golf courses to play.
The Uneekor simulators give readings on launch angle, swing path, back spin, side spin, lie angle of the club, distance and carry, club speed and ball speed. Cellmer said small removable stickers can be placed on the club head that give you more data about a golfer's ball striking.
One bay includes two extra cameras that record a golfer's swing from a couple of different angles.
"You can email it to yourself and go home and watch it on your TV or phone," Cellmer said. "If you are working on 7 iron and want to get that dialed in, you can take it home and watch it."
Golfers can bring their own clubs and balls.
The plan is to have a short summer league for now and to hold tournaments and leagues starting in the fall and going through the winter. Cellmer said Pit Stop Sports might hold long drive contests for seniors and kids and putting and closest-to-the-pin challenges.
"Just different things to keep people excited," he said.
The simulator also allows golfers to practice from anywhere such as on the putting green. Golfers can practice putts uphill or downhill putts that break either to the left or right.
Cellmer also said he might try to line up demo days where golfers can try out equipment from Titleist, Taylormade and Ping.
The ax-throwing bays are unique in that the targets are projected onto pieces of wood rather than being painted, Hansen said. Ax throwers can choose from games such as duck hunter, zombie hunters, tic-tac-toe, lineup four and standard target among others.
New games on the software may also be added by the game developer.
Ax-throwing participants will need to sign an ax-throwing agreement and liability waiver before they can participate. Participants will not be allowed to wear open-toed shoes.
The cost is $45 per hour on each bay for ax throwing and golf. Up to four people for ax throwing or golf is ideal for each bay.
Pit Stop Sports is open from 10 a.m. to 10 p.m. seven days a week.