Wilhelm Chevrolet Buick GMC gearing up for electric vehicles
Wilhelm Chevrolet Buick GMC is involved in the community and hosts the annual Don Wilhelm Car Show and 5K Run/Walk for Huntington's disease.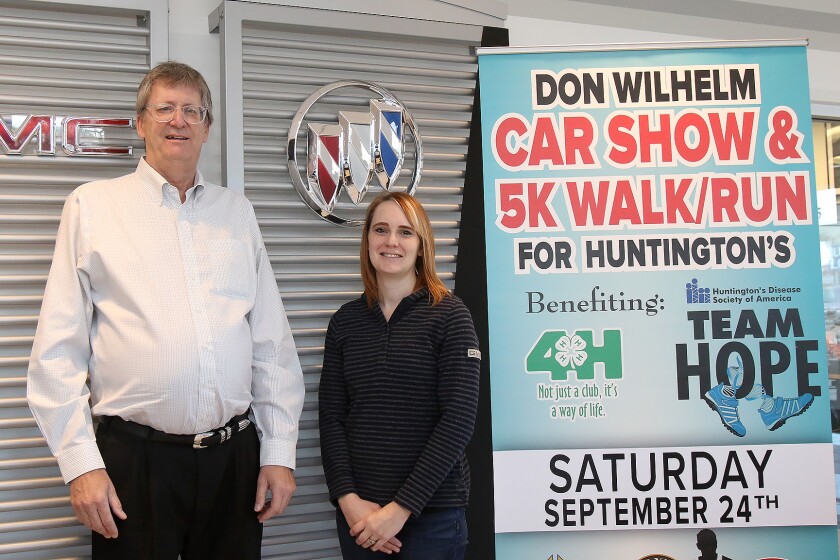 We are part of The Trust Project.
Editor's note: This story and accompanying photo are advertorial content that is part of the 2022 "Jamestown Has It" special edition of The Jamestown Sun. The annual Progress Edition features stories on unique experiences in small business, dining and culture in Jamestown.
Wilhelm Chevrolet Buick GMC in Jamestown is in the process of finding out what it needs to do with its infrastructure to be able to charge and work on electric vehicles at its dealership, according to Tim Schulz, new car manager.
"It's just what is going to fit our process in our building here that we need to do like charging stations for the service department for them to charge vehicles they are working on," he said.
He said exterior charging stations will be needed and certain hoists might be needed because the vehicle batteries will be the whole undercarriage of the vehicle.
He said more electric vehicles will be coming out in the future and include the GMC Hummer EV, Chevrolet Silverado EV, Chevrolet Blazer EV and the Chevrolet Equinox EV.
"It is moving faster than you think," said Rod Wilhelm, co-owner of Wilhelm Chevrolet Buick GMC.
Schulz said General Motors invested $35 billion toward electric vehicles. He said there are already more than 110,000 Chevrolet Silverado EVs that have been reserved since January.
Shorter supply of microchips
Wilhelm said the Russia-Ukraine war could cause a shorter supply of microchips for the next couple of years. He said Ukraine is the source of 70% of the world's output of neon, which is the critical gas that runs the lasers needed to manufacture the semiconductor chips.
Vehicles have microchips that control window motors, navigation systems and more.
Doing business a different way
Wilhelm said the staff is working hard and business has been good. He said the strategy for sales is different even for salesmen.
He said the customer base and market have grown drastically. He said everything is now about using the internet and social media to list vehicles.
Wilhelm said the dealership used to sell high-ticket vehicles all over the country but now used vehicles are being sold everywhere. He also said people who trade their vehicles in are getting more money for them.
"We are still buying people's vehicles because we need them," he said.
Wilhelm said customers should sign up for the My GM Rewards Card, which changed from Capital One to Goldman Sachs.
Stephanie Johnson, marketing and advertising coordinator, said cardholders receive four points for every $1 spent using the card anywhere and seven points for every $1 spent on paid GM certified service, genuine parts and ACDelco Parts, eligible accessories and most OnStar and connected services plans.
Cardholders can redeem the unlimited points toward an eligible GM vehicle purchase or lease or pay for oil changes and accessories, she said.
Wilhelm is also involved in the community and hosts the annual Don Wilhelm Car Show & 5K Run/Walk for Huntington's Disease. This year's 11th annual event will be held Sept. 24.
Last year's event, which is held in memory of Dan Wilhelm who died of Huntington's disease and is the brother of Rod and Jeff Wilhelm and Lisa Wilhelm-Lindberg, raised $26,000 for the Huntington's Disease Society of America in Grand Forks, said Steve "Skovy" Jaskoviak, business manager. He said the annual event has raised a total of $126,000 over the years.
Last year, the car show drew about 200 vehicles. He said one reason many nice vehicles are at the car show is because trophies and cash are awarded for certain categories.
"A lot of people keep the plaques and give the cash back to Huntington's (Disease Society of America) so Huntington's makes more money there too," Jaskoviak said.
Raffle tickets for the event are $20 each with only 1,500 available. A 1984 Chevrolet El Camino will be the grand prize. Second place will receive a 1986 Corvette Indy 500 Go Kart, third place will receive $500, and fourth place will get $300.
Johnson said a committee is meeting and planning the 5K run/walk. She said one change that will happen is participants can preregister for the 5K run/walk the day before and pick up a T-shirt.
"We had a couple businesses in town that participated and kind of was a small sponsor of the 5K, so we are looking into that again this year," she said. "Cornerstone Nutrition, Plantation Coffee Bar and I WILL Fitness & Training either gave a coupon out or they had a table and served drinks. We are going to see if we can get some more people involved in that this year."
The dealership is also a sponsor of area golf tournaments, Jimmie Booster Club, Spiritwood Lake Jam and Miss Rodeo of North Dakota. The business is a supporter of Toys for Tots and other various local events and clubs and does the Fill the Silverado Campaign for James River Humane Society.
The business also offers benefits and perks to employees such as health and dental insurance, health savings account, life insurance, vacation, retirement, training, employee discounts, encouragement and support for community involvement and advancement opportunities.