Jamestown High School theater class to present 'Newsies: The Broadway Musical'
The production will be June 24-25 at Jamestown High School.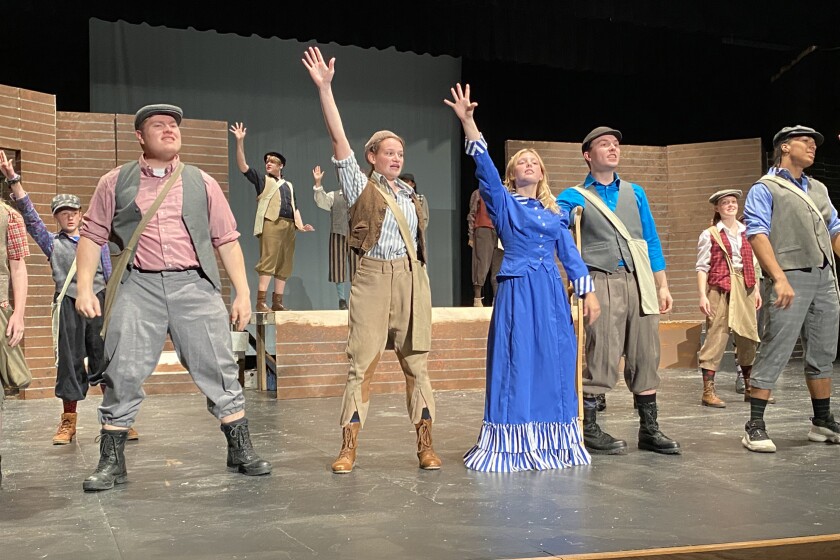 The Jamestown High School Advanced Theatre Arts will present "Newsies: The Broadway Musical," at 7 p.m. Thursday and Friday, June 24-25, in the Jamestown High School Theater.
Michael McIntyre, who is co-director with Cheryl McIntyre, says the musical is a stage version based on the movie made by Disney in the 1990s, offering drama and comedy plus "rousing" chorus numbers.
"I think people are going to really, really be moved and excited by the show," McIntyre said.
The musical, inspired by an actual newsboy strike in 1899, tells the story of Jack Kelly, a newsie (paperboy) who leads other newsies and lives on the streets in New York City. When Joseph Pulitzer decides to raise prices, making it harder for the newsies, Jack stirs up the newsboys to strike.
"The youngsters form a union in order to try to be heard about what their workers' rights ought to be," McIntyre said.
Paris Ndikum has the role of Jack. This is his sixth production. He said he enjoys the feeling after successfully performing in a show.
I'd say there's probably no greater feeling than that," he said. "Weeks of hard work all into one or two performances."
Jack's love interest, Katherine, played by Anja McDermid, helps the boys move along toward a victory, McDermid said.
But not all the newsboys are living on the streets. Ian Weis' character, Davey, does not.
"I'm the only one of the newsies that has parents, other than my brother Les," Weis said. "And I'm a newsboy because my father got into an accident and so we're working for food for our family. And I team up with Jack and I'm more the brains of the operation."
More than 40 people, including JHS and Jamestown Middle School students, adults and JHS alumni, have roles in the production or are part of the orchestra, McIntyre said.
"We're hoping that people are hungry again for getting back together for live entertainment," he said, "because ... nothing beats the excitement of the exchange between live performers and a live audience. And with a show especially like 'Newsies', from the time that it had its original New York run to when it's usually performed anywhere else, it's the kind of thing that really gets an audience stirred and oftentimes cheering and yelling and so forth."
The JHS Advanced Theatre Arts class is a month-long class offered for school credit that is now in its 26th year, McIntyre said.
"The idea with the class always is to not only just have them experience production from the standpoint of the performer but to try to also get everybody participating in the technical elements … helping with some of the construction and painting," he said. That gives students a "multi-faceted approach to production."
Michael McIntyre is in charge of scenic design and lighting design. Cheryl McIntyre is in charge of music direction, choreography and directs the orchestra.
Tickets are $7 for adults and $5 for students and are available at the door.
-----
What: "Newsies: The Broadway Musical"
When: 7 p.m. Thursday, June 24, and Friday, June 25
Where: Jamestown High School Theater
Admission: $7 adults, $5 students