Do you know these men? Another European cemetery needs your help to find photos of fallen WWII soldiers
For Memorial Day, an American military cemetery in Cambridge wants to honor the Americans (including North Dakotans and Minnesotans) who are buried there with photos beside their grave markers. Maybe you know one of these men.
CAMBRIDGE, U.K. — North Dakotans and Minnesotans proved to be worthy amateur sleuths a couple of years ago in trying to track down photos of fallen WWII American soldiers. Now you're being asked to do it again.
The Cambridge American Cemetery in England needs your help in finding photos to go with thousands of American graves on their land.
According to the American Battle Monuments Commission, "The (Cambridge) cemetery contains the remains of 3,811 of our war dead; 5,127 names are recorded on the Walls of the Missing. Rosettes mark the names of those since recovered and identified. Most died in the Battle of the Atlantic or in the strategic air bombardment of northwest Europe."
To mark Memorial Day, those who run the cemetery are hoping to post the photos beside the grave markers and Walls of the Missing. They need your help to find images of these men.
Can you help? If you have any information about any of these men, email me at tracy.briggs@forumcomm.com. I have additional information about some of them if you need more clues.
Listen to the Podcast here:
Following Margraten's lead
You might remember a couple of years ago, the Netherlands American Cemetery in Margraten attempted a similar mission — to further honor American soldiers who died fighting the Nazis there. The Dutch went so far as to "adopt" graves of the soldiers buried so far from American soil. For more than 70 years, Dutch families have adopted soldiers and taken care of their grave markers as if they were family.
As Margraten set out to hold a 75th anniversary celebration in honor of Dutch liberation in 2019 and 2020, cemetery volunteers reached out to Americans to search for photos to put alongside their gravestones.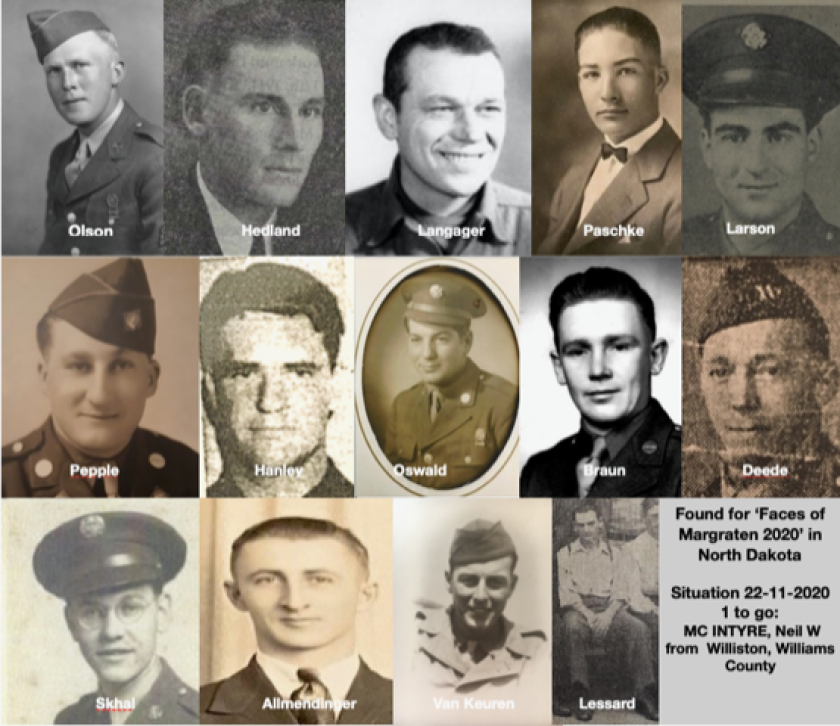 And boy did American genealogy nuts in North Dakota and Minnesota come through! Of the dozens of men on the list, there are now only seven Minnesotans buried at Margraten without photos and one North Dakotan. See the bottom of this story for the names still in need of photos at graves in the Netherlands. Many have been the subjects of extensive searches, but hope is still alive that someone out there might be able to locate a photo.
But now, a closer look at the names in need of photos just released from the Cambridge cemetery.
American soldiers buried at Cambridge still in need of photos:
Minnesota:

Henry Edmund Allen, Douglas County
Arvin Leroy Anderson, Battle Lake, Otter Tail County
Jack F. Anderson, no county listed
Floyd Victor Asleson, Freeborn County
Cyril Edward Curb, Koochiching County
James Walter Dobie, Le Sueur County
Bernard Douvier, Stearns County
Donald E. Ellson, no county listed
Henry E. Forslin, Meeker County
Alex J. Gadding, no county listed
Francis Bewick Glass, Park Rapids, Hubbard County
Estel E. Gosse, no county listed
Robert J. Hayes, no county listed
Edward Eugene Helgren (brother lived at 2701 Cleveland St., Minneapolis)
Earl William Holliday, 2822 Lyndale, Minneapolis, Hennepin County
Charles F. Jackson, Winona County
Jerome Nels Jacobson, Hennepin County
Charles Oswald Jahn, Ramsey County
Earl J. Jaskowiak, Silver Lake, McLeod County
Henry Norman Jelle, Beltrami County
Richard H. Jensen, no county listed
Virgil Frederick Jenzen, Brown County
Charles A. Johnson, Hennepin County
John J. Jones, no county listed
Harold (Harry) R. Just, no county listed
Kenneth Sergius Kaufenberg, St. Paul, Ramsey County
William H. Kelly, no county listed
Roy E. Kerr, no county listed
John Merritt Kiefer, Sparta, Monroe County, Wisconsin
Robert J. Larson, Crookston, Polk County
Harding William Martenson, (mother's address was in Long Prairie)
Lawrence Jacob Mayer, Minneapolis, Hennepin County
James Edwin McLeod, Boone County, Iowa
Reid Quentin Merry, Laurens, Pocahontas County, Iowa
Benjamin Petitt Joseph Myers, Minneapolis, Hennepin County
Warren George Oaks, Graceville, Big Stone County
John Theodore Pehrson, Minnesota City, Winona County
Elmer J. Potvin, Crow Wing, Crow Wing County
William F. J. Reynolds, no county listed
Nicolas Paul Rich, Duluth, St. Louis County
Edward F. Ryan, no county listed
Kurt Frederick Schellhas (lived in Winona in 1940)
Jerome Walter Schuck (parents lived in Faribault, Rice County)
Henry Junior Schuman or Henry Schuman, Jr, no county listed
LaVern A. Senn, Hokah, Houston County
Kenneth J. Smith, no county listed
William Herbert Spicer, no county listed
Joseph Anthony Stilinovich, Hibbing, St. Louis County
John A. Strouse, St. Paul, Ramsey County
Alphonse J. Terwey, Melrose, Stearns County
Robert Estis Wallace, no county listed
Robert Dean Wolf, Owatonna, Steele County
Leighton K. Zeiner, Dundee or Kinbrae, MN
North Dakota

Gamaliel Theodore Arason, Mountain, Pembina County
Gottlieb G. Breitmeyer, Ashley, McIntosh County
Ralph T. Cameron, Grand Forks County
Christ J. Dauenhauer, Mott, Hettinger County
Camille Isidore DuPuis, Thorn, Pierce County
Loris Merlin Espeseth, Traill County (photo search underway)
Obert Leslie Halseth, Devils Lake, Ramsey County
Gust Angelo Kandas, Minot, Ward County
John G. Kowalski, Park River, Walsh County
John Mintz, Monango, Dickey County
Abner J. Olson, Southam, Ramsey County
Vincent Vernon Osadchy, Rushville Township, McLean County
Warren D. Paton, Dickey, LaMoure County
Orville D. Rhine, Barton, Pierce County
Earl R. Robinson, Mohall, Renville County
Larus T. Snydal, Gardar, Pembina County
Harlen A. Waslien, Traill County (photo search underway)
*For some reason, a handful of men on this list are from Iowa and Wisconsin.
Photos needed for people at the Netherlands Cemetery in Margraten:
Minnesota:

John Detlefson, Brown County
Herbert W. Ellerbusch, Rice County
Roy W. Evans, Crow Wing County
Marvin E. Kayute, St. Louis County
Lloyd M. Peterson, St. Louis County
James W. Scott, Faribault County
Isadore Wolstein, Hennepin County
North Dakota:

Neil McIntyre, Williams County
Volunteers have done an exhaustive search for McIntyre in the Williston area, with no luck. His family is also believed to have moved to the Flint, Mich., area.
Again, just email me if you have any photos or information about any of the North Dakota or Minnesota soldiers buried at either Cambridge or Margraten. Wouldn't it be lovely to be able to honor them for their sacrifice?