How to store a winter's vegetable supply
Gardening columnist Don Kinzler shares tips for harvesting and storing garden carrots, potatoes, beets, parsnips, onions, squash and pumpkins.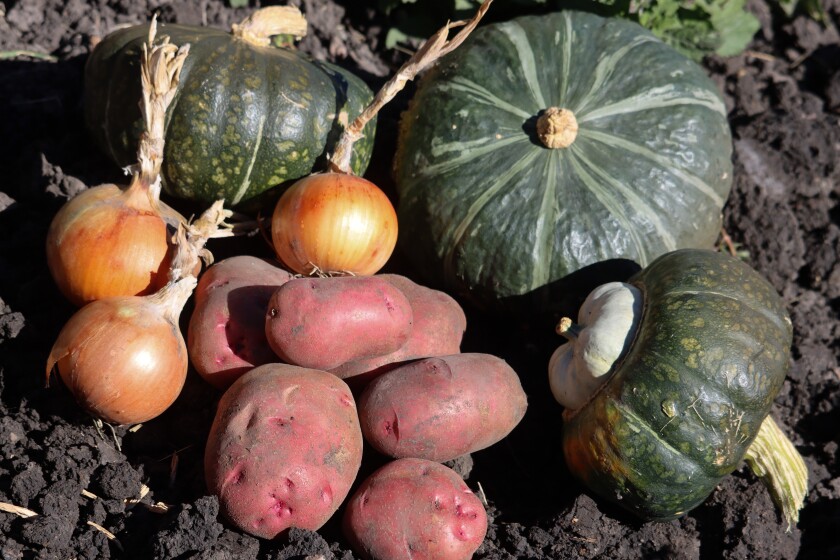 We are part of The Trust Project.
Did you hear about the tree that deserted the forest at the end of autumn? It was absent without leaf.
Fall leaf color is probably autumn's most recognizable sign, but a close second are bright pumpkins, piles of squash, sacks of newly dug potatoes, and all the garden vegetables harvested in fall.
One of gardening's greatest rewards is hauling homegrown vegetables indoors for storage, knowing they'll keep us well-fed during the long winter months. In days gone by, most homes had a root cellar or cool basement area designed for storing a winter's supply of vegetables. Most also had easy outside access for hauling directly to the basement such as through slanted cellar doors.
Today's houses are different, but a quick online search gives ideas for modern basement vegetable storage rooms, which can even be quite small. Cool temperatures are easier to achieve if the room is located along an outside wall. Space can be utilized under basement stairs or corners of a utility room partitioned off from a warm basement. A second refrigerator works well for storing carrots and parsnips.
Following are tips for harvesting and storing vegetables.
Carrots: Although they can be enjoyed all summer whenever they're large enough to eat, for winter storage carrots are best left in the ground as long as possible. Cool fall temperatures promote sugar production, making carrots sweeter. Harvest before the ground freezes.
After digging, cut tops to about ½ to 1 inch of green stem. Carrots store better unwashed with excess soil gently rubbed away. In ideal storage of 35 degrees F. and high humidity, carrots will store for eight months or longer. Refrigerators work well, with carrots packed in plastic bags. In root cellars or cool basement rooms, carrots can be packed in tubs of sand, or enclosed in plastic to maintain humidity.
Potatoes: Harvest when plants are dead and potato skins are well-set and not easily scuffed. After digging, cure potatoes at 50 to 60 degrees F. for two or three weeks. Potatoes keep better unwashed by simply rubbing off excess soil. Store for the winter at 40 degrees F. with high humidity in total darkness, because light causes tubers to turn green, making them inedible. Refrigerators are usually too cool for best potato storage.
Beets: Handle like carrots, leaving an inch of tops intact. A refrigerator's temperature is fine.
Parsnips: Delay digging until after cool temperatures and light frost, which makes them sweeter. Store like carrots and beets in humid-moist conditions at 35 degrees.
Onions: Dig when tops are brown, withered and dry. If onions are left in the ground too long, there's danger of rot or growth restarting. Spread the bulbs in shallow containers in a warm, dry, airy location such as the garage for two to four weeks before final storage. Lightly rub away excess dry tops and loose skin that's falling off, but don't peel away dry skin that's firmly attached. Onions will store about four months at 40 degrees F. in dry, airy storage like mesh bags or shallow open trays.
Squash and pumpkins: The skin of fully mature fruit loses its glossy appearance, becoming dull and hard, not easily punctured with a thumbnail. Harvest when foliage has died naturally or after a light frost. Most winter-type squash should be cured for a month in a warm, 70-degree garage, which improves the flavor, sweetness and quality. Then store at 50 to 55 degrees.
In this week's Fielding Questions, Don Kinzler offers advice for caring for a weeping fig, tips for thinning apples, and tells readers it's not too late to wrap trees to prevent sunscald damage.