Food stand concessionaires prepare for Stutsman County Fair
Gates for the Stutsman County Fair opens at 3 p.m. Wednesday, July 29.
We are part of The Trust Project.
JAMESTOWN – The owner of Cranston Concessions was preparing his food stands for the opening of the Stutsman County Fair that begins Wednesday, June 29, at the Stutsman County Fairgrounds.
Matt Cranston, River Falls, Wisconsin, said he has been at the Stutsman County Fairgrounds for three days setting up his food stands. Cranston has multiple food stands with a variety of items.
Zach Hanson is working to earn the Eagle Scout rank.
His best selling items include flowering onions, french fries, burgers and chicken. Cranston will also make giant tenderloin pork sandwiches.
Cranston has come to the Stutsman County Fair for about 30 years. He said his father used to come all the time and he came when he was a child. As Cranston got older, he brought his daughters to the fair.
"Business is good. It's always good here," he said. "It's always a good, well-run county fair."
Cranston's crew includes his daughters and college and high school girls hockey players. He coaches at a high school in River Falls and his brother coaches hockey at the University of Wisconsin-River Falls.
He said his daughters arrived Tuesday to help and the rest of the crew will arrive Wednesday.
"They are fantastic workers," he said.
His nephew, Pat Cranston, operates the cheese curds stand and Daryl's Dog House, which will sell fresh-squeezed lemonade. He said he goes through about 1,000 pounds of cheese during the fair and several hundred cases of lemons.
"This is a great fair," Pat Cranston said.
Glenda Hockridge, of Fessenden, North Dakota, was busy setting up her food stand that will sell cotton candy, sno cones, popcorn, caramel corn, caramel apples and apple slices.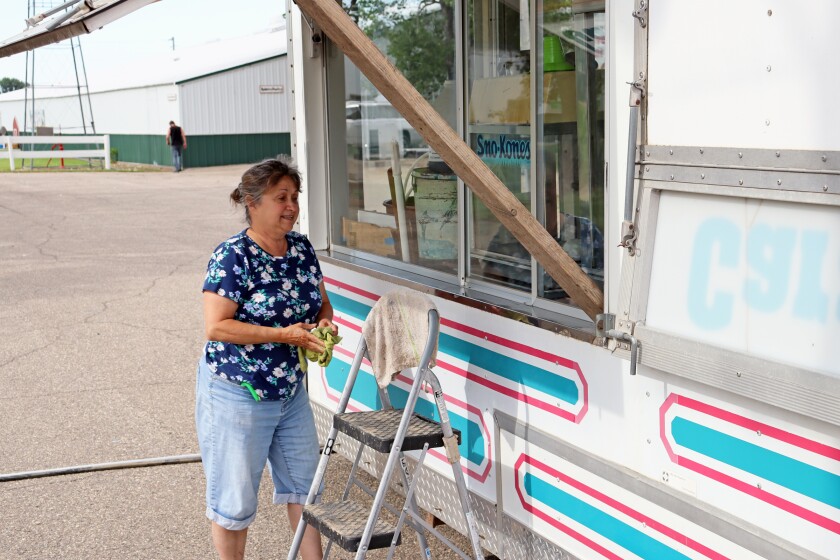 "We are glad to be here," she said. "We always enjoy Jamestown. The people are always pleasant."
She said her husband, Frank, has been traveling to various fairs in the U.S. for about 40 years selling food. She said they sell quality food items for a reasonable price.
—--------------------------------------------------------------------------------
The following is the schedule for Wednesday, June 29, for the Stutsman County Fair:
8 to 10 a.m.: registration – all animals
9 to 10 a.m.: educational event, east side of poultry barn
10 to 11:30 a.m.: weigh-in of all livestock
11:30 a.m. to noon: mandatory livestock exhibitors meeting
1:30 p.m.: educational event
3 p.m.: rabbit show, gates open, food concessions open, midway opens and wristband session begins
6 p.m.: llama/alpaca show
8 p.m.: Devon Worley Band – on stage
10 p.m.: merchant exhibits, home and hobby and 4-H exhibits close
11 p.m.: midway wristband session closes
1 a.m.: fair closes