Giving Store gives children a chance to buy a Christmas gift
Students at Lincoln Elementary School in Jamestown purchased gifts for 25 cents from donated items.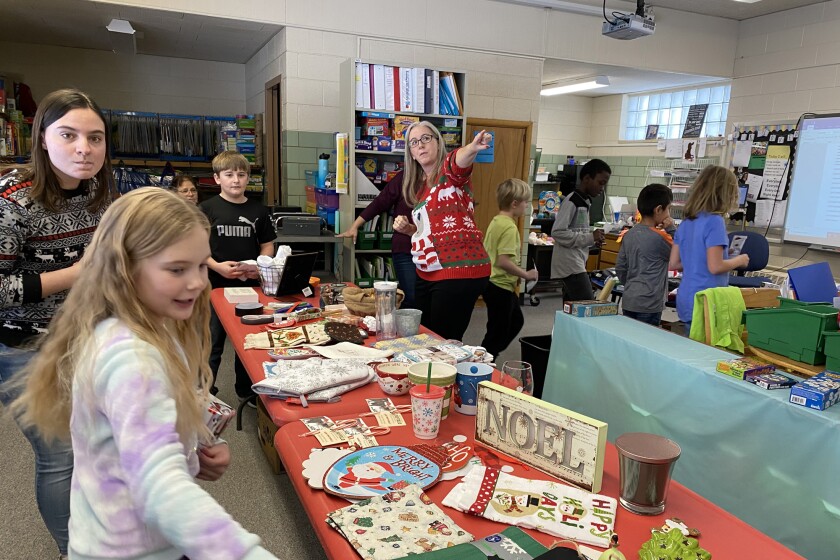 We are part of The Trust Project.
JAMESTOWN – It didn't take long for Captain McConnell to find what he was looking for on Monday, Dec. 19. The third grader was shopping for a Christmas present for his mom at the "Giving Store" at Lincoln Elementary School.
Captain said he managed to find that gift "instantly."
"There was a lot of stuff that I think she would like," he said, but as soon as he saw that special gift, he "loved" it.
Captain purchased his mom's gift with a quarter as did the rest of the Lincoln Elementary students in grades K-5 on Monday. The gifts were wrapped by volunteers after they were purchased, so the students could take them home and place them under their Christmas tree.
"I think it's really nice," Captain said of the store.
Janel Monson, a third grade teacher at Lincoln Elementary, raised the idea of having the Giving Store at the school with Principal Sherry Schmidt.
"It was just something I did as a kid growing up in a small town," Monson said. "There wasn't a lot of options for us to shop and it was something that they did in my community for us …"
She remembers how important it was to her.
"It was just the opportunity to be able to give something to my family that they didn't know about or that was something that I could pick out and it was more personal that way … ," she said.
It's about giving and these kids have great pride in what they did today as far as what they got to choose to do and make somebody's day happy.
Sherry Schmidt, principal, Lincoln Elementary School
Monson said she thought it would be a great idea for the kids at Lincoln Elementary.
"I've been just kind of watching my students and they say, 'I want to give my little sister this,' or, 'I want to give my little sister that,' and … it just kind of reminded me of that as a kid and so I thought what a great idea to be able to give them that opportunity to be able to give to other people," she said.
Parents received a message from the school in November that explained the Giving Store and sought donations for the "Everything's a Quarter Giving Sale." A list of suggested items to donate included things like lotion, candles, body wash, basic tool sets, coffee/cocoa sets, board games and toys.
"As soon as we put that out, like the next day things were showing up to the office," said Kristi Lloyd, interventionist at the school. "It was crazy. Bags upon bags upon bags were coming into the office."
Along with parents, staff and even some businesses donated to the cause, Schmidt said.
"We had a very wide variety of things," Lloyd said.
Lloyd estimated 600 to 700 items were donated along with wrapping paper, gift bags, tissue paper and boxes. Some people donated rolls of quarters to ensure all students would have the money to purchase a gift, she said.
The Giving Store was located in Lloyd's classroom with gifts placed on tables set up in sections for children and adults. Schmidt said the students were instructed to purchase a gift for "somebody that's special to them." They took turns throughout the day on Monday visiting the store to find a special gift for that special someone, spending only a quarter for that one gift.
Schmidt said the Giving Store is about teaching children about giving.
"Thinking of other people and how can you tell somebody that you really care about them," she said. "And what better way to do that is the joy of finding something that you think is going to be really special for that special person and giving it to them. Today we were just able to experience that through a lot of the donations people gave us and watching those kids just really think about who is the special person they wanted to give that to, and it was priceless today."
Because so many items were donated, the students were also able to shop for another gift on Tuesday. Schmidt said she was grateful for the response from those donating to the event, noting that the children would get to shop for two special people in their lives.
"This is what the season is all about," Schmidt said. "It's about giving and these kids have great pride in what they did today as far as what they got to choose to do and make somebody's day happy."
Schmidt said Lincoln Elementary, which has 225 students, adopts a charity every month. During the last week of the month, teachers can pay $1 each day that they wish to wear jeans to work. Students can pay $1 to wear a hat on one day of that week. The money raised each month is donated to a cause, and the donations have gone to a number of charities with their largest being the Running of the Pink, Schmidt said. Students in grades 4-5 make up the student council, which decides where the money will be donated.
Schmidt said the student council decided that the quarters raised by the Everything's a Quarter Giving Sale will be split between this month's charity, Prairie Paws Rescue, and supplies for the Giving Store for next year. Any remaining donated items for this year's Giving Store will be stored to use next year as well.
Schmidt expects the Giving Store to be an annual event.
Captain, meanwhile, was looking forward to shopping again on Tuesday.
"I think I'll instantly find something else," he said. "It is a really nice place."
"We would hope that Representative Dyk would reconsider the damage that his false statements have done," the Williston Basin School District No. 7 said in a released statement.