In case you missed it in The Sun the week of March 27, 2023
Stories from the previous week that appeared on www.jamestownsun.com and in The Jamestown Sun.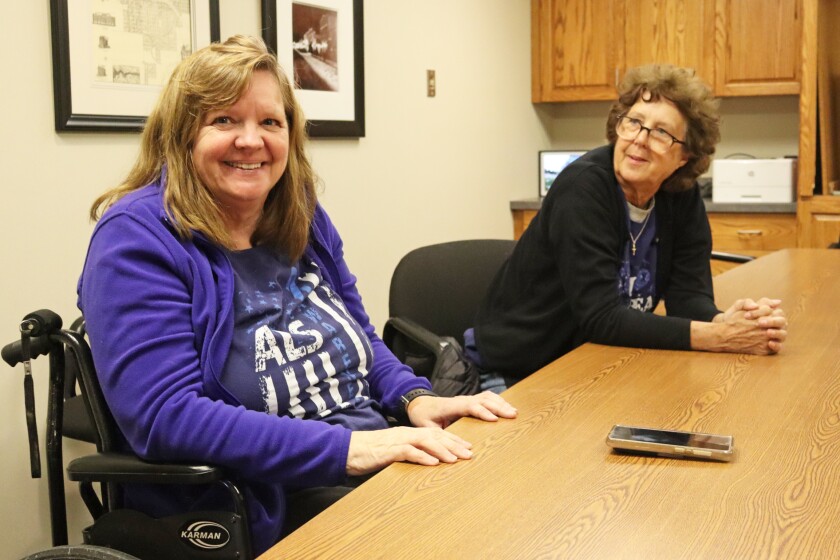 The following stories from this week appeared on www.jamestownsun.com and in The Jamestown Sun.
Woman with ALS spreading awareness about disease
A 61-year-old Spiritwood Lake woman wants others to be aware of amyotrophic lateral sclerosis so more research can be conducted to eventually find a cure for the disease.
Sue Backer was officially diagnosed with limb-onset amyotrophic lateral sclerosis (ALS) on March 15, 2022.
ALS, also known as Lou Gehrig's disease, is a progressive neurodegenerative disease that affects nerve cells in the brain and spinal cord, according to the ALS Association. The most common initial symptom of ALS is a gradual onset of progressive muscle weakness.
Backer said it's important that others know about ALS because there is no cure for it. Backer said individuals can sign up to donate their brain and spinal cord for ALS research. She said researchers need the brains and spinal cords of ALS patients and healthy people.
She also encourages individuals to donate to organizations such as the ALS Association and Team Gleason.
Water elevation in flood storage at Jamestown Reservoir
The water elevation is nearly at the top of Jamestown Reservoir's conservation pool, and the U.S. Army Corps of Engineers started releasing water on Wednesday, March 29, from Jamestown Dam.
The Corps of Engineers is currently releasing 30 cubic feet per second from Jamestown Reservoir. Releases at Pipestem Reservoir are currently at 17 cfs.
Jamestown Reservoir was 0.33 feet into the flood storage at 1,431.33 feet above mean sea level as of Friday morning, March 31, according to the daily reservoir data. As of Thursday, March 30, the reservoir was 99.4% full, and the reservoir flood control pool was at zero.
"It's pretty early, maybe the earliest time of the year in March, to have Jamestown Reservoir in flood storage," said Bob Martin, part-time assistant Pipestem Dam manager for the Corps of Engineers. "It's kind of unusual (that) it just kept climbing a little bit pretty much all winter."
The water elevation at Pipestem Reservoir is at 1,442.25 feet AMSL as of Tuesday, March 28, he said. The conservation pool at Pipestem Reservoir is at 1,442.5 feet AMSL.
Spoofing calls made using JPD's number
The Jamestown Police Department is warning people about a scam where spoofing calls are made using the agency's phone number to solicit money.
A call was made to the Jamestown Police Department at about 3:20 p.m. Wednesday, March 29, from a bank to report a customer had fallen for a scam, according to the log of calls from the Stutsman County Communication Center.
"The female received a call from the phone number 701.252.2414 and was told to go to Walmart and buy gift cards," the call log said.
Lt. Sid Mann, a detective with the Jamestown Police Department, posted a scam alert on the department's Facebook page shortly after that says the caller is asking an individual to go to a bank and withdraw money. The scammer will also send a picture of a set of barcodes to add money to, the Facebook post says.
"They are claiming to be a Law Enforcement Officer and claiming that you owe money or else you will be arrested," the Facebook post says. "Law Enforcement Agencies DO NOT Operate this way. We never solicit money over the phone. We rarely call and advise that people have warrants and to post bond over the phone. The only place that you should take money to pay a fine or post bond is the Stutsman County Correctional Center, Stutsman County Clerk of Court, or Jamestown Municipal Court. These places DO accept online payments but you will be sent to the websites by those entities."
The new part of this type of scam — spoofing — is sending a photo of barcodes to add funds to, Mann said.