Jamestown area experiences frost conditions
The average first 28-degree freeze in Stutsman County is from Oct. 1-10.
We are part of The Trust Project.
JAMESTOWN – The Jamestown area has experienced frost conditions a couple of times this month with the most recent being Tuesday, Sept. 27, according to Alex Edwards, a meteorologist with the National Weather Service in Bismarck.
"As long as the conditions are right, you can see frost on plants with an observed surface temperature above freezing, so that's generally what we look for," Edwards said. "You also want to see light winds. For example, that combination of light wind and cold temperatures will generally be what we look for when we are looking for frost conditions."
The low temperature for Tuesday, Sept. 27, was 33 degrees, according to measurements taken at the North Dakota State Hospital.
Edwards said the National Weather Service won't issue a frost advisory since the Jamestown area possibly already experienced that.
"We are looking now for hard freezes though," he said. "When is the next hard freeze and that would be anything below 32 degrees and especially below 28 degrees for even an hour or two which can damage even the more vulnerable plants."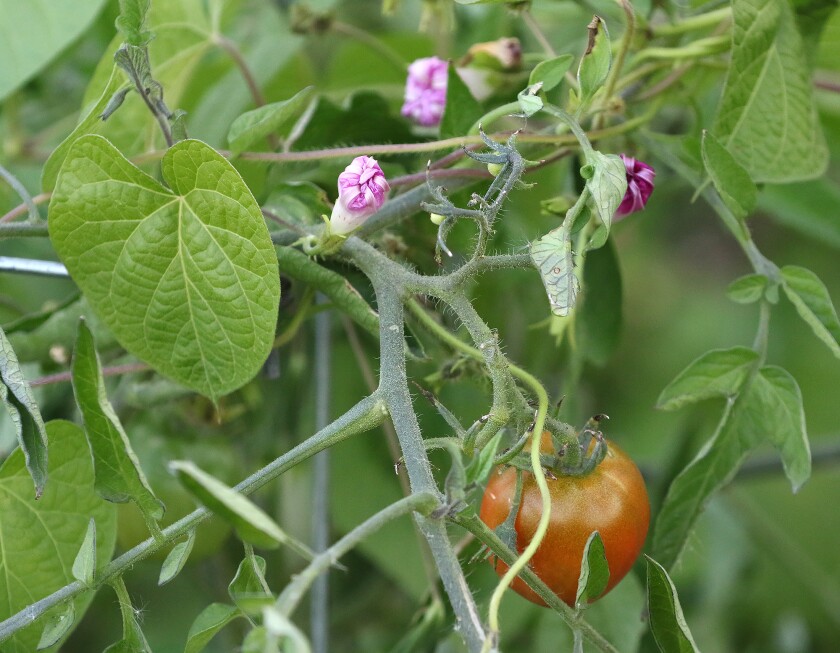 The average first 32-degree freeze in Stutsman County is from Sept. 21-30, according to the Midwestern Regional Climate Center's website. The average first 28-degree freeze in Stutsman County is from Oct. 1-10.
The Farmers' Almanac website states frost/freeze temperatures are categorized by their effect on plants. It says a light freeze happens when temperatures are 29 to 32 degrees, a moderate freeze as 25 to 28 degrees and a severe freeze as 24 degrees and below.
The Farmers' Almanac says a light freeze can kill tender plants with little destructive effect on other vegetation, a moderate freeze can have a widely destructive effect on most vegetation with heavy damage to fruit blossoms and tender and semi-hardy plants, and a severe freeze will damage most plants.
Edwards said near- or above-normal temperatures are favored in the Jamestown area well into the first week of October.
"Going forward the lows generally are in the mid-40s to around 50 through the weekend," he said. "Then we do cool down a little bit next week going back to the low to mid-40s but no real indications of a good hard freeze yet."
A hard-killing frost would affect a very low percentage of corn, soybeans, dry beans and sunflowers, according to Greg Endres, cropping systems specialist with the Carrington Research Extension Center.
Soybeans planted in the last half of June or later could be at risk if a killing frost occurs within the next week, he said. When soybeans begin maturing, the plant would be killed and would experience some minimal loss in yields, he said.
"Yield loss would occur with lighter seeds and with soybeans if the seed itself is green, has evidence of green, well then there can be some market discounts on that one at the market," Endres said. "I don't think there are a lot of soybeans in that state. The soybeans that were, it's not a large percentage of soybeans in our region that were planted that late."
A month ago, there was a lot of concern about corn making maturity, Endres said.
"There is still a concern today but it is primarily for the fields that were planted in June instead of in May," he said.
If the corn just reached the denting stage, a killing frost could cause a yield loss for the crop, he said.
The denting stage is the last official one before maturity, Endres said. During the denting stage, the dry matter deposited into a seed solidifies and in the process, the top of the kernel or crown has an indentation, he said.
"It's basically the final deposition of dry matter is added to the seed and then it is also drying, and then there is a bit of a cavity at the top of the seed and that's what is called denting," he said. "So when the seed is totally solidified, all the dry matter has been deposited and it's hard, then we are at physiological maturity."
He said there could be some concern about a killing frost for the dry bean crop if any was planted in the second half of June or later.