Jessie Veeder to perform at Downtown Arts Market
The Arts Market begins its season on July 7 in downtown Jamestown.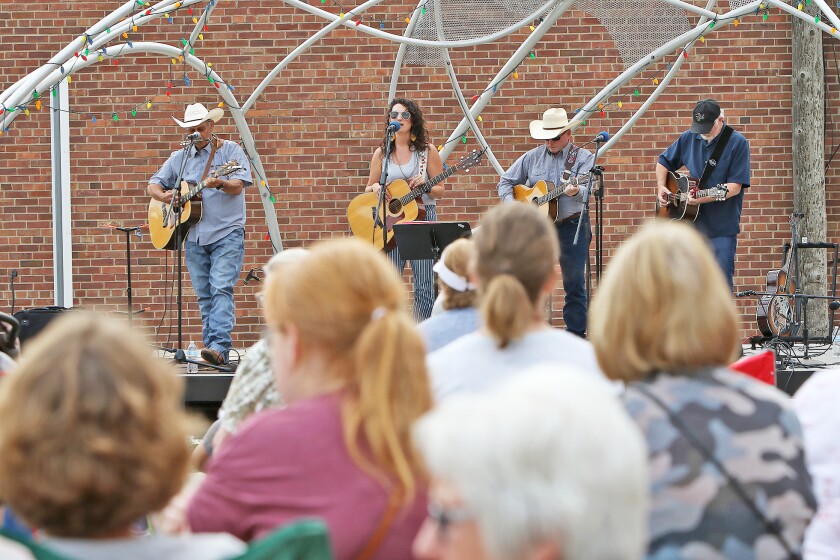 We are part of The Trust Project.
JAMESTOWN – Popular headliner Jessie Veeder kicks off this season's Downtown Arts Market with music and storytelling on Thursday, July 7, in the revitalized Hansen Arts Park.
"We just love Jessie Veeder," said Mindi Schmitz, executive director of The Arts Center. "She's a staple here for the Downtown Arts Market lineup. She loves coming here, we love her."
The Downtown Arts Market will run from 5:30 to 8:30 p.m. on Thursdays in the Arts Park.
Veeder is also the opening act at 5:30 p.m. July 7, Schmitz said, where she will talk about the children's book she wrote, "Prairie Princess" and do a little storytelling.
Veeder's musical performance begins at 6:30 p.m.
"She's a country-folk storytelling woman from western North Dakota who tells stories and sings about her roots …," Schmitz said.
People attending the Downtown Arts Market this week can expect to see the results of a project spearheaded by Ken McDougall to add a sprinkler system, sod and native plants in the Hansen Arts Park. Caution tape was placed around the area to keep people off the project that began late this spring until the grass took to its new location. Schmitz said the tape will be removed for Thursday's event, then put back up for another week.
"It's like a transformation of the park," she said. "We had somebody come in and grade it so it's all even. They installed a sprinkler system in the flowerbeds and in the lawn and it's just remarkable. It's an enhancement to downtown that is great."
A ceremony to mark the project is planned July 21, Schmitz said.
This season's Arts Market
Schmitz said local talent is featured this year along with others from around the state.
"There's a variety of regional artists but we also wanted to highlight the local artists that we have in Jamestown," she said.
Four nights of the market feature local artists Stick Ponies, Flickertail, Sugar Gliders and Old Friends.
"I think that they all kind of bring their own variety of music to the table," Schmitz said.
The regional talent performing includes Matt Hodek and the Dakota Dutchmen, Kicks Dixieland Band and Blue Wailers.
Along with music, the opening acts will range from ZOT art returning in a partnership with the Anne Carlsen Center to storytelling by writers' groups and Top of the Stairs dance studio, Schmitz said.
Schmitz said Arts Market attendees can also expect cultural activities that people can try, such as pottery.
Food vendors will not be at the site.
"We're encouraging attendees to patronize the local downtown businesses, particularly the restaurants," Schmitz said.
Schmitz said new vendors have made inquiries about being at the Downtown Arts Market and noted that they're always looking for more artisan vendors. She thinks the new interest by potential vendors is because the Downtown Arts Market has made a name for itself.
The defensive lineman was an innocent victim when he was shot four times while sitting in a car
"I really think that it's taken hold in the community that people know about it, they prepare for it and look forward to it," Schmitz said. "It's like a staple of the summer now like the (Stutsman County) fair - now they know there's the Downtown Arts Market that starts in July and every Thursday they can count on quality programming and performances."
People attending the Arts Market are encouraged to bring lawn chairs, blankets and umbrellas.
The Arts Center gallery will also be open during the Arts Market. An exhibit by the late artist and architect Jim Falck who had roots in the Jamestown area is on display.
Schmitz said the Arts Market is possible through local financial support.
"We really got a lot of support from the local businesses," she said. "It wasn't a real hard sell to get sponsorships, so that must mean we're doing something right."
----------------------------—————————-
What: Downtown Arts Market
When: Thursdays, beginning July 7 through Sept. 1
Where: Hansen Arts Park, 100 2nd St. SW
Details: 5:30-8:30 p.m., with opening act at 5:30 p.m. and headliner at 6:30 p.m.
Admission: free
—------------------------———————-
Headliners for Downtown Arts Market
(opening act in parenthesis)
July 7: Jessie Veeder (storytelling by Veeder)
July 14: Stick Ponies (storytelling by writers' groups)
July 21: Blue Wailers (music by Mark Urquhart)
July 28: Flickertail (Celtic harpist Debi Rogers)
Aug. 4: Kicks Dixieland Band (ZOT Art, Anne Carlsen Center)
Aug. 11: Heather Rae and The Heather Rae Band (TBD)
Aug. 18: Matt Hodek and the Dakota Dutchmen (TBD)
Aug. 25: Sugar Gliders (Top of the Stairs Dance Studio)
Sept. 1: Old Friends (TBD)