New Jamestown K-9 unit off to training
Briggs is a 1-year-old German Shepherd from Slovakia and is handled by police officer Cory Beckman. The two began a 12-week training course Aug. 8 in Buffalo, Minnesota.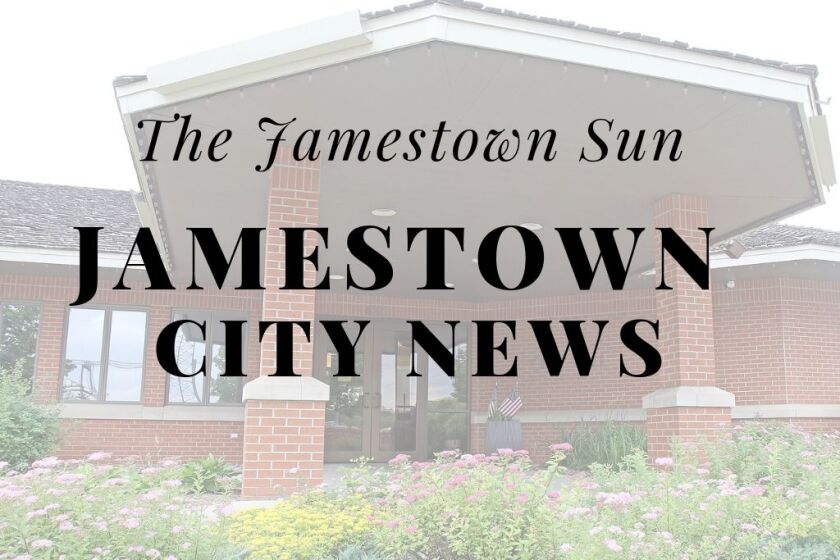 We are part of The Trust Project.
JAMESTOWN – The Jamestown Police Department's new K-9 unit, Briggs, is friendly and very sociable but will be ready to take on law enforcement duties after he completes his training, according to Scott Edinger, Jamestown chief of police.
"I'm excited from the perspective that he is a very social dog that we can have kids petting and hanging out with him," Edinger said. " … He likes to meet everybody in the room every time he walks in somewhere."
The Jamestown Police Department purchased Briggs with grants from the Bureau of Justice Assistance and the American Kennel Club and donations from the community, he said.
"I can't believe the community came up with that amount of money in that short period of time," he said. " … We haven't ever started out with a new K-9 as well as we have with this one."
Briggs is a 1-year-old German Shepherd from Slovakia and is handled by officer Cory Beckman. The two have been partners for over a month, meaning they train, work and live together.
"Cory is going to be a fantastic handler," Edinger said. "He's competent, dedicated and he's got a great work ethic."
Beckman said his main goal when he became a police officer was to handle a K-9 unit. He said he has a love for dogs and has trained a couple for hunting.
The Jamestown City Council met Thursday, July 21, to discuss the 2023 preliminary budget.
He said Briggs is still a puppy that thinks everything in his house is a toy but still knows the two basic commands of sitting and lying down. He said it is better for bonding with Briggs to have a dog that has had zero training.
Beckman and Briggs started a 12-week training course Aug. 8 in Buffalo, Minnesota, where he will be trained and certified in narcotics detection for methamphetamine, cocaine and heroin and apprehension and tracking, Beckman said. After training, Beckman said Briggs can be used to apprehend an individual who is not cooperating or track suspects by sniffing an article of clothing and following and locating them.
Edinger said Briggs will not be certified on detecting marijuana.
"We are choosing not to do that with Briggs because we don't know where the whole legalization is going to end up," he said. "If marijuana isn't legalized he (Briggs) would maybe train up on it later."
Beckman said Briggs should still have his friendly personality once training is complete. A handler in Minot, who completed the same training in Buffalo, told Beckman he didn't see a difference in his dog's personality as it knows the difference between being home and relaxing versus going to work.
"I hope to keep him on that friendly side because another big part of what I'm excited to use him for is the public relations side of things, taking him to meet kids and different people in the community," he said. "Everybody loves dogs."
Briggs is expected to be ready for official police duties in November when he will get a badge with a badge number.
Beckman said Sgt. Andrew Stoen has been a mentor to him about handling a K-9 unit. Stoen is the handler of the Jamestown Police Department's current K-9, Odin.
"He's been a great help, kind of leading me through it," he said. "When I come back, he will help me kind of acclimate to the duties of the K-9 handler."
Once Briggs completes training, he should be able to handle police duties for about eight years depending on his health.
The Police Department plans to retire the Odin, which is 9 years old, after May when his certifications expire. The department got Odin when he was 3.
Edinger said Odin is "super driven" and all about work.
"He has been a very interesting dog to have around," he said. "He's done a great job and he's going to continue for a little while."
Edinger said K-9 units have to retire because they get older and injured much more easily. He said it's not fair to the dogs to make them work until they die.
"There's been a few times just him getting in and out of the car that you can kind of see his age," he said. "We don't want him to end up getting injured before he can retire. We would rather have that happen while he is still a little bit healthy rather than later."
Once Odin is retired, he will stay with Stoen and become a family dog. Edinger said the handlers want to keep their K-9 units because they become part of their families.
—------------------------------------------------------------------------------------------
Donations, grants fund new K-9 unit
The following businesses and individuals donated a total of more than $17,000 for the Jamestown Police Department's new K-9 unit, Briggs. The Jamestown Police Department also received $7,500 in grant funds that was used to purchase Briggs.
Cavendish Farms
Country Acres Veterinary Clinic
Wilhelm Chevrolet Buick GMC
R.M. Stoudt
1883 Stutsman County Courthouse
Johnson Living Trust
Dacotah Bank
Obermiller Nelson Engineering
Titan Machinery
Beth Keller
Nick Bruns Services Inc.
Hillerud Construction Inc.
Sunward Financial/Wedgcor
Bank Forward
Henry and Virginia Corneliussen
Newman Signs
Unison Bank
Valley Plains Equipment