Cause still unknown of fire that burned down grain elevator in Edgeley, North Dakota
Edgeley is a small farming town of about 585 people 40 miles south of Jamestown.
We are part of The Trust Project.
EDGELEY, N.D. — A smoldering pile of ash was all that remained Saturday of a grain elevator here that began burning Friday, Nov. 11.
Nobody was hurt in the blaze, which took firefighters several hours to put out, according to a live Facebook video streaming from "Everything Edgeley USA."
"It's going to be hard on the community," said Mayor Calvin Triepke on Friday night, coughing occasionally because of the nearby smoke.
Edgeley is a small farming town of about 585 people 40 miles south of Jamestown. Triepke said the community was fortunate to get their harvests in before the fire started.
The elevator, owned by CHS Dakota Plains Ag, provides grain marketing, certified seed, seed cleaning and grain drying, according to the city's webpage .
At about noon on Saturday, CHS Dakota Plains Ag posted a statement to the company's Facebook page saying: "Last evening, a fire started within our grain elevator operations at our Edgeley, ND facility. The cause of the fire is not yet known and we are assisting local authorities as requested. No injuries have been reported and all our employees are safe."
Phone calls both late Friday and Saturday to the LaMoure County Sheriff's Department were not returned.
The fire probably started in the office portion of the CHS facility before spreading over into the wooden elevator, Triepke said.
"They're just waiting now for the bigger ones to collapse," Triepke said Friday night from the scene. As he spoke, he remarked that a large chunk of the elevator was starting to fall.
One elevator that burned down contained grain, the other salt and feed, Triepke said.
The city's all-volunteer fire department fought the blaze for several hours.
"We have a good fire department, we really do." Triepke said. He thanked neighboring cities of LaMoure and Kulm for sending their fire departments to assist.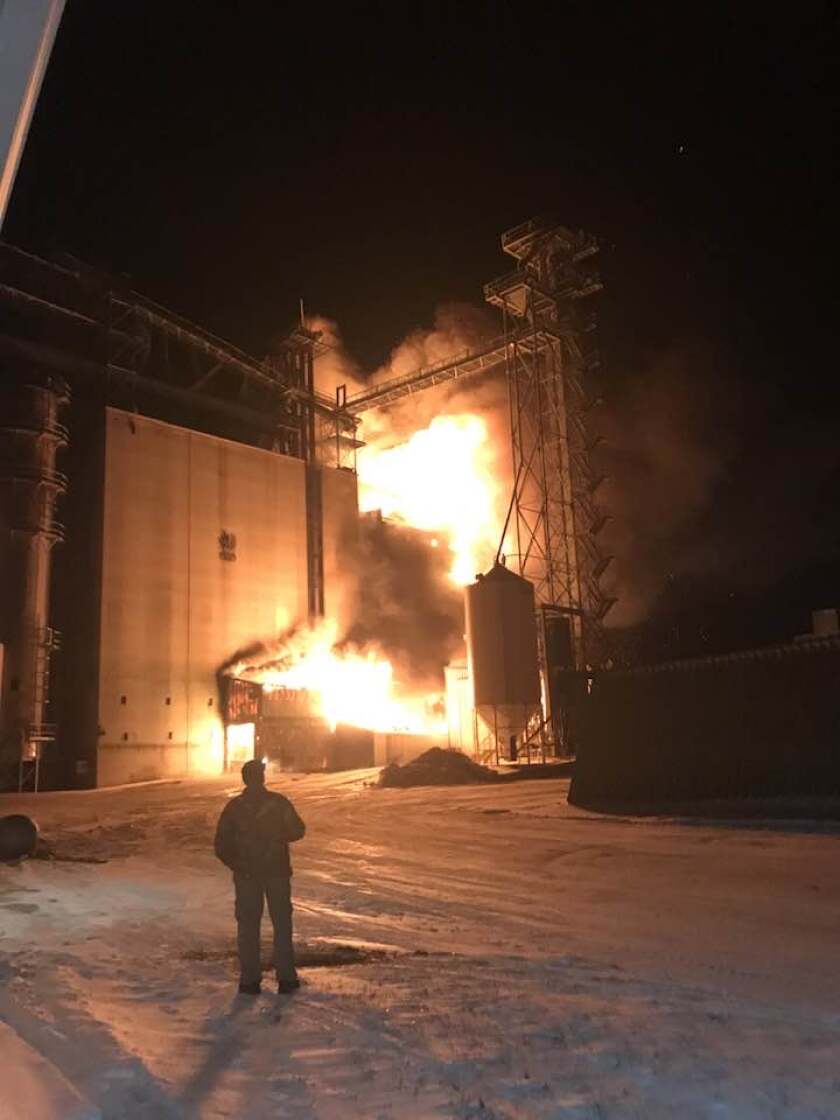 Bruce Salzsieder was having dinner with the mayor when they first got the call about the fire at 6:39 p.m. Friday. Salzsieder works at the Edgeley ambulance service and spent his evening removing items from their nearby building.
Debris from the burning elevator right next door could potentially fall on their structure, he was warned.
"We're about 75 yards from the elevator," Salzsieder said. There was also a nearby lumber yard and private home that he was concerned about.
Both ambulances, all the oxygen tanks, even the department's small propane grill was removed from the ambulance building.
"We just got the heck out of there," Salzsieder said.
On Friday night, Triepke didn't know what would come next, but he imagined that cleanup would begin soon.
The only silver lining to this fire, Triepke said, is that Edgeley is a strong community and people are already banding together.
The Our Redeemer's Lutheran Church of Edgeley was open Friday night to anyone displaced by the fire, according to a post on the "Everything Edgeley USA" Facebook page.