Focused traffic safety enforcement underway in North Dakota to keep high drivers off highways
The Forum went on a ridealong with the North Dakota Highway Patrol to learn about the enhanced enforcement effort.
We are part of The Trust Project.
FARGO — The North Dakota Highway Patrol and other agencies have joined in a high-visibility enforcement effort this week leading up to the so-called 4/20 "marijuana holiday."
The effort runs from April 18-21, with special emphasis on Wednesday, April 20, a date synonymous with increased marijuana use. During that period, North Dakota Highway Patrol will ramp up enforcement efforts to increase awareness of the dangers of drug-impaired driving.
North Dakota's Drug Recognition Expert, or DRE, program now has 58 trained DRE's at various law enforcement agencies after adding 13 new graduates just in time for this event, said Trooper and DRE State Coordinator Tarek Chase.
The Forum went on a ride-along with Trooper and DRE Brian Larson on Friday, April 15, to learn about some of the techniques used to recognize drug impairment.
"Finding people that are impaired on drugs … a lot of it kind of flies under the radar more than alcohol," Larson said.
Focused attention is needed on recognizing the signs of drug-impaired drivers, he said, because they're just as unsafe as alcohol-impaired drivers.
Larson said he usually makes a couple of arrests related to drug impairment each month but is also called by other officers who make DUI arrests to do drug influence evaluations.
There currently is no handheld breath test for drugs like there is for alcohol, he noted.
Signs of alcohol impairment may be easy to spot, such as an alcoholic beverage smell or a person slurring their words, but picking up on drug impairment can require a more educated and nuanced assessment.
For example, an officer might have a feeling something's not right with a driver, but if they don't detect alcohol, they could send them down the road.
"That person may very well be impaired to a similar level that they're unsafe to be driving," Larson said.
During The Forum's ride-along, Larson pulled over one driver for having a vehicle with tinted front-seat windows and another for driving 79 mph in a 55 mph zone.
That second driver also had operations violations related to the commercial vehicle he was driving.
Neither driver showed signs of impairment.
"I'm looking for those every time that I'm on a stop talking with an individual," Larson said.
Training to be a DRE requires classroom instruction and successful field evaluations for certification.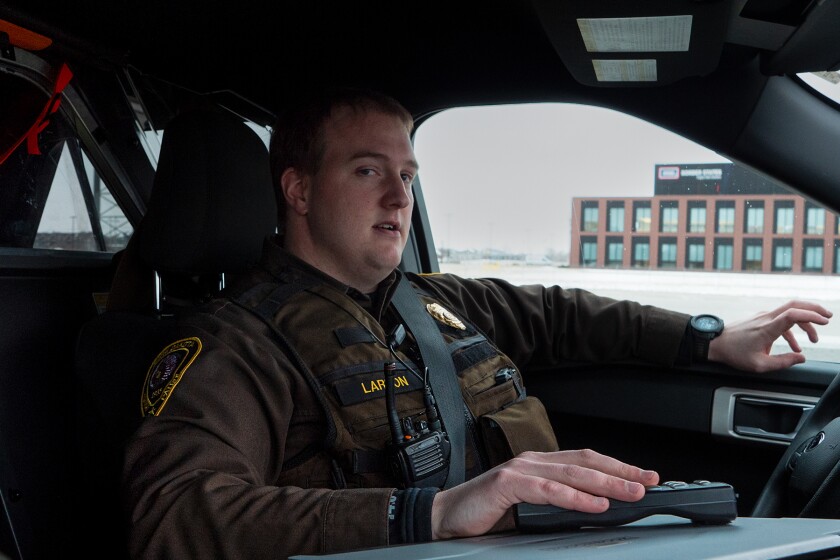 Trainees learn about seven categories of drugs that can affect a person's ability to drive in a safe manner. They include:

Depressants (alcohol, Xanax, antipsychotic medications).
Stimulants (methamphetamine, amphetamine, cocaine, Adderall, Ritalin).
Hallucinogens (LSD, MDMA, ecstasy).
Dissociative anesthetics (PCP, ketamine, DXM or dextromethorphan).
Inhalants (gasoline, aerosol cans, paint, nitrous oxide).
Narcotic analgesics (opioids, heroin, hydrocodone, fentanyl).
Cannabis (Marijuana and gummies, edibles or concentrates containing THC).
Being under the influence of THC can slow reaction times, impair cognitive performance and make it more difficult for drivers to keep a steady position in their lane, the Highway Patrol said.
In the last five years, 222 people have died in crashes in North Dakota involving impaired drivers.
On a national scale, 56% of drivers involved in serious injury and fatal crashes in 2020 tested positive for at least one drug, according to the National Highway Traffic Safety Administration.
All officers in North Dakota are trained on three standardized tests for impairment: horizontal gaze nystagmus test, walk and turn, and one-leg stand, Larson said.
If alcohol impairment is ruled out, a 12-step standardized process takes the evaluation further.
Larson said a controlled environment out of the elements, such as a jail or police department, is preferred in order to get an accurate judgment on each step.
The steps include checking vital signs, including pulse, blood pressure and body temperature. A stimulant like methamphetamine will increase vital signs, while a depressant like alcohol will slow things down, he said.
Ingesting drugs can also impact muscle tone and how muscles move.
Narcotic analgesics like heroin and fentanyl can cause more relaxed movements or flaccid muscle tone. Stimulants can cause restlessness or rigid, rapid muscle movements, Larson said.
Sometimes, the movements are exaggerated, where more muscle groups fire.
"For example, if I were to move my hand, I wouldn't need to move my whole shoulder to make that movement," he said.
Examining pupil sizes in different lighting conditions can also offer telltale clues, with some drug categories constricting pupils and others dilating them, or making them larger.
A toxicology sample, whether a blood or urine test, will be used to confirm that the right call has been made on a drug category opinion, Larson said.
This dedicated enforcement for traffic safety is one element of the state's Vision Zero project, an aim of having zero fatalities or serious injuries from motor vehicle crashes in North Dakota.
"A big emphasis of that is removing impaired drivers from the roadway," Larson said.