Spiritwood Lake woman with ALS spreading awareness about disease
Sue Backer was officially diagnosed with limb-onset ALS on March 15, 2022.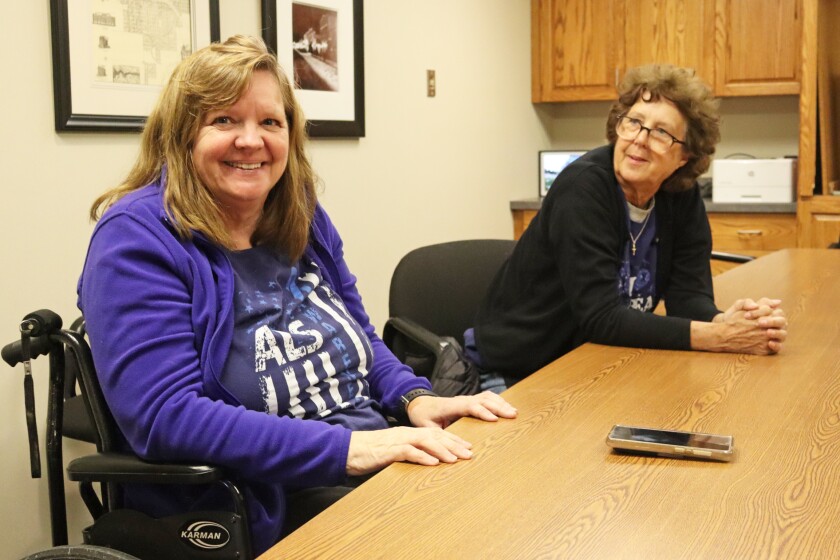 JAMESTOWN — A 61-year-old Spiritwood Lake woman wants others to be aware of amyotrophic lateral sclerosis so more research can be conducted to eventually find a cure for the disease.
Sue Backer was officially diagnosed with limb-onset amyotrophic lateral sclerosis (ALS) on March 15, 2022. She said people usually have had ALS for one to two years before they are diagnosed.
"It started in my leg, and now it's going into my hands," she said. "Pretty soon, I won't be able to walk or use my arms."
ALS, also known as Lou Gehrig's disease, is a progressive neurodegenerative disease that affects nerve cells in the brain and spinal cord, according to the ALS Association. The most common initial symptom of ALS is a gradual onset of progressive muscle weakness.
As motor neurons degenerate and die, they stop sending messages to the muscles, which causes the muscles to weaken, start to twitch and waste away, according to the National Institute of Neurological Disorders and Stroke. Eventually, the brain loses its ability to initiate and control voluntary movements.
There is no treatment or cure for ALS.
The mean survival time for individuals with ALS is two to five years, but some people live five years, 10 years or even longer, according to the ALS Association.
In October 2021, Backer's kids told her she needed to get diagnosed and find out what was wrong with her. She was having trouble walking, would stumble and fall down.
"I don't trip over anything. I just can't pick my feet up," Backer recalled. "I don't know how I fell down but I fell down."
Backer said she saw a doctor and was told to do physical therapy. When she did, she realized she couldn't get on her tiptoes.
"With how you diagnose ALS, you rule everything else out," she said.
Blood tests were taken and she was tested for spinal and brain injuries. She also got computerized tomography scans and magnetic resonance imaging done.
Backer said test results were good and doctors couldn't find anything wrong with her. Eventually she took an electromyography test on March 15, 2022, which confirmed she had ALS.
Once she found out she was diagnosed with ALS, she and her sister, Deb Alber, cried for about 10 minutes.
"Then I was like, 'Deb, I'm not a sad person. Screw that. I'm not going to be sad,'" she said. "So I called the kids and I told them and when we met with kids and they bawled and bawled and bawled. I said, 'Quit your bawling. There's nothing we can do. Let's make this wonderful.'"
She said her ALS was not inherited. She said genetic testing can be done but the family decided not to do it.
"The kids said, 'Why would I want to know that,'" Backer said. "There is no cure, there's no treatments, there's no nothing. It's pretty much a death sentence."
Backer said it's important that others know about ALS because there is no cure for it.
"Your life expectancy is two to five years (after diagnosis)," she said.
She said there are ALS patients who live longer but they also opt to do prolonged life support.
"I'm praying I don't get to that point," she said.
Backer said individuals can also sign up to donate their brain and spinal cord for ALS research. She said researchers need the brains and spinal cords of ALS patients and healthy people.
"They do it right at the funeral home," she said. "They remove the brain and the spinal cord and you can still have a cremation. You can still have an open casket. It's all paid for. Nothing costs the family. But the only thing about that donation is when I pass, it has to come from whoever you designate."
Backer currently wears an ALS tracker and does breathing and cognitive tests so researchers can pinpoint how the disease affects those with ALS.
She also encourages individuals to donate to organizations such as the ALS Association and Team Gleason.
When individuals are diagnosed, she said they take a survey for the ALS Association. She also said the Minnesota/North Dakota/South Dakota chapter has been "fabulous" in helping to get wheelchairs, walkers and adaptive equipment.
The Minnesota/North Dakota/South Dakota chapter is holding a Walk to Defeat ALS on June 3. Backer said individuals can donate to her team, Mama Sue's ALStars at https://bit.ly/3KdY18v . She said Team Gleason — an organization that provides technology, equipment and care services to people with ALS — helped pay for the seat riser on her electric wheelchair.
Alber said ALS is expensive to live with and has no positive outcomes. For example, those with ALS need an adaptive bathroom or an electric wheelchair. She said the electric wheelchair costs $40,000 and then a van is needed for it as well.
She also said the drugs to potentially prolong life for ALS patients are also expensive. She said she started getting them when she had commercial insurance.
"Then I had to go on Medicare because I can no longer work," she said. "Then, I had to get (Medicare) Advantage because I'm under 65 because I couldn't get the regular."
She said the cost to take two of three drugs is $3,600 a month for each one.
"Well, there's programs and grants out there and one of them I got approved for," she said. "The other one I had to quit because I couldn't get it. The other drug, if I ran it through my insurance, it was $300, but if I bought it out of pocket it was $65. It was like, that makes no sense to me. I'm paying a premium for insurance but it costs me more to use it."