'Tankhouse,' a movie set and filmed in Fargo, gets a national release date
The movie was shot in Fargo and Los Angeles in 2019 and will be released in theaters and video on demand next month.
FARGO — "Tankhouse," the feature film shot in Fargo in 2019, is coming to a screen near you.
Distributor Vertical Entertainment announced Thursday, April 7, that the film will be released in limited theaters and to streaming platforms on May 13.
The film was produced by Los Angeles-based Matthew Cooper and Click Content Studios, a video production company owned by Fargo-based Forum Communications, which owns The Forum of Fargo-Moorhead. Forum Communications President and CEO Bill Marcil Jr. and Click's Managing Director Jim Manney are listed as executive producers. Fargo native Jessamine Burgum is also an executive producer.
This is the directorial debut of Noam Tomaschoff, who co-wrote the script with Chelsea Frei.
Tara Holt and Stephen Friedrich star as actors exiled from their avant-garde theater scene in New York by their guru, played by Hollywood veteran Christopher Lloyd, best known as Doc in the "Back to the Future" movies. They return to her hometown, Fargo, to start a new theater troupe, only to discover another troupe led by her former drama teacher, played by Richard Kind, isn't keen on sharing the local spotlight. Theatrical and musical scrimmages play out around Fargo as the two troupes face off.
Manney said Thursday that he was still letting it sink in that something he'd worked on for so long was finally coming to fruition.
"This is actually happening," he said. "This started three years ago. It's been this really long, incredible journey. It's incredible to be even a small part of something so fun, interesting and stressful to make."
He likened the filmmaking process to opening a new puzzle, throwing it in the air and hoping that all of the pieces fit together when they land.
Manney said a mutual friend of Cooper and Marcil suggested the film be set in Fargo, and Cooper followed up with a visit to town and a meeting with Marcil.
"The script was tailored to fit the locals and the North Dakota feel it ultimately has," Manney said. "I think this is great for Fargo, North Dakota and Click Content."
The film was shot in Fargo and in Los Angeles.
Burgum also has a role in the film. Her father, North Dakota Gov. Doug Burgum, was seen behind the scenes on the set.
Manney said the film will be released to theaters in major markets but may also play in some regional theaters. The movie will also be released on all major streaming platforms, like iTunes and Amazon Prime Video.
He added that there will be a Los Angeles theatrical premiere and later a local premiere at the Fargo Theatre, which plays a significant role in the movie.
"I'm just excited for everyone to see Fargo on the big screen," Manney said. "There are a lot of recognizable local actors and locations. It's a love letter to Fargo."
Manney said that Click also recently signed a distribution deal for its documentary, "Invasive: The Race to Save Yellowstone."
Editor's note: John Lamb, the author of this article, appears as an extra in "Tankhouse."
MORE "TANKHOUSE" ARTICLES
FARGO — A fresh-faced redhead stands up near the graffiti-covered wall and nervously starts telling a story to a handful of people sitting in folding chairs in front of him.
FARGO — Beginning Monday, Sept. 16, Fargo becomes the set of a new film. The comedy, "Tankhouse," follows two New Yorkers who move to Fargo to start a theatrical revolution.
FARGO — Like most people, Lisa Kornkven of Fargo has never been in a movie before.
FARGO — After months of writing (and re-writing), hours of tweaking and editing and a few scouting trips from sunny California to the humid oasis that is North Dakota in the summer, filming has finally begun on "Tankhouse."
PHOTO GALLERY: Inside the making of "Tankhouse"
1
/
39:
Crew members of the movie, "Tankhouse, film south of Fargo. The movie brought about 40 cast and crew members, who bought lodging, catering, supplies and set materials that likely injected several hundred thousand dollars into the local economy. Jim Manney / The Forum
3
/
39:
Jesse Burgum has a laugh with actors Rachel Matthews and Spencer Roberts during the filming of the movie "Tankhouse" at the former Goodyear building in downtown Fargo. David Samson / The Forum
4
/
39:
Sound engineer Benjamin Roembach-Clark helps Jesse Burgum get wired up before filming a scene at the Fargo Theatre for the movie "Tankhouse." David Samson / The Forum
5
/
39:
Actor Stephen Friedrich has a laugh between takes during filming of "Tankhouse" at the Fargo Theatre in downtown Fargo. David Samson / The Forum
6
/
39:
Actress Tara Holt waits for her next scene during filming of "Tankhouse" at the Fargo Theatre in downtown Fargo. David Samson / The Forum
7
/
39:
Stephen Friedrich, Richard Kind and Tara Holt perform a scene during filming of "Tankhouse" at the Fargo Theatre in downtown Fargo. David Samson / The Forum
8
/
39:
Paisley LeBaron, 12, made her acting debut Monday, Sept. 23, in a farmers market scene for "Tankhouse." The seventh-grader from Watford City, N.D., is shown on the Fargo set with her mom, Chelsea, who said it was a great opportunity to experience the making of a film while also getting exposure for her daughter's business, Paisley's Treasures. Kim Hyatt / The Forum
9
/
39:
"Tankhouse" extra Hannah Sivertson, of Fargo, interviewed by WDAY on Monday, Sept. 23. Kim Hyatt/The Forum
10
/
39:
With the help of dozens of local extras, the cast and crew of the movie "Tankhouse" filmed Monday, Sept. 23, outside The Forum building in downtown Fargo. Kim Hyatt / The Forum
11
/
39:
With the help of dozens of local extras, the cast and crew of the movie "Tankhouse" filmed Monday, Sept. 23, outside The Forum building in downtown Fargo. Kim Hyatt / The Forum
12
/
39:
Melinda Mascayano, first assistant director, preps before shooting begins of the next scene for the movie "Tankhouse" at the former Goodyear building on Broadway in downtown Fargo on Tuesday, Sept. 17. David Samson / The Forum
13
/
39:
Small set pieces are assembled for the shooting of the movie "Tankhouse" at the former Goodyear building on Broadway in downtown Fargo on Tuesday, Sept. 17. David Samson / The Forum
17
/
39:
The crew of "Tankhouse" watch the monitor during the filming of a scene shot Friday, Sept. 20, at The Forum building in downtown Fargo. Raju Chaduvula / The Forum
18
/
39:
The director of "Tankhouse," Noah Tomaschoff, stages a scene with Fargo Police Officer Dean Jordheim and Forum arts and entertainment reporter John Lamb (left). Raju Chaduvula / The Forum
19
/
39:
Elizabeth Schwankl of Fargo appears with actor Richard Kind outside The Forum building on Monday, Sept. 23. The two were on the set of a farmers market scene for the movie "Tankhouse." Kim Hyatt / The Forum
20
/
39:
With the help of dozens of local extras, the cast and crew of the movie "Tankhouse" filmed Monday, Sept. 23, outside The Forum building in downtown Fargo. Kim Hyatt / The Forum
22
/
39:
Melinda Mascayano, first assistant director, preps before shooting begins of the next scene for the movie "Tankhouse" at the former Goodyear building on Broadway in downtown Fargo on Tuesday, Sept. 17. David Samson / The Forum
23
/
39:
Small set pieces are assembled for the shooting of the movie "Tankhouse" at the former Goodyear building on Broadway in downtown Fargo on Tuesday, Sept. 17. David Samson / The Forum
24
/
39:
Props are set up for shooting a scene for the movie "Tankhouse" at the former Goodyear building on Broadway in downtown Fargo on Tuesday, Sept. 17. David Samson / The Forum
25
/
39:
Jim Manney, executive producer of the movie "Tankhouse," watches shooting of the movie. Manney works for Click Content Studios, a Forum Communications production company. David Samson / The Forum
26
/
39:
Producer Matt Cooper, left with headphones, watches a take with staff members during shooting of the movie "Tankhouse" at the former Goodyear building on Broadway in downtown Fargo on Monday, Sept. 16. David Samson / The Forum
27
/
39:
Director Noam Tomaschoff watches a take with assistant camera operator Andy Huynh during shooting of the movie "Tankhouse." David Samson / The Forum
28
/
39:
Makeup artist Galaxy San Juan, left, chats with costume designer Brionna Rowe during shooting of the "Tankhouse" movie. David Samson / The Forum
29
/
39:
The set of the movie "Tankhouse" bustles with activity at the former Goodyear building on Broadway in downtown Fargo on Monday, Sept. 16. David Samson / The Forum
30
/
39:
Makeup artist Galaxy San Juan works on an actor between takes during shooting. David Samson / The Forum
31
/
39:
Producer Matt Cooper watches the shooting of the movie "Tankhouse" at the former Goodyear building on Broadway. David Samson / The Forum
32
/
39:
Director Noam Tomaschoff readies to set a scene for shooting of the movie "Tankhouse". David Samson / The Forum
33
/
39:
Filming of the movie "Tankhouse" began at the former Goodyear building on Broadway in downtown Fargo on Monday, Sept. 16. David Samson / The Forum
34
/
39:
Writers Chelsea Frei and Noam Tomaschoff are in Fargo for the production of the movie "The Tankhouse Theatre." Tomaschoff will direct the movie and The Forum building will be one of the many local set pieces in the film. David Samson / The Forum
35
/
39:
Christiana Herodotou paints a frame for a prop for the film project "Tankhouse" at the Broadway Garage in downtown Fargo. David Samson / The Forum
37
/
39:
Noel Calizo assembles a prop for the film project "Tankhouse" at the Broadway Garage in downtown Fargo. David Samson / The Forum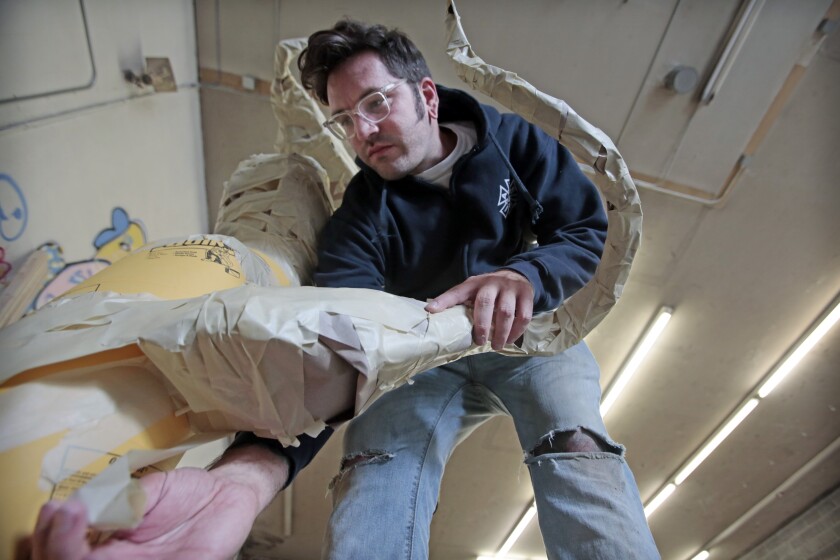 38
/
39:
Justin Robinson tapes together a prop for the film project "Tankhouse" at the Broadway Garage in downtown Fargo. David Samson / The Forum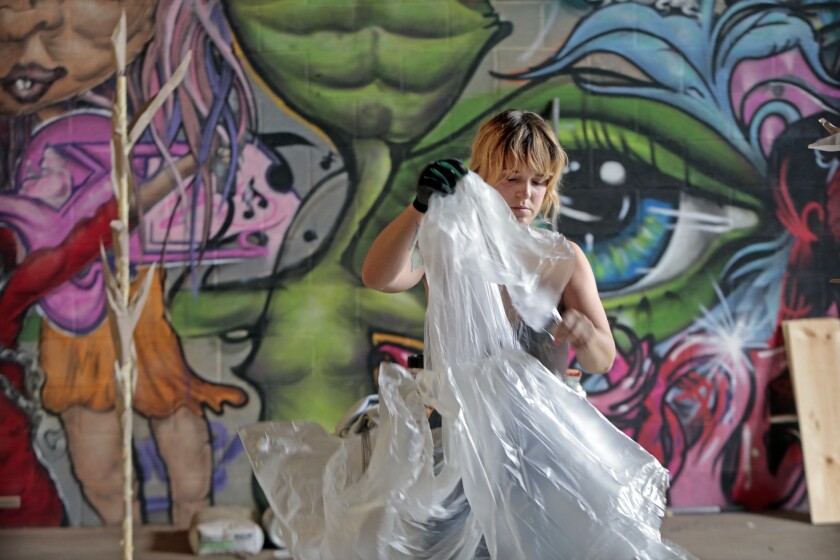 39
/
39:
Jen Messer preps for painting props for the film project "Tankhouse" at the Broadway Garage in downtown Fargo. David Samson / The Forum