Robert Leroy Anderson: The serial killings that rocked South Dakota in the '90s
Robert Leroy Anderson's crimes shocked and terrorized the state and earned him a death sentence.
SIOUX FALLS, S.D. – It's been almost 30 years since Robert Leroy Anderson, a serial killer active in the Sioux Falls, South Dakota area, committed his first egregious act, ultimately landing him a death sentence and shocking the state. Here's a timeline of his crimes, capture and prosecution.
August 27, 1994 - Sioux Falls
Larisa Dumansky, a 29-year-old Ukrainian immigrant living in Sioux Falls, was getting off her usual night shift at a meat packing plant called John Morrell & Company when she disappeared.
Bill Dumansky, her husband, was at home, expecting her to return in the early hours of the morning. Only as he got ready for work himself did he realize his wife had never come home.
Bill drove through the town, looking for any trace of her that he could find. Her car sat, parked, with a few flat tires at the meat packing plant. He noticed those immediately because she had been having recurring flats in the past several months, which was strange, but even stranger to him was that her keys still hung in the door.
Bill Dumansky called police, only for them to turn their suspicions onto him. They suspected Larisa Dumansky had run off, possibly after an argument. They implied that the Dumansky's were in an unhappy marriage. Except, Larisa Dumansky was several weeks pregnant, and Bill was adamant they were happy together.
Police turned their attention to another possible suspect, a coworker who had been in prison and working alongside Dumansky on work-release. She often gave him a ride back to the jail at night because they worked the same shift. On the night of Aug. 27, he had looked for Dumansky but couldn't find her. The man claimed he hitched a ride with another coworker back to the jail, where he was recorded checking back in for the night. His alibi checked out.
Authorities searched for answers but there were none to be found.
Larisa Dumansky's case went cold.
July 29, 1996 - Canistota
The morning of July 29, 1996, Piper Streyle, 28, was getting herself and her children ready for their days. Her husband, Vance, 29, had already gone to his plumbing job at around 6:30 that morning. This left Piper Streyle to drop the kids off at their babysitter and get herself to work.
But when Vance Streyle went to pick up their kids from daycare that afternoon, though, he was informed by their sitter that they never made it in that day. Concerned, he called the house. No answer. He left a voicemail.
"Honey, where are you?" He asked.
It was a question that would never be answered.
Around 3 p.m. a coworker of Piper Streyle's, Patty Sinclair, called the house, worried because it wasn't like Piper Streyle not to show up to work without calling. Instead, 3-year-old Shaina Streyle answered the phone.
Sinclair asked the little girl, "Is your mom home?"
"No," Shaina said softly. The little girl informed Patty Sinclair that she and her brother were alone in the house. Sinclair asked where her parents were, to which Shaina replied, "They're probably killed."
The little girl hung up the phone.
Sinclair redialed the number in shock after directing a coworker to dial 911, where she kept the toddler on the phone until deputies arrived. This time, Shaina, "was in near-hysterics," Sinclair recalled during her testimony later on.
"I don't want my mommy to die!" The toddler sobbed into the phone. "I don't want my daddy to die!"
When police arrived, the house was a mess, with obvious signs of struggle. The sheriff found the children, alone and unharmed, in the back bedroom; Streyle's purse had been emptied on the floor. Nathan was silent and Shaina sobbed relentlessly.
Eventually, police started to extract the events from the little girl. Shaina told the sheriff that she didn't know where her mother was, but that her father was at work. She said that "a mean man" had come into their house. He drove a black vehicle with black wheels. He yelled a lot and shot a gun. She then recounted that her mother told them to run and hide. The "mean man" had taken her brother's blue tent, an early birthday present from the day before.
Shaina was insistent that her mother was going to die. "She's not coming back," she told her father upon his arrival to the family home.
After bringing in South Dakota Division of Criminal Investigation agents, the investigation quickly picked up clues on Piper's disappearance. Neighbors recalled seeing a flat black utility truck in the area, and another couple who also lived in the area saw "a nervous young man in jeans and a baseball cap" walking from the house to the blue Ford Bronco in the drive.
Vance remembered something late that night. The description of the vehicle matched one he'd seen three days prior except for the color, as did the description of the man, who had stopped to inquire about the Streyle's Bible camp for his own kids at about 7:30 that morning.
Vance Streyle called police back to give them a proper description of the man: white, in his mid-twenties, chubby and balding.
Vance remembered his handshake was limp, and that the man had almost seemed surprised to see him there. He seemed like he didn't know what to say at first, but eventually mumbled out a few questions about the family's Bible camp. He called himself Rob Anderson and even left his number to be put down on their wait-list for the following year's Bible camp.
Though there wasn't much to be found at the Streyle family home, authorities did retrieve a 9 mm bullet casing from the front driveway. That was the only trace Piper Streyle's abductor left behind.
July 30, 1996 - Sioux Falls
Investigators had fully identified the Streyle's visitor as Robert Leroy Anderson. Anderson was 26, a high school drop-out who worked the night shift at a meat packing plant at John Morrell & Co. in Sioux Falls. He had been married twice and had four children of his own. He owned a blue Ford Bronco, and when police pulled him into a 7-hour-long interrogation, he wore jeans, a T-shirt and a baseball cap.
Anderson steadfastly claimed he wasn't involved, despite refusing to take a polygraph test. He admitted to stopping by the house the previous Friday to ask about the camp, but denied having any clue as to Piper Streyle's whereabouts.
Yet, when police started to question why neighbors had seen him in the area the previous day, Anderson's story started to crumble. He admitted to stopping at the house again to ask to use their archery range, but then left without getting out of his vehicle under the assumption no one was home because he didn't see any vehicles in the driveway.
Except, officers informed him, there was another vehicle there. Anderson backtracked, agreeing with the officers and correcting himself by stating he left without getting out.
According to South Dakota Supreme Court documents, Anderson told officers he'd heard about Piper Streyle's disappearance, and the media reported that there were children alone at the Streyle home, but he hadn't seen any children at the home.
Anderson then contradicted himself, stating, when he knocked on the door, he heard no answer. He told police, "I heard the kid say something, but that's all I heard. You know, I mean, nobody answered."
Authorities issued a warrant for his arrest soon after his interview ended.
August 1, 1996 - Sioux Falls
A team searched his trailer, and found blood-stained and semen-soaked jeans. Two keys to handcuffs were found, a pocket-knife with shirt-like material still stuck in it, as well as a can of black, water-soluble spray paint.
Investigators searched his blue Ford Bronco, peeling back carpet to reveal a plywood platform with holes drilled into it for ankle and wrist restraints. They found a toolbox filled with torture devices and duct tape, a dirt-covered shovel, dog hairs matching the Streyle's family pet, traces of black water-based paint, and a pair of human hairs on the floor in the back of the vehicle, which would later be confirmed to be a DNA match to Piper Streyle.
Shaina and Vance Streyle were called in to identify the man they had seen in a lineup. Separately, they both identified that it was in fact Anderson who had stopped at the house and abducted Shaina's mother.
Anderson was arrested on August 2, 1996 on two counts of kidnapping.
Despite extensive search efforts along the Big Sioux River, all that was found of Piper Streyle were two halves of her shirt – found in separate locations – a clump of duct tape with more of Streyle's hair attached to it, as well as rope, chains, eyebolts, a vibrator and half-burned candle. It was assumed by investigators that these items were used to torture Streyle.
Piper Streyle's body was never recovered.
May 8, 1997
Robert Leroy Anderson was found guilty of kidnapping Piper Streyle. Two months later, he is sentenced to life in prison by state circuit Judge Boyd McMurchie.
Anderson complained to the court, claiming he was innocent and a victim of vindictive prosecution.
Eventually, another woman came forward.
Amy Anderson, unrelated to Robert Anderson, told police that she had been nearly kidnapped in 1994, after driving over "wheel poppers" made by Robert Anderson and an accomplice. As she was trying to get her spare tire, Anderson jumped from the bushes and grabbed her. He had started to carry her off to a wooded area, but Amy Anderson was able to break free, running back to the road and flagging down a car who stopped to pick her up.
Amy Anderson would have been his first victim had she not thwarted his plans.
Anderson never stood trial for the attempted kidnapping of Amy Anderson, as he was already facing charges for the disappearance of Piper Streyle, but Amy Anderson was one of those who testified against him.
Shortly after Anderson's conviction, Glen Marcus Walker, a childhood friend of Robert Leroy Anderson's, confessed to being an accomplice to the attempted kidnapping of Amy Anderson and being an accomplice to Larisa Dumansky's kidnapping.
Walker informed police that, on August 26, 1994, Anderson approached Larisa Dumansky in the parking lot where of John Morrell & Co. He held her at knife-point and ordered her into his vehicle.
Walker said they then drove her to Lake Vermillion. When they arrived, Anderson tortured Larisa Dumansky and raped her several times, eventually suffocating and killing her.
Walker claimed he "only watched" and confessed to helping Anderson methodically plan and carry out Larisa Dumansky's kidnapping, but remained adamant on his innocence regarding her rape and murder.
On May 20,1997, nearly three years after Dumansky's disappearance, Walker led investigators to her shallow grave on Lake Vermillion, where they found partial remains that matched her DNA.
August 1997
Anderson's prison cellmate, Jeremy Brunner, contacted the attorney general's office with information regarding Anderson's crimes.
Brunner explained that Anderson bragged about his crimes in great detail, especially about the murders of Piper Streyle and Larisa Dumansky.
Anderson had told Brunner the precise location of where he hid "trophies" of his victims – in the basement, between the ceiling and the walls of his mother's house. He'd also confided in Brunner that he had moved half of Larisa Dumansky's body — keeping a few of her bones a "prizes" — and skull to prevent investigators from identifying her.
Brunner claimed that Anderson bragged about raping and strangling Piper Streyle before disposing of her body in the Big Sioux River.
Brunner said the reason so many people saw Anderson the day of her disappearance was because he went back to the house after disposing of Streyle to retrieve his watch and Nathan's tent.
After he'd washed the black paint off his vehicle, Anderson drove his now-blue Ford Bronco back to the house because he realized his watch had fallen off in the struggle with Streyle and he had fired his 9 mm gun and shot a hole through the tent.
Anderson even confessed to Brunner that he considered himself a serial killer.
Authorities later recovered the items from Anderson's mother's home following Brunner's instructions, and the items were identified as belonging to Streyle and Dumansky, including bones, jewelry and clothing.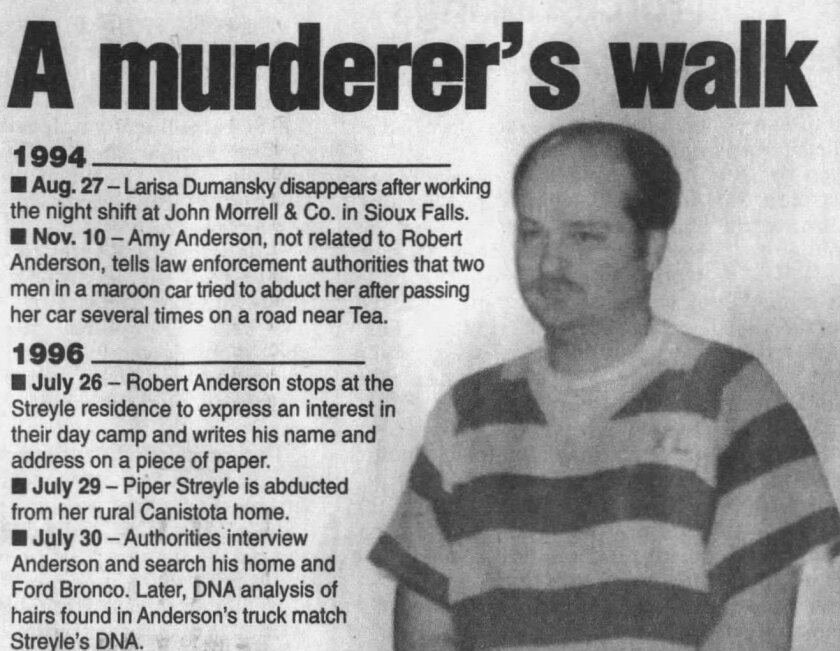 This provided the missing link police had been looking for to nail Anderson with the murders of both women.
April 6, 1999
A jury of eight men and eight women found Anderson guilty on four counts: the rape and murder of Piper Streyle and the kidnapping and murder of Larisa Dumansky. Three days later, Anderson was sentenced to death by lethal injection.
March 30, 2003
Anderson would not live to carry out his death sentence. Instead, he was found in an isolation cell after committing suicide.
Anderson was in the process of appealing his conviction and had lost his father a few days prior to suicide by gunshot. It's theorized that he knew he was going to lose the appeal.
Reactions to his suicide were grimly positive.
Vance Streyle said, "This is what we were after anyway. It just saved time and effort."
Prosecutor Roger Gerlach said, "There's a lot of women who will sleep better knowing that this guy is deceased."
Glen Walker was given 30 years in the state penitentiary after being charged with attempted kidnapping, accessory to kidnapping and first-degree murder, and conspiracy to kidnap Dumansky. He was released in 2016 on good behavior.