Jamestown council to consider mask mandate as COVID cases rise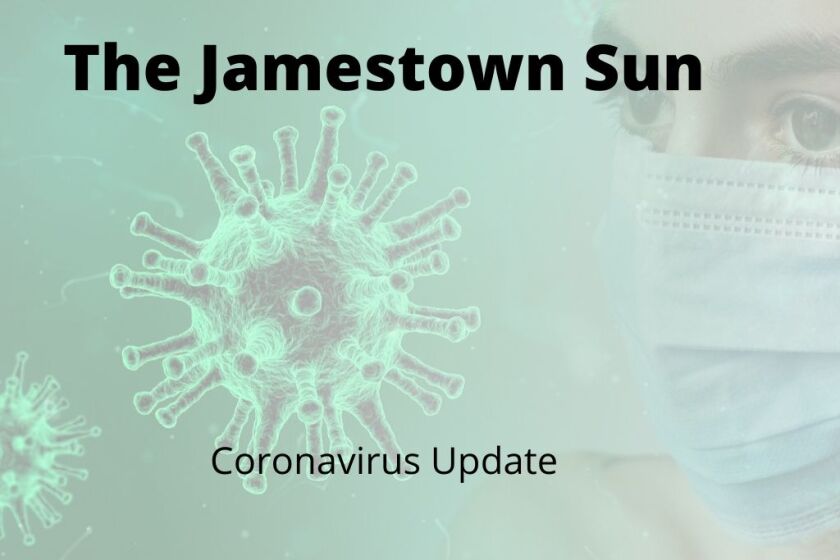 The Jamestown City Council will consider stricter health regulations that could include a mask mandate when it meets at 5 p.m. Thursday, Nov. 12.
"As mayor of Jamestown, I have the authority to strengthen our safety practices through policy changes such as: public mask mandates and early shut down of bars and restaurants and restrictions for local gatherings (i.e. weddings, community events, etc.)," said Mayor Dwaine Heinrich. "Changes will not be made without consultation with local health and safety officials of the Emergency Operation Center of the community's conditions."
Discussion of health and safety precautions for Jamestown is on the agenda of the special Jamestown City Council meeting on Thursday.
The Jamestown City Council ratified a temporary emergency order issued by Heinrich on Nov. 2. That order required people working in businesses wear masks when dealing with the public and strongly encouraged community members wear a mask when in public.
Councilman Dan Buchanan dissented, saying that order did not go far enough to slow the spread of the coronavirus.
Consideration of strengthening safety precautions comes after more than a week of increasing numbers of COVID-19 cases in Stutsman County.
Statistics from the North Dakota Department of Health indicate there have been 356 positive tests reported in Stutsman County since Nov. 5. The number of active positives in the county has increased by 118 in the last week to 512.
Currently, the infection rate in Stutsman County is 245 people per 10,000 in population. This translates to roughly 2.5% of the Stutsman County population currently ill with COVID-19.
Wednesday, three deaths and 97 new cases of coronavirus were reported in Stutsman County, according to the North Dakota Department of Health. The deaths occurred in three women, two in their 80s and one in her 90s. There have now been 22 deaths in Stutsman County where COVID-19 was either the primary or a secondary cause of death since the start of the pandemic.
Central Valley Health District announced Wednesday morning that the community should expect another large number of positive cases of COVID-19 when the North Dakota Department of Health issued its daily update.
"Of the positive cases that will be reported today (in Stutsman County), 56 of the positive cases are located in a congregate living setting and 47 positives cases are from the mass testing event on Friday," said Robin Iszler, unit administrator.
Shannon Klatt, director of health promotion for Central Valley Health District, confirmed the congregate living setting is not a nursing home but declined to provide any other information.
The positive cases reported Wednesday were the result of 311 tests processed for a daily positivity rate of 32.8% in Stutsman County.
Klatt said the tests included about 150 of the 350 people who tested at a public testing event held Friday at the Jamestown Civic Center.
"About one-third tested positive," she said.
Results on about 200 more tests conducted Friday could come Thursday, Klatt said.
"We could possibly have another high number tomorrow (Thursday)," she said.
Health officials will conduct another public testing event Friday starting at 10 a.m. with 400 tests available.
"Obviously the high positivity rate means a lot more people have come in close contact with infected individuals," Klatt said. "Some of those are testing because they can't go to work or school."
The state health department reported a total of 12 deaths related to COVID-19 and 1,039 positive cases Wednesday. The other deaths reported were two in Ward County and one each in Burleigh, Cass, McHenry, Mountrail, Nelson, Ramsey and Ransom counties. The deaths occurred in people in their 80s and 90s.
The state has reported 686 deaths related to COVID-19 since the pandemic began.
Other counties in the Jamestown region reporting cases were Foster, 10; Barnes, nine; LaMoure, five; Dickey, Wells, four; Kidder, three; McIntosh, two; and Eddy, Griggs and Logan, one.
Across North Dakota, 1,039 positive tests were reported from 6,098 tests processed for a daily positivity rate of 18.2%