Port: We should be wary of mask mandates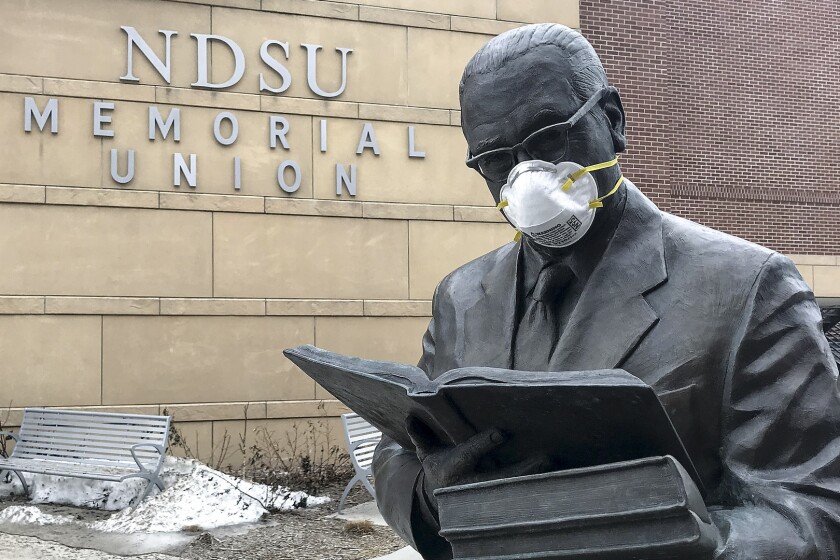 MINOT, N.D. -- In Fargo, left-wing city commissioner John Strand is talking about implementing a mask mandate .
Democratic-NPL gubernatorial candidate Shelley Lenz, at a campaign event in Grand Forks, said that she would have mandated masks "a long time ago."
In Minnesota, Gov. Tim Walz says he's considering a mandate .
I am pro-mask. The price is tiny, and while wearing one is a pain in the rear end, that cost is small too when measured against what widespread mask-wearing could accomplish.
"I think if we could get everybody to wear a mask right now I think in four, six, eight weeks we could bring this epidemic under control," Dr. Robert Redfield, director of the CDC, said during an interview .
A bold statement. I want to believe it's true, though in recent weeks the nation's public health officials have gone from condemning conservative protests against pandemic lockdowns to endorsing crowded protests against police brutality and back again.
It's enough to give a person whiplash.
Still, the cost is small, and widespread adoption of masks could help a lot.
We should do it.
We should already be doing it.
I'm just not sure about mandates.
They require enforcement, or else all you're doing is making a suggestion.
Who would enforce a mask mandate? It would have to be the police, right?
Is that what we want our cops doing right now? Patrolling public areas and writing tickets to people who aren't wearing masks? Do I need to remind you that public attitudes toward the police are pretty low these days, particularly in the densely populated urban communities where mask mandates are most likely to be implemented?
That sort of an approach can backfire, engendering resentment from the public that would likely result in a backlash against masks.
In Australia, cops tracked a big KFC order to bust ... a birthday party. They wrote tickets totaling $26,000 Australian dollars in fines. The New York Times reported the story , from the other side of the globe, which ought to tell you how absurd it is.
Do you think cops busting a birthday party is making the public more or less sympathetic toward pandemic policies?
Now imagine implementing a mask policy in the U.S.
Imagine Facebook Live videos of someone's grandma getting hassled by cops because she didn't wear a mask to watch her grandson play T-ball.
It is a hallmark of 21st-century politics to want to impose your preferred policy outcomes on others. While that may be fashionable, I think we could accomplish more with persuasion.
Instead of force, what if our leaders sought to inspire people to wear masks? Imagine public service announcements showing people from opposite sides of the political divide wearing masks together and telling others to do the same because it's the right thing to do.
That sort of thing would accomplish more than a mandate.
To comment on this article, visit www.sayanythingblog.com .
Rob Port, founder of SayAnythingBlog.com, is a Forum Communications commentator. Reach him on Twitter at @robport or via email at rport@forumcomm.com .