Bravo to people who voted in election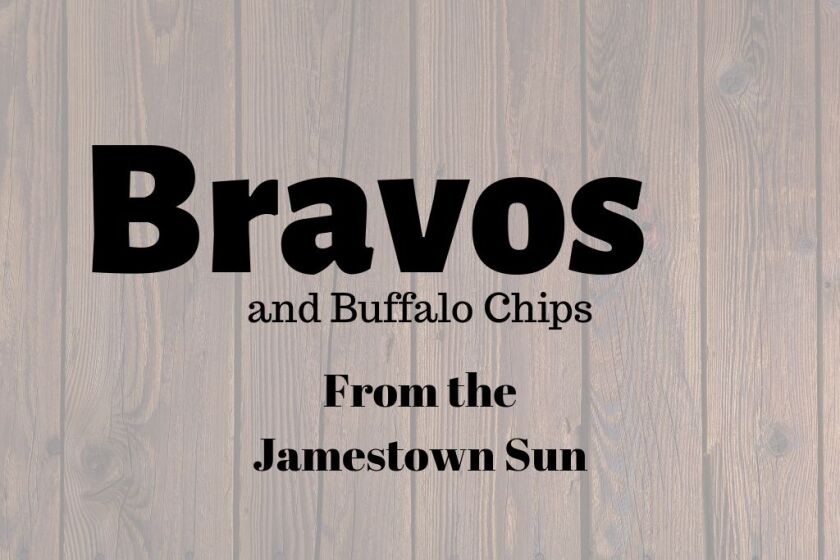 The Jamestown hands out these bravos this week:
Bravo to those people who voted. Whether you cast your ballot early, by absentee or on Election Day, you made your views known and were part of the process. And bravo to those people who ran for public office. A willingness to serve in public office is not for everyone and we are grateful to those who would do that.
Bravo to a return to nice weather, even briefly, this week. Temperatures in the 60s and 70s at this time of year in North Dakota may not be expected but they sure are appreciated when they occur.
Bravo to Monica (Jung) Steinmetz, a Jamestown native who recently received a 2020 WEM Outstanding Educator Award. Steinmetz teaches sixth grade at St. Francis of Assisi School in Rochester Catholic Schools, Rochester, Minnesota. Given by the WEM Foundation and Synergy & Leadership Exchange, the award includes $15,000 and is given for outstanding accomplishments and contributions to student learning. She was a recipent of the Teacher Achievement Award, which recognizes exemplary teachers who support, inspire and assist students to attain greater learning as evidenced by student achievement.
Bravo to First Community Credit Union, which recently received the CU Social Good Award from the Dakota Credit Union Association which includes North and South Dakota. The award recognizes one credit union in each of three asset categories that has positively affected its community. FCCU was recognized in $126 Million and Over in Assets category for supporting organizations each quarter through fundraisers, sending a local veteran on an Honor Flight to Washington, D.C., and particpating in Operation Gratitude thanking military for their service.
Bravo to Meghan Ford, a Jamestown High School senior, who won her third consecutive North Dakota Class A girls cross country state title and was named the Class A senior athlete of the year on Oct. 24 in Jamestown. She finished with a time of 17 minutes, 59 seconds.
Bravo to JHS junior Jay Kupitz, a goalkeeper on the Blue Jay boys soccer team who was recently named to the Class A all-state second team by the state's coaches.
Bravo to the substantial progress in raising funds for a renovation to Taylor Stadium that will be named after former Jamestown Sun owners Gordon and Charlotte Hansen on the University of Jamestown campus. The university announced recently that $9.2 million is committed to the $11.5 million joint project between UJ and Jamestown Public Schools. And bravo to substantial commitments from Jo-Ida Hansen, who is donating $3 million, and First Community Credit Union, which is committing $1 million to the project.
Bravo to Sawyer Anderson, an 11-year-old West Fargo, N.D., girl who wrote a book called "Water Works" that was released in 2019 and is raising money to provide clean drinking water in Zambia. Through purchases of the book and agreements with other organizations, more than $750,000 has been raised, which has been used to build more than 50 wells and provide water to 15,000 people. Sawyer is also finding other ways to raise money for the cause.
Editorials are the opinion of Jamestown Sun management and the newspaper's editorial board.