Bravo to teachers receiving honors
Bravo to various athletes at the University of Jamestown who were recently recognized.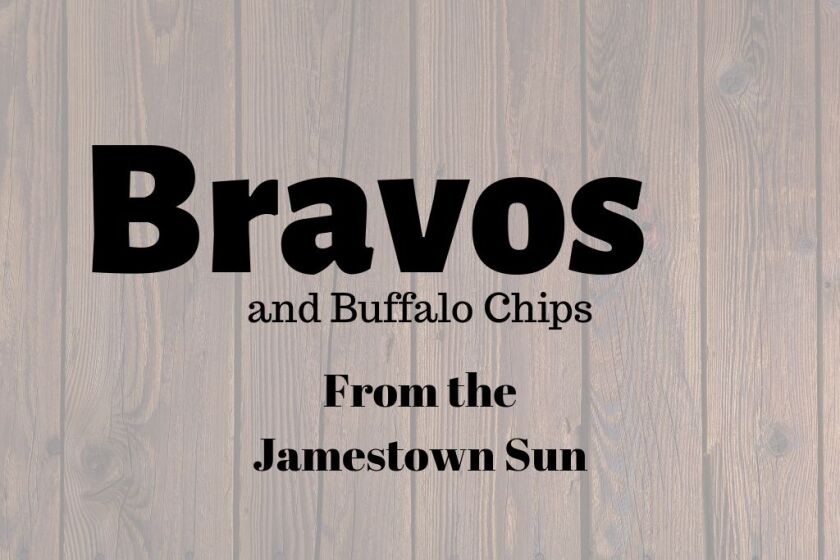 The Jamestown Sun hands out these bravos this week:
Bravo to the Jamestown area getting some much-needed rain in recent days. Stutsman County is in extreme drought, according to the U.S. Drought Monitor, and moisture is desperately needed.
Bravo to University of Jamestown baseball players named all-conference or to Gold Glove teams by the Great Plains Athletic Conference. Aaron Pugh was named to the first team. Dru Fitz and Luke Shekeryk were named to the second team. Named honorable mention were Brice Foster, Austin Pesicka, Lincoln Trujillo and Grant Okawa. Chase Hacker was recognized as a Gold Glove outfielder.
Bravo to the 40 teachers in North Dakota who were named County Teachers of the Year. Of the 110 teachers nominated, 81 completed applications for the honor and were screened by an eight-member committee. Those receiving the county honor are eligible to apply for the North Dakota Teacher of the Year. Nominees from the Jamestown region include Matthew Nielson, Valley City Public Schools; Liz Schieler, Oakes High School; Connie Hafner, Carrington Public School; Mary Jo Grover, Griggs County Central, Cooperstown; Myla Buckeye, Gackle-Streeter Public School, Gackle; Jessica Schmidt, Ashley Public School; Kari Webb, Lisbon Public Schools; and Kelly Bauer, William S. Gussner, Jamestown.
Bravo to the North Dakota Department of Corrections and Rehabilitation and Girl Scouts Dakota Horizons for donating more than 1,500 boxes of Girl Scout cookies to the North Dakota BackPack Program in Bismarck, Jamestown and New England. Residents and staff at the Dakota Women's Correctional and Rehabilitation Center, James River Correctional Center, Missouri River Correctional Center, and the North Dakota State Penitentiary purchased cookies that were donated to the North Dakota BackPack Program, which helps provide food to children on weekends when other resources are not available.
Bravo to the road diet project being ahead of schedule in Jamestown. The $2.2 million project removed some turn signals, created a single lane of traffic for both directions of travel and will provide enhancements for pedestrians to cross streets more safely.
Bravo to University of Jamestown athletes recently honored by the Great Plains Athletic Conference in women's softball. Kat Miska was named pitcher of the year and to the GPAC's all-conference first team. Also named to the all-conference first team was Morgan Geiszler. Kassi Ward and Sydney Prussia were named to the GPAC second team.
Bravo to University of Jamestown golfers Paige Argent, Izzy Marchino, Tate Olson and Jackson Worner, who earned Great Plains Athletic Conference all-conference honors.
Bravo to University of Jamestown men and women track and field athletes who earned all-conference honors from the Great Plains Athletic Conference. They are Braedon Gumke, Nik Herman, Jorden Morales, Noah Mang, Braeden Knutson, Jordynn Toliver, Naja Whitehead, Anni Stier and Meghan Orr.
Bravo to Jamestown High School's Shea Carroll and Brad Burnham, who qualified for the Class A golf tournament with scores of 80 and 81, respectively, in Mandan. The state tournament begins June 7 in Bismarck.
Bravo to Daniel Schumacher of Linton, whose acrylic painting titled "Midday Flow" was named the second-place winner in the National Junior DuckStamp Art Contest. Schumacher's entry featuring a Redhead had won Best of Show in the North Dakota Junior Duck Stamp Contest to advance to the national contest.
Bravo to Darin Erstad, who has donated to the campaign to renovate the track and football field at the Charlotte and Gordon Hansen Stadium and to provide a turf practice field at Jamestown High School. The amount of the donation was not released but the turf practice field that will be located on the JHS campus will be named Erstad Field.
Bravo to Jon Hegerle, the University of Jamestown women's volleyball coach who was named the NAIA Coach of the Year. And bravo to Kalli Hegerle and Anna Holen, members of the volleyball team who were the first NAIA All-American first-team selections in UJ volleyball history.
Editorials are the opinion of Jamestown Sun management and the newspaper's editorial board.