Bison head coach Entz approaching Eddie Cochems status in NDSU history
Seems odd, but North Dakota State was once home to a coach who helped invent the forward pass in college football.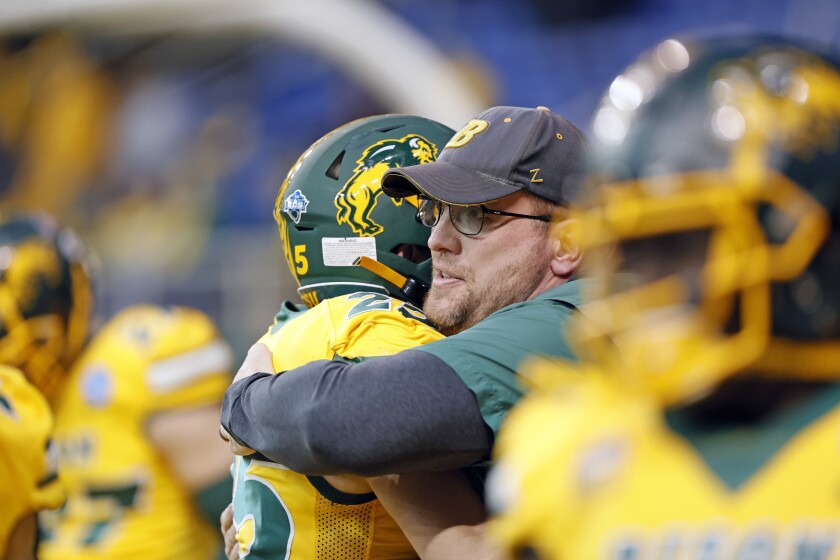 FARGO — Perhaps it's the ironies of all college football ironies that Eddie Cochems, who some have called "The Father of the Forward Pass," for two years was the head coach at the North Dakota Agricultural College, now North Dakota State. In 1902 and 1903, Cochems' teams went 9-1 including the 1902 season when the Aggies (now the Bison) outscored their opponents 168-0.
Cochems moved on to Wisconsin, Clemson and St. Louis University, the latter of which he instituted the forward pass into his offense. College football made it legal around then and Cochems took advantage.
The interesting nugget, of course, is Bison football built a college football juggernaut starting in the 1960s that had very little to do with the forward pass. NDSU heads into the Division I FCS national championship against South Dakota State on Sunday with nine titles in the past 11 seasons, the greatest dynasty run of championships in NCAA history.
NDSU's FCS success was built on a power run game and a stout defense, an almost opposite philosophy of any spread, throwing offense that certainly Cochems would approve of if he were coaching today.
What does Eddie Cochems have to do with Sunday's game at Toyota Stadium in Frisco, Texas? Not much other than NDSU head coach Matt Entz, with a victory, would pass Ron Erhardt and move within a sliver of being in the top five in winning percentage of all-time Bison head coaches —right behind Gil Dobie (7-0 in 1906-07), Chris Klieman (.920), Earle Solomonson (.907) and Cochems (.900).
Of course, Entz has way more important matters on his plate than sifting through a record book.
"Guess I'm not too concerned about that right now," he said last week. "I'm more concerned about trying to win the next one. Maybe that's something we can have a conversation with after the season is over."
But the fact of the matter is since becoming the head coach in 2019, Entz is hanging with all-time Bison coaching greats. He's 49-6 with two national championships, putting him in the same zip code as Klieman (69-6), Erhardt (61-7-1), Don Morton (57-15), Rocky Hager (91-25-1) and Craig Bohl (104-32) in coaches who remained at NDSU for at least five years.
Bohl is the all-time wins leader with his 11 years in building the FCS dynasty. He left after the 2013 season for Wyoming, where the Cowboys have been a perennial bowl game contender. Klieman left after the 2018 national title for Kansas State, where he turned the Wildcats into a Big 12 Conference champion this year.
Erhardt, Solomonson, Hager, Bohl, Klieman and Entz are the NDSU coaches who have multiple national titles on their resume.
But neither have a moniker like the "Father of the Forward Pass" to their name. Perhaps there should be some ode to Eddie Cochems somewhere in NDSU's new Nodak Insurance Football Performance Complex. Seems odd a coach who was involved in the origination of the forward pass coached at the same school that made a historical living off the veer or power-based West Coast offenses.
But it's still history.