Dynasty derailed: Jackrabbits overpower Bison to win 1st FCS national championship
South Dakota State handed North Dakota State its first loss in an FCS national title game. The Bison were 9-0 in Frisco, Texas, before Sunday's loss.
FRISCO, Texas — North Dakota State is no longer perfect in NCAA Division I FCS championship games.
South Dakota State scored 31 points in the first half and rolled to a 45-21 victory against the Bison on Sunday before 18,023 fans at Toyota Stadium. The Jackrabbits claimed their first national title.
"They executed. A lot times we were in good calls and they out-executed us," said Bison safety Michael Tutsie. "They executed better than we did. ... They have great players over there."
The Bison (12-3) won their first nine national championship games before Sunday's loss. SDSU (14-1) also knocked off NDSU for the first time in the FCS postseason in five tries. The Bison were playing in their 10th championship game in 12 seasons.
The Jackrabbits have won four consecutive games against NDSU.
"It's really a storybook ending for us," said Jackrabbits quarterback Mark Gronowski, who was named the game's most valuable player. "It's always a fun game when we play against them."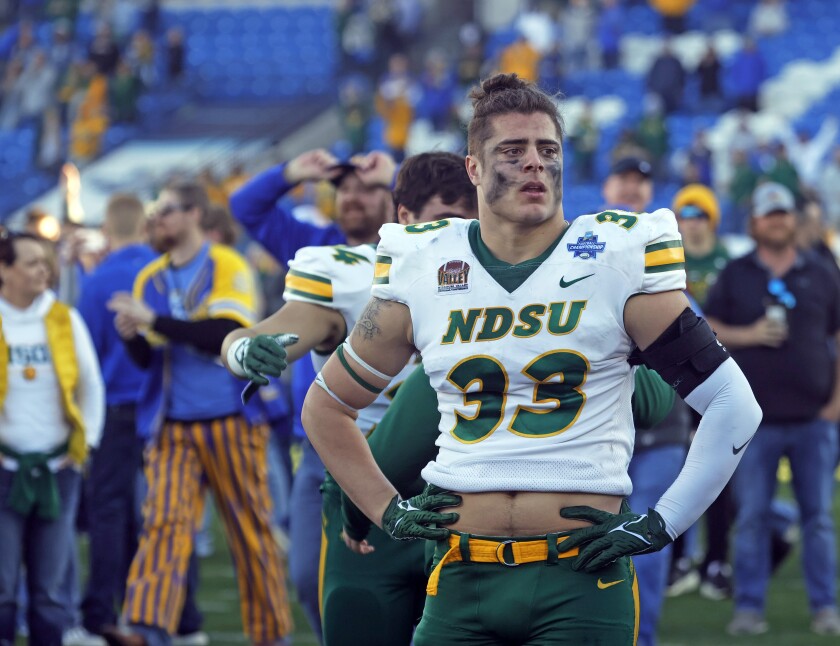 The Jackrabbits are 1-1 in FCS title games.
"I'm happy for the guys who went before these guys because they are part of this championship," said SDSU head coach John Stiegelmeier. "Hopefully it's the start of competing for a bunch of them. We made a memory."
SDSU's 45 points are the most scored in an FCS title game in Frisco, which has hosted the championship since the 2010 season. NDSU allowed the most points in a game since the 2009 season when Sam Houston scored a 48-45 victory against the Bison.
"South Dakota State played a very good football game," said Bison head coach Matt Entz. "I'm disappointed, I'm disappointed for our players, disappointed for seniors like (Tutsie) who helped me be the best coach I can be."
Tutsie was a sixth-year senior who played in 68 career games for the Bison.
"I would do six years over like that if I could," Tutsie said. "It's been truly an honor to be a Bison. It's been a true honor and an amazing experience for me and I will never forget it."
Gronowski scored on a 51-yard run for a 38-14 lead with 13 minutes, 13 seconds to play in the third quarter. The first drive of the second half covered 74 yards in three plays as the Jackrabbits continued the roll they started in the first half. The Jackrabbits carried that 24-point lead into the fourth quarter.
"We had to start (the second half) fast and score early and that's what we did on that play," said Gronowski, who has a 3-0 record against NDSU.
Bison running back Kobe Johnson scored on a 9-yard TD run to cut the SDSU lead to 38-21 with 13:44 to play in the fourth quarter. That run capped a 99-yard touchdown drive that started in the third quarter.
Gronowski put an exclamation point on his performance with a 30-yard TD pass to Jaxon Janke for a 45-21 lead with 8:05 to play in the fourth quarter. Gronowski completed 14 of 21 passes for 223 yards and three touchdowns.
"He's always been a good competitor," Tutsie said of Gronowski. "Good moxie. He did his thing today."
Bison quarterback Cam Miller completed 18 of 29 passes for 260 yards and two touchdowns with two interceptions. He also rushed for 64 yards on 13 attempts. NDSU, however, couldn't keep pace with the high-powered Jackrabbits.
"I need to be better and we'll all be better from this and I promise," Miller said.
SDSU took an early lead after running back Isaiah Davis scored on a 16-yard TD run for a 7-0 edge with 9:12 to play in the first quarter.
The Bison countered on the next drive. Tight end Joe Stoffel caught a 27-yard touchdown pass from Cam Miller on a flea-flicker to tie the score at 7-7 with 6:31 to play in the first quarter. The 75-yard march took seven plays.
Running back Amar Johnson scored on a 32-yard touchdown run to give the Jackrabbits a 14-7 lead with 12:50 remaining in the second quarter. The play before, Davis had a 12-yard reception to a convert a third-and-6 play from NDSU's 44-yard line. The drive covered 77 yards in eight plays.
SDSU receiver Jaxon Janke caught an 18-yard touchdown pass from Gronowski for a 21-7 lead with 11:03 to play in the first half. The Jackrabbits took advantage of a short field, recovering a Kobe Johnson fumble at the NDSU 34-yard line. Four plays later, SDSU was in the end zone.
"When you are playing a good opponent, the turnovers matter the most," said SDSU linebacker Jason Freeman.
The Jackrabbits took a 28-7 lead after tight end Michael Morgan caught a 44-yard TD pass from Gronowski with 3:30 to play in the second quarter. Gronowski faked a run into the line of scrimmage before pulling up short of the line of scrimmage and passing the ball to a wide open Morgan.
"It was really awesome to see him score a touchdown," Gronowski said.
Bison receiver Eli Green caught a 44-yard TD from Miller to cut the Jackrabbits lead to 28-14 with 2:03 remaining in the second quarter. That was Green's first career touchdown.
SDSU kicker Hunter Dustman hit a 30-yard field goal on the final play of the first half for a 31-14 lead. Amar Johnson helped set up that score with a 55-yard run to the Bison 20.
"At the end of the day we all feed off each other," Amar Johnson said.
SDSU gained 343 yards in the first half on 38 plays, while NDSU had 186 yards on 22 plays. The Jackrabbits converted the lone turnover of the opening 30 minutes into seven points. The Bison weren't able to overcome that strong Jackrabbits start. SDSU finished with 506 yards on 59 plays.
"It's fun to be the first. I'm really proud of our program," Stiegelmeier said. "It was a fun game for the Jackrabbits."