Blue Jay roundup: Basketball, hockey on the road
Blue Jay girls basketball and Blue Jay boys hockey competed on the road Saturday.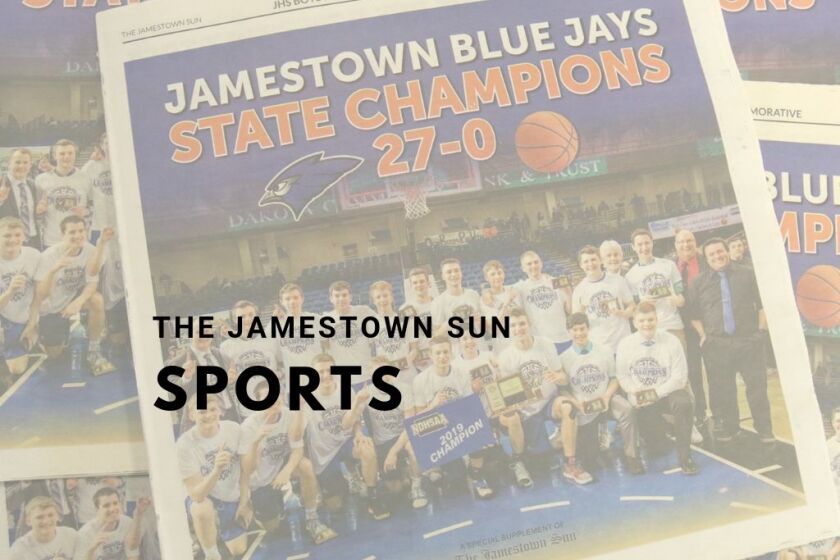 Blue Jays girls basketball had a little more success in the capital city Saturday evening than they did last Tuesday.
The Jays defeated Bismarck St. Mary's 69-43 to improve to 1-1, while the Saints remain winless at 0-3 in the West Region. JHS fell 60-55 to Bismarck Legacy on Dec. 15.
"The girls played hard tonight with a lot of energy," JHS head coach Andy Skunberg said.
Ella Falk led the team's balanced scoring performance with a pair of 3s for 14 points. First-year varsity team member Annie Nabwe was a perfect 1 of 1 from the line and buried six field goals for a total of 13 points.
Grace Hegerle tallied a dozen of her own points, while Katie Trumbauer and Jordan Finck combined for 20 points.
"They did a good job of looking for each other and playing good team basketball," Skunberg said.
Due to technical difficulties, stats for the Saints were not immediately available.
JHS is scheduled to host Minot Dec. 29 at 7 p.m.
Jamestown 69, St. Mary's 43
JHS 32 37 -- 69
SM 14 29 -- 43
JHS -- Ella Falk 14, Annie Nabwe 13, Grace Hegerle 12, Katie Trumbauer 10, Jordan Finck 10, Karlie Remmick 4, Katie Falk 4, Haylie Hakanson 2. Totals: 28 FG, 9-10 FT, 14 fouls. 3-pointers: E. Falk 2, Finck 2.
SM -- Stats not provided.
Records: Jamestown 1-1, 1-1 West Region, St. Mary's 0-3, 0-3 West Region
Blue Jays lose to Magicians in OT
Jamestown High School boys head hockey coach Matt Stockert was feeling pretty good after the first period Saturday afternoon at MAYSA Arena.
The Blue Jays battled Minot but fell 3-2 to the Magicians in the team's first overtime game of the season. The Blue Jays are slated to travel to Hazen on Dec. 28 at 5 p.m.
"The result wasn't a W but we played well enough to win and all played well," Stockert said. "It was pretty obvious we played a game last night and they didn't, but our kids still got after it like we wanted."
Brooks Roaldson was the one who got after it first for the Blue Jays. The sophomore forward capitalized on a pass from Braxton Jorissen with 11:56 left in the first period.
After Minot's Isaiah Thonphet tied the game at one goal apiece, Gavin Haut gave the Blue Jays the lead again racking up a solo goal with 12:06 gone in the first.
The 2-1 lead did not last too long for the Jays.
"We probably didn't finish some opportunities like we wanted but that will come. we just gotta keep our laces tied tight and chin straps buckled tight," Stockert said.
Minot dished out another goal from Jayden Luck with just under five minutes to play in the second. Stockert said the 2020-21 Magicians are very similar to last season's 13-1 squad.
"Their team (has) good goaltending, speedy forwards and puck-moving defensemen," Stockert said. "They do a good job through the neutral zone (but) we countered well I thought. In fact, if we played this way last night the result isn't a 6-3 loss."
The Jays fell to Bismarck Century at Wilson Arena on Dec. 18.
After a scoreless third period, the two teams went into an unexpected fourth frame.
"OT is a crapshoot," Stockert said. "All it takes is one opportunity. They had the first one and made it count. If we do a better job of taking care of the puck in that situation and they don't get the opportunity.
"The boys have shown improvement since day one and that's all we can ask."
Minot 3, Jamestown 2
JHS 2 0 0 0 -- 2
MIN 1 1 0 1 -- 3
First Period: 1. JHS, Brooks Roaldson (Braxton Jorissen) 5:04; 2. MIN, Isaiah Thongphet (unassisted) 8:24.; 3. JHS, Gavin Haut (unassisted) 12:06.
Second Period: 4. MIN, Jayden Luck (Thonphet, Gabe Thongphet) 11:57.
Third Period: No scoring.
OT: 5. MIN, Casey Fjeld (Aiden Morelli), 1:00.
Penalties: J, 5 for 10 minutes; MIN, 3 for 6 minutes.;
Goalie Saves: JHS, Brode Hillstrom 10-10-5-2--27. MIN, Tre Sortland 10-6-6-0--22.
Records: Minot 3-0, Jamestown 1-2