Champion Meghan Ford three-peats in Class A mile run
In 2019, Meghan Ford won the North Dakota Class A girls 1,600-meter run by 0.55 seconds.
BISMARCK -- In 2019, Meghan Ford won the North Dakota Class A girls 1,600-meter run by 0.55 seconds.
On Friday at the MDU Resources Community Bowl in Bismarck, the Jamestown High School senior had a little bit more breathing room.
Ford powered her way through winds of 25 mph to score her third and final state title in the four-lap race. Ford crossed the line in 5 minutes, 2 seconds to win the first individual championship of the Class A state track and field meet. The meet will continue Saturday at 8:45 a.m.
"I am always nervous for this one now because the last two times I ran it, it ended with a sprint finish against Megan Lundstrom," Ford said. "I was sort of nervous that was going to happen again, but I felt pretty confident going into the third lap that I pretty much had it."
Lundstrom, a 2019 Fargo Davies grad, gave Ford a challenge at state in 2018 and 2019, a feat no one could seem to match in Ford's mile finale. Bismarck's Jilee Golus drafted off Ford the first two laps but quickly fell behind as the first curve of the third lap approached and Ford's lead grew to 25 meters.
Golus still ended up second with a time of 5:09.15.
"It wasn't my fastest time but I wasn't really expecting it to be because of the wind today," Ford said. "I kind of had a race strategy going into today but every time I looked at the forecast it was going up and up so I kind of threw it out the window."
With one title out of the way, Ford has gotten the nerves out of her system and is looking to do some more damage in Saturday's 3,200-meter finals. Ford is also slated to anchor the 4x800 meter relay and run the 800.
"Tomorrow should be a little bit more relaxed," Ford said. "I have a pretty good lead in the rankings in the two-mile right now so I am going to try and go for the state record again for like the millionth time."
Ford is ranked first in the state in her signature, eight-lap race with a time of 10:38.90, more than 40 seconds ahead of West Fargo Sheyenne's Onnica Stansbury in second. The current two-mile state record is held by Karly Ackley of Grand Forks Central. Ackley's 10:32.36 race was run in 2016.
While most everyone assumes Ford will achieve a three-peat in the two-mile, the potential winner in the 800 is still anyone's guess.
"The 800 should be pretty fun because I have never won it and it's not really one of my specialties," Ford said. "It'll be nice to try and win it without all that added pressure. Nobody has beat my PR from sophomore year so I am pretty confident I will be able to put myself in a good position to win.
"But at the same time, it's the last race of the weekend so everyone's pretty tired and taxed in different ways. Having the guts to push that last 800 is pretty tough."
Ford wound up fourth in the half-mile race back in 2019 with a time of 2:15.99. Ford's PR in the 800 came at the 2019 Howard Wood Dakota Relays where she ran a 2:14.07. Golus is currently ranked first in the state with a time of 2:14.32.
The defending state champ in the 800-meter run is Erin Palmer, a junior out of Bismarck Century. Palmer won her state title with a time of 2:12.63.
"It feels so long ago that we had state here and it feels like so long since I've run a fast race," Ford said. "5Ks aren't exactly fast so it's been fun doing different distances finally."
Ben Anteau also had some fun running the mile on Friday.
"My main focus is the 3200 tomorrow so I probably didn't think about this race as much as I should have," Anteau said. "I just kind of had on my mind that I was going to get through it and see what I could do. I am happy with it, placing at state track for the first time ever."
Anteau, a senior for the Jays, placed sixth in the Class A boys 1,600 with a time of 4:21.51, nine seconds behind defending state record holder Sean Korsmo of Bismarck High.
Korsmo broke Rob Heen's 1987 state record by 0.60 seconds.
Anteau, the WDA leader in the two-mile, was feeling under the weather in the days leading up to state but is cautiously optimistic he could make a run at the state title. Anteau's 9:08.36 performance at the WDA meet puts him five seconds ahead of Brady Yoder of Dickinson.
If all goes well, Anteau could also make a run at a state title, as he is five seconds off Corey Ihmels' 9:03.65 record set in 1992.
"I have been telling him all week he has to win it," Anteau's teammate Gavin Haut said. "Sometimes he doesn't set the highest goals but I really want him to win it."
No matter how the Jays end up placing in tomorrow's finals, the team is simply happy to get the opportunity to run with the best this season.
"It has been a lot of fun," Ford said.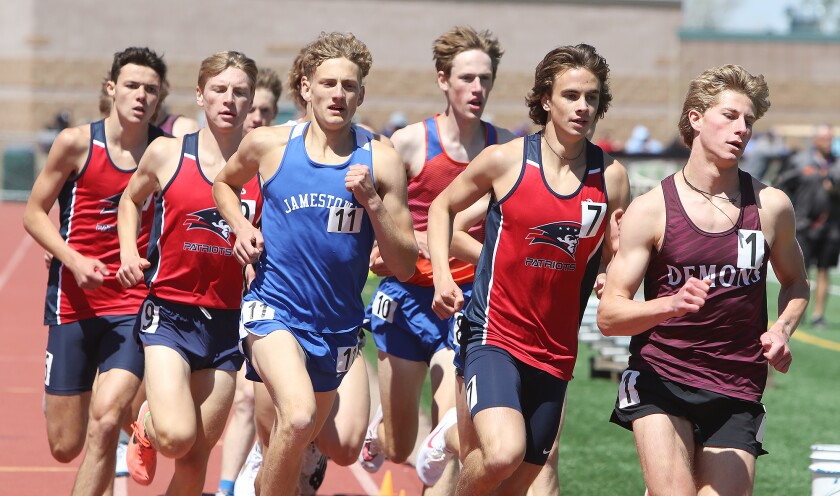 CLASS A STATE TRACK & FIELD
AT MDU RESOURCES COMMUNITY BOWL, BISMARCK
MAY 28
BOYS
TEAM RESULTS
(Through 5 events)
1. Century 82; 2. Bismarck 30.5; 3. West Fargo Sheyenne 13; 4. Jamestown 12; 5. Williston 9; 6. Fargo South 8; Legacy 8; Dickinson 8; 9. Valley City 6; G.F. Red River 6; Wahpeton 6; 12. West Fargo 3.5; 13. Fargo Davies 2; Minot 1.
INDIVIDUAL RESULTS
1,600: 1. Sean Korsmo, Bismarck, 4:12.16; 2. Brady Yoder, Dickinson, 4:13.26; 3. Jacob Knodle, WFS, 4:15.89; 4. Ethan Moe, Williston, 4:17.33; 5. Ethan Bender, Century, 4:20.5; 6. Ben Anteau, Jamestown, 4:21.51; 7. Aiden Johnson, WFS, 4:21.69; 8. Mason Kinel, Century, 4:21.75.
4X800 relay: 1. Century (Mason Kindel, Ethan Bender, Jacob Renz, Chance Bowlinger) 7:56.82; 2. Bismarck 8:00.43; 3. G.F. Red River 8:03.58; 4. W.F. Sheyenne 8:07.16; 5. Williston 8:08.15; 6. West Fargo 8:16.92; 7. Fargo Davies 8:18.62; 8. Minot 8:18.77.
Triple jump: 1. Kenneth Brako, Century, 45-7; 2. Nick Kupfer, Legacy, 45-5.5; 3. Sibomana Enock, Fargo South, 44-10; 4. Nikko Helderop, Century, 43-9.5; 5. Morningstar Williams, Bismarck, 43-0; 6. Ayden Cermak, Century, 42-5; 7. Hudson Schroeder, Bismarck, 42-4.5; 8. Devin Beach, Jamestown, 42-3.50.
Discus: 1. Lane Grant, Century, 163-0; 2. Thomas Allmer, Jamestown, 157-9; 3. Ethan Manock, Wahpeton, 154-5; 4. Andrew Leingang, Century, 149-0; 5. Hunter Harvey, Century, 147-1; 6. Lucas Scheigert, Century, 146-8; 7. Brady Bauman, Bismarck, 146-5; 8. Jacob Burckhard, Century, 145-7.
High jump: 1. Braden Brown, Century, 6-8.5; 2. Williams Durocher, Century, 6-5; 3. Peyton Zaun, Valley City, 6-4; 4. Brooks Turner, Century, 6-2; 5. Ethan Stotz, Bismarck, 6-0; 6. Ryan Brynjolfson, Century, 6-0; 7. Peyton Kessel, Fargo South, 5-10; 8T. Jean Irumva, West Fargo, 5-10; 8T. Kyler Scott, Bismarck, 5-10.
GIRLS
TEAM RESULTS
(Through 5 events)
1. Century 28; 2. Jamestown 26; 3. Fargo Davies 25; 4. Bismarck 17; 5T. Minot 14; West Fargo 14; 7. Mandan 11.5; 8. Legacy 11; 9. Fargo North 10; 10. G.F. Red River 9.5; 11. West Fargo Sheyenne 9; 12. Bismarck St. Mary's 6; 13T. Wahpeton 5; Williston 5; 15T. G.F. Central 2; Watford City 2.
INDIVIDUAL RESULTS
1,600: 1. Meghan Ford, Jamestown, 5:02.34; 2. Jilee Golus, Bismarck, 5:09.15; 3. Onnica Stansbury, WFS, 5:13.16; 4. Eleni Lovgren, Williston, 5:13.29; 5. Jadyn Guidinger, Legacy, 5:14.83; 6. Acey Elkins, Mandan, 5:14.88; 7. Jaelyn Ogle, Watford City, 5:19.54; 8. Anna Lien, Fargo North, 5:19.74.
4x800 relay: 1. Century (Autumn Ketterling, MaKayla Anderson, Ashton Kinnebrew, Erin Palmer), 9:35.28; 2. Fargo Davies 9:36.88; 3. Bismarck 9:40.70; 4. G.F. Red River 9:53.11; 5. Fargo North 9:55.75; 6. W.F. Sheyenne 9:57.99; 7. West Fargo 9:59.08; 8. Legacy 10:04.68.
Discus: 1. Anthonett Nabwe, Jamestown, 143-9; 2. Jenna Hardy, Minot, 130-9; 3. Kiera Oukrop, St. Mary's, 128-2; 4. Scout Woods, Wahpeton, 121-7; 5. Taylor Leingang, Mandan, 121-3; 6. Kaylynn Red Tomahawk, Bismarck, 120-9; 7. Cailey Moton, West Fargo, 119-3; 8. Elsie Hardy, Minto, 116-11.
High jump: 1. Hope Stein, Century, 5-3; 2. Linnea Axtman, Fargo Davies, 5-3; 3. Hunter Petersen, Jamestown, 5-1; 4T. Morgan Sheldon, Mandan, 5-1; 4T. Lauryn Rydell, Red River, 5-1; 6T. Reagan Carlson, Fargo North, 4-11; 6T. Grace Miller, Fargo North, 4-11; 8. Adison Sagaser, Legacy, 4-11.
Triple jump: 1. Laiken Sturn, West Fargo, 38-9.5; 2. Hope Stein, Century, 37-3; 3. Linnea Axtman, Fargo Davies 36-9; 4. Paige Davis, Legacy, 36-1.5; 5. MiKayla Kippen, Minot, 35-9; 6. Ellen Donat, Fargo Davies, 35-8; 7. Lauren Hillman, G.F. Central, 35-7.5; 8. Audrey Sundahl, Minot, 35.2-25.