Class B Roundup: Loboes improve to 5-0 in District 5 play
Class B volleyball and football teams were in action last week.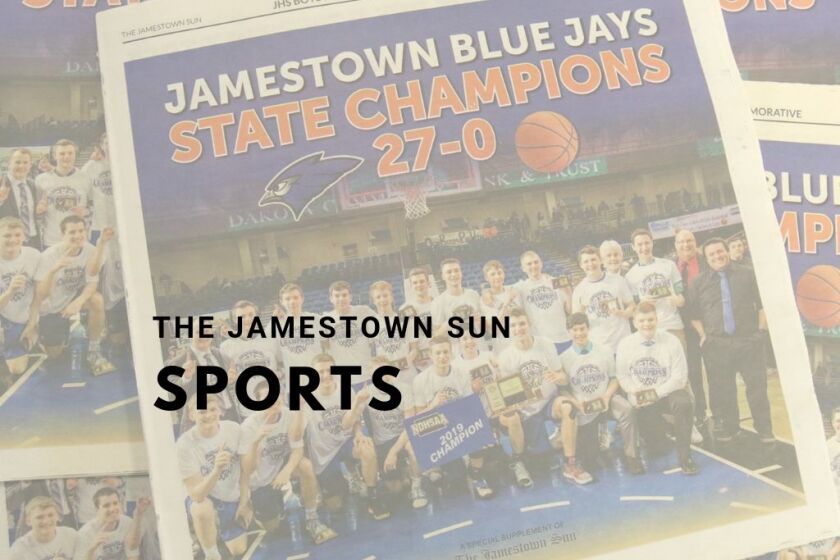 LaMoure/Litchville-Marion may have gotten a sweep Friday -- but it was anything but easy.
The Loboes defeated Griggs-Midkota 25-17, 25-23, 26-24 in a Region 3, District 5 match-up. The win puts LLM at 18-4-3 overall. In District 5, the Loboes are 5-0.
The team's last regular-season test will come against Barnes County North on Tuesday. The Titans will face Kidder County Tuesday. Both matches are scheduled to begin at 7 p.m.
LLM is slated to host the District 5 Tournament, Oct. 28 through Nov. 1.
Molly Musland had a breakout performance at the net with 14 kills. Heidi Steffes and Nateal Rodin combined for another 14 attacks.
Rodin was the team leader in digs with 20 while libero Risa Rasmusson put up another 15.
LaMoure/LM 3, Griggs-Midkota 0
LLM 25 25 26
GM 17 23 24
LLM -- Kills: Molly Musland 14, Heidi Steffes 8, Nateal Rodin 6, Tessa Rasmusson 4, Bailie Kelley 2, Rose Wendel 2, Katrina Just 1, Mollie Robbins 1, Anna Sandness 1. Assists: Wendel 22, Just 11. Digs: Rodin 20, Risa Rasmusson 15, Musland 3, Just 3, Wendel 2, T. Rasmusson 1, Kelley 1, Steffes 1. Aces: R. Rasmusson 4, Rodin 3, Steffes 2. Blocks: Steffes 4, Kelley 2.
GM -- Stats not provided.
Broncos outlast Cardinals in five
After four tight races to 25, Lisbon and Ellendale found themselves headed to five.
Lisbon ended up getting the win in Ellendale Thursday night, defeating the Cardinals 25-17, 20-25, 25-15, 23-25, 15-8. While the Broncos came out on top, the team is still near the bottom of the Region 1 standings at 1-7 and 6-21 overall. Ellendale stands at 5-13 overall and 2-8 in Region 3.
The two teams were closely matched, with Lisbon's top-three hitters churning out just three more kills than Ellendale. Lisbon's Sheyenne Waletzk and Ellendale's Avery Rotondi tied for the leading attacker, each recording 10.
Ellendale's back row was the larger defensive threat with Shelby Miller's 29 digs leading the way. Kaylin Slivoskey and Ariel Hagen combined for another 51 digs. Lisbon's Kyra Haecherl was the team dig-leader with 19.
Ellendale is slated to travel to Edgeley/KM Tuesday. The Broncos will match up against Northern Cass on Thursday.
Lisbon 3, Ellendale 2
LIS 25 20 25 23 15
ELL 17 25 15 25 8
LIS -- Kills: Sheyenne Waletzk 10, Krya Haecherl 9, Asha Sweet 9. Assists: Sweet 24, Ayriel Lyons 10. Digs: Haecherl 19, Taylor Gilbert 17, Sweet 13. Aces: Lyons 13, A. Sweet 5, Kaia Sweet 2. Blocks: Haecherl 5.
ELL -- Kills: Avery Rotondi 10, Shelby Miller 8, Olivia Hagen 7. Assists: O. Hagen 22. Digs: Miller 29, Kaylin Slivoskey 26, Ariel Hagen 25. Aces: O. Hagen 4, Mackenzie Thorpe 2, Rotondi 2. Blocks: Thorpe 3, O. Hagen 2, A. Hagen 1, Rotondi 1.
Bowman County knocks off Bison in four
After dropping the first set 25-19, Bowman County had to regroup Thursday night.
Whatever they did, seemed to work.
The Bulldogs topped Bison (SD) 19-25, 25-13, 25-11, 25-12 to improve to 16-9-1 overall and 7-1 in the Region 7 standings. BC will be in action again on Tuesday at Lemmon.
Ellie Powell led the Bulldogs in three of the five stat categories Thursday night, rattling off 10 kills, four aces and three blocks. The Bulldogs led a balanced effort at the net Thursday. In addition to Powell's 10 attacks, the Bulldogs had contributions from Alyssa Buckman (9 kills), Madeline Stafford (7), Rhyann Heyen (5) and Claire Stafford (5).
Heyen was the Bulldogs' leader in digs, popping up 16 for setter Bailey Peterson.
Bowman County 3, Bison SD 1
BC 19 25 25 25
B 25 13 11 12
BC -- Kills: Ellie Powell 10, Alyssa Buckman 9, Madeline Stafford 7, Rhyann Heyen 5, Claire Stafford 5, Alison Hoff 2. Assists: Bailey Peterson 24, Gracie Lambourn 9. Digs: Heyen 16, M. Stafford 6, Buckman 6, Avrie Nohava 5, Hoff 4, Lambourn 2, Cheyenne Dodge 2, Peterson 1, Emberle Van Daele 1, Ashlyn Fischer 1, C. Stafford 1, Sophia Headley 1, Saige Stadheim 1. Aces: Peterson 4, Powell 4, Heyen 3, Buckman 2, Nohava 2, Lambourn 1, Hoff 1. Blocks: Powell 3.
B -- Stats not provided.
Records: Bowman County 17-9
Vikings score big against Broncos Friday
Lisbon struck first in the Friday night tilt in Lisbon, but it was Kindred who got the last word.
The Vikings topped the Broncos 33-8 to move to 8-1 overall. Kindred is a perfect 7-0 in the Class B 11-man Region 1 standings while the Broncos are sitting in the No. 4 spot at 5-4 overall and 4-3 in the Region. Lisbon will face Hillsboro/Central Saturday in the opening round of the playoffs.
Kindred will face Thompson the opening round of the playoffs.
Lisbon got things started with a 58-yard run by Boeden Greenley to make it a 6-0 game. Caeden Sweet rushed for another two, to put the Broncos up 8-0 early in the first quarter.
Kindred responded with a 59-yard touchdown run from Charlie Biewer and a 29-yard touchdown pass from Max McQuillan to Lukas Klabunde to give the Vikings a 14-8 advantage.
Kindred secured its lead with another 19 points scored across the third and fourth quarters.
Kindred 33, Lisbon 8
KIN 14 0 13 6 -- 33
LIS 8 0 0 0 -- 8
Scoring by quarter
First quarter
LIS: 58-yard run by Boeden Greenley (Caeden Sweet run)
KIN: 59-yard run by Charlie Biewer (Jordyn Sunram kick)
KIN: 29-yard pass by Max McQuillan to Lukas Klabunde (Jordyn Sunram kick)
Second quarter
No scoring
Third quarter
KIN: 47-yard run by Trey Heinrich (pass failed)
KIN: 21-yard one-hopper by McQuillan to Biewer (Jordyn Sunram kick)
Fourth quarter
KIN: 20-yard pass by McQuillan to Maxwell Opgrand (kick failed)