Jimmies can't keep up in 86-81 GPAC championship loss to Dordt
The Jimmies gave up 48 points in the paint in the loss.
JAMESTOWN — The University of Jamestown battled hard down the stretch but could not finish the comeback in an 86-81 loss to Dordt University in the GPAC championship game on Tuesday, Feb. 28, at Harold Newman Arena.
"We're a good team so it was a good game and again they just came out on top," Jimmies head coach Danny Neville said.
The first half was a shootout as both teams shot north of 45%. The Jimmies shot 48% from the field and the Defenders shot 55% from the field. The teams combined to miss 36 of 73 shots. The Jimmies took an early 24-19 lead before the Defenders took the lead at 34-33 with 2:40 to go in the first half. The Jimmies responded late with a Reid Gastner three to tie the game up at 42 heading into the half. The Jimmies failed to shoot a free throw in the first half while the Defenders went 3-for-5 from the stripe.
"It's a cliche but we have tough guys," Defenders head coach Brian Van Haaften said. "They're not shaken when they make good plays because we know (Cole) Woodford and (Will) Cordes and (Mason) Walters, these guys are awesome players, (Marc) Kjos, we love those guys, we think they're awesome. So, we know that they're going to make some plays and we know we will too. So, that helps us."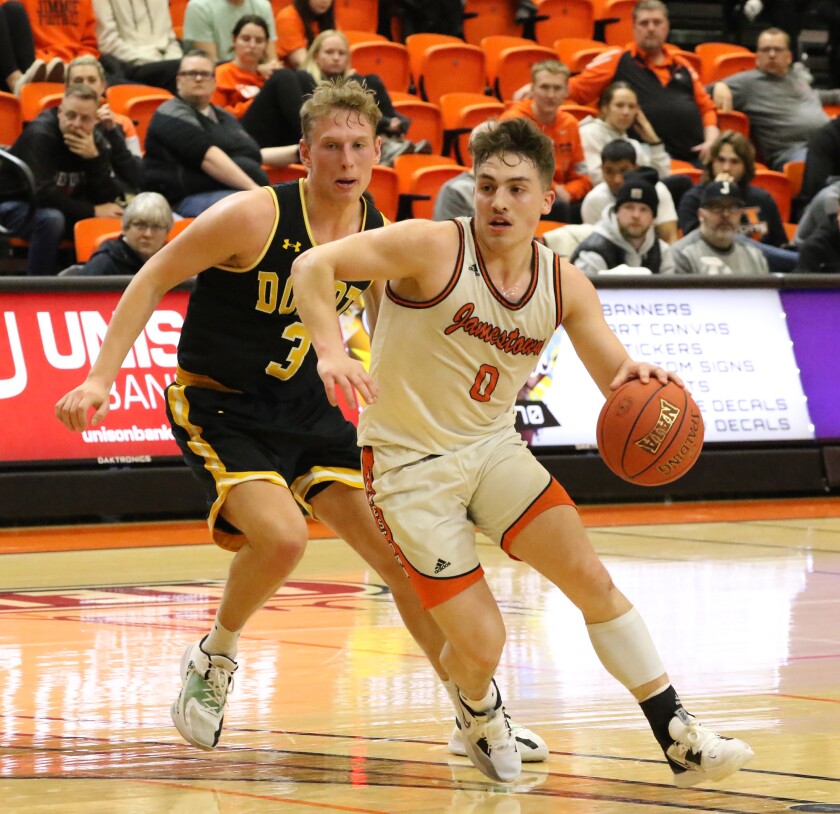 The Jimmies came out flat to open the second half as their first three possessions resulted in two turnovers and a missed shot. Despite that, they were able to tie the game up at 49 on a Will Cordes floater with 16:45 to go in the game. The Defenders were able to go on a big run to take a 67-57 lead with 10:46 to go in the game. The Jimmies got back to within striking distance at 71-69 with seven minutes to go in the game. The Defenders punched back stretching the lead out to 77-69. The Jimmies were not done however as Gastner hit another three to wake Newman Arena back up as the Jimmies trailed 77-72. The crowd stayed energetic throughout the remainder of the game as the Jimmies cut the deficit to 82-81 in the dying seconds but the Defenders' Bryce Coppock put the game away at the free throw line.
"I just tried to rely on all the shots I've practiced over my entire life," Coppock said. "There's not much thinking when it's that loud in the gym so just have to trust what you know."
The Jimmies will now look to see who they will face when they host the first round of the NAIA tournament on Monday, Feb. 6.
DU 86, UJ 81
DU: 42 44-86
UJ: 42 39–81
Points leaders:
DU: Jacob Vis 21, Luke Rankin 16, Cade Bleeker 14
UJ: Reid Gastner 23, Mason Walters 20, Will Cordes 14
Assists leaders:
DU: Rankin 5, Vis 1, Bleeker 1, Coppock 1, Camden Bialas 1
UJ: Marc Kjos 5, Walters 4, Cordes 2
Leading rebounders:
DU: Rankin 9, Vis 8, Lorenzen 5
UJ: Walters 11, Gastner 6, Kjos 4, Jimmy Llinas 4, Colby Vazquez 4, Cordes 2