'Great day': Victory bells welcome UJ coach Nienhaus home
Nothing could've been more fitting Monday than the ringing of the bells at Harold Newman Arena.
Nothing could've been more fitting Monday than the ringing of the bells at Harold Newman Arena.
Primarily reserved to announce a University of Jamestown sports victory, Tommy Nienhaus was welcomed back to campus with bells and applause after spending 48 days hospitalized with what has reportedly killed more than 335,000 Americans to date.
UJ's all-time winningest head men's soccer coach, Nienhaus, has survived COVID-19.
"We're behind you, Tommy. Every step of the way," said UJ President Polly Peterson, minutes after Nienhaus -- with the help of a walker -- made his way inside Newman Arena for a small gathering hours after being officially discharged from a Fargo hospital. "This is a miracle that we've all witnessed together. God bless you."
The 37-year-old coach, husband and father of two children lost 45 pounds and spent 39 days in an intensive care unit (ICU). A tracheal tube was removed from Nienhaus' throat on Christmas Eve, and, with a still frail voice, he was able to briefly express his gratitude to those who came to see him home.
"From the bottom of my family and I's heart, thank you," Nienhaus said.
Emotional homecoming
Overwhelmed by the two-month journey that arguably should've ended his life, Nienhaus was flooded by emotion as he spoke, something that caught the attention of UJ women's soccer coach Nick Becker.
Becker has coached Jimmies soccer since 2012, one year prior to Nienhaus taking over the men's program in 2013. Nearly a decade's worth of bus trips and game day doubleheaders had never brought out such emotion in the man who's responsible for more than 70 UJ soccer victories, according to Becker.
"He's not real emotional, so, for him to tear up a little bit, that just shows you how deep it was," Becker said. "It hits closer to home, obviously, being one of your coworkers and someone we work with every day. It was definitely good to see him back. You could tell he was happy to be here and thankful to be alive."
Nienhaus began showing COVID-19 symptoms on Nov. 7. He was admitted into Jamestown Regional Medical Center on Nov. 11 and placed in the ICU on Nov. 13, a Friday. Sam Winning, UJ men's soccer graduate assistant coach, guided the Jimmies through their final three matches of the fall as Nienhaus was life-flighted to Sanford Health's COVID-19 unit in Fargo on Nov. 15, where his touch-and-go battle on life support with the deadly virus would play out in the ICU until Dec. 22.
The Jimmies should finish sixth in the Great Plains Athletic Conference standings via a tiebreak over Doane University and would be currently scheduled to play at third-seeded Hastings College, Nebraska, when the GPAC postseason tournament commences on April 10. Official pairings have yet to be announced by the conference.
But, remarkably, Nienhaus should be back coaching by then.
"I just get emotional even thinking about it," said Sean Johnson, University of Jamestown athletic director. "I've been here for six years and we've had some big wins and a lot of great things happen, but nothing better than today."
Led by UJ chaplain the Rev. Dr. Candace Adams, vigils and moments of prayer prior to all UJ sports games sprang up on campus during Nienhaus' hospitalization. Cathy Nienhaus, Tommy's wife of nearly 17 years, drew on that silent well of support on Dec. 6.
'Worst day of my life'
A registered nurse at JRMC, Cathy Nienhaus drove to Fargo every day during Tommy's battle to stay alive. She and the kids, Adalyn, 16, and Daygen, 11, would spend weekends in Fargo, visiting Tommy after his initial 20 days locked away in quarantine isolation had passed.
It's assumed Tommy had contracted the virus from his wife. Tommy and Cathy both went to the emergency room on Nov. 10 where they were placed on steroids, Tommy was given oxygen and they were sent home. Less than 16 hours later, Cathy brought a spiraling Tommy back to the ER.
"He struggled all through that night and I just kinda said, 'Enough is enough. He's gotta go back,'" Cathy said. "He declined very, very fast."
The week ended with a helicopter bound for Fargo. Tommy, a generally healthy individual with no history of diabetes or heart issues, had no pre-existing conditions. In fact, Cathy said he's never even taken an antibiotic in the more than 20 years the couple has been together.
"He's just never sick," Cathy said. "We've been told by numerous people ... nurses, doctors ... at certain times they did not expect him to live. They were kinda preparing us that he might not be here."
Cathy believed that night had come on Dec. 6 when a Sanford nurse called her back to Fargo after she had returned to Jamestown from her daily visit. The call came past midnight.
"Visiting hours end at 8 p.m. and they don't let people stay or come back. They're very strict with their protocol," Cathy said. "She said, 'You need to come back, now.'"
Paralyzed on a ventilator and in critical condition, Cathy immediately knew the gravity of the situation.
"Being a nurse, as soon as I walked in the room I saw his vitals and I literally at that moment thought we were losing him. It was by far the worst day of my life."
Possibly the worst day for Tommy came less than a week later when he was cardioverted -- electrically shocked -- to subdue a suddenly racing heartbeat.
"They tried a bunch of meds and nothing worked to kinda reset his heart," Cathy explained. "The cardioverting wasn't even by far the worst of it. It probably was for him because he actually remembers that.
"They have said, basically, it's a miracle he's alive."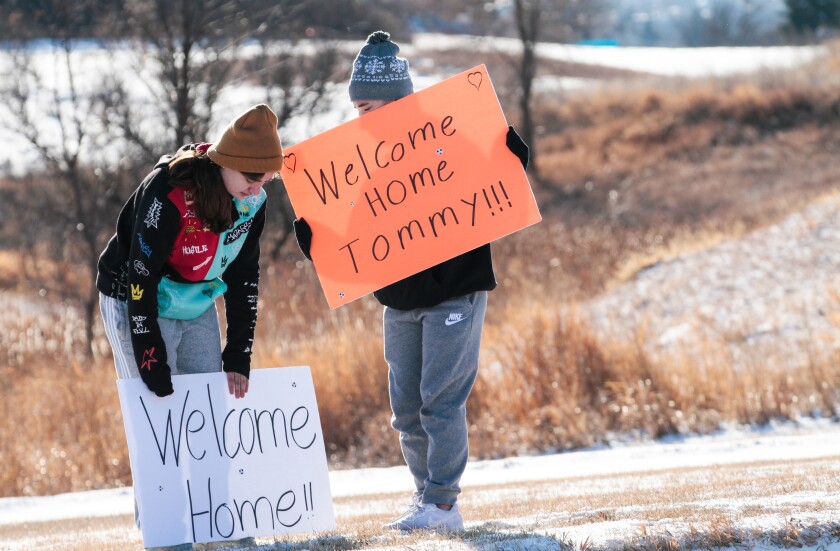 Exceeding expectations
Tommy has immediately attacked his rehabilitation, which Cathy said will include physical, occupational and speech therapy in the many weeks that are still ahead. The coach is set to receive an evaluation this week in Jamestown which will help map out his recovery at home.
"He's already put on 5 pounds," Cathy said. "Everybody's expectations on what they thought was gonna happen, he's surpassed all of those.
"He's stubborn," Cathy laughed. "So, he was just gonna show us how stubborn he was."
Cathy said the support she and her family have received from UJ and the community has been immense. A GoFundMe page established for Tommy has raised over $15,500.
The mother and nurse said she never had to worry about preparing a meal during the entire ordeal.
"Somebody had always brought by food for me and the kids ... people I've never even met," Cathy said. "This community has just gone above and beyond every expectation that I could have ever even imagined. It's just been amazing."
Watching Tommy walk into Newman Arena on Monday was equally amazing.
"There's been a lot of praying going on," Johnson said. "We believe in that and we think it played a big part in it. I can't thank JRMC and the nurses and the doctors here, and then everybody at Sanford and what they did for him. Seeing him today and his family, it's just amazing.
"Great day."