Ice arenas face a dilemma as R-22 is phased out
By 2020, the common refrigerant R-22 no longer will be produced or imported into the U.S. That means ice arenas large and small will be stuck with some potentially costly options. One expert calls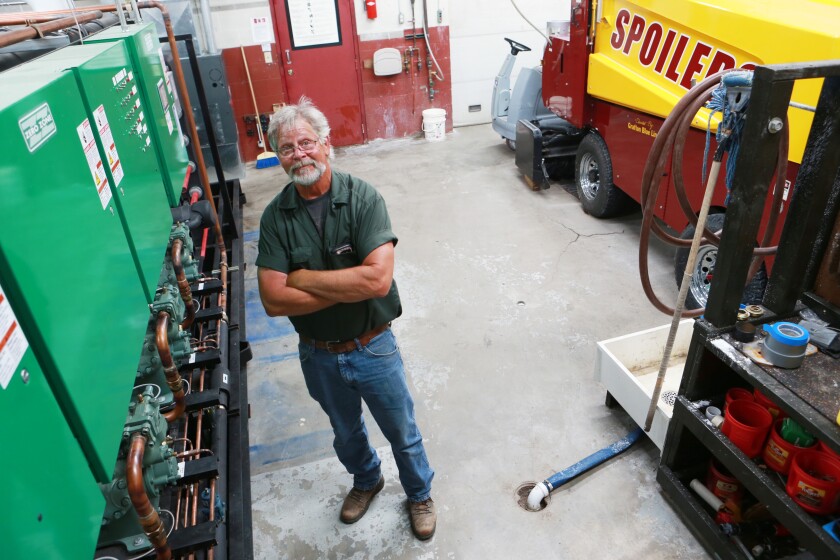 We are part of The Trust Project.
GRAND FORKS -- Charlie Muus has a dilemma.
As director of maintenance and operations at Grand Forks' Ralph Engelstad Arena, one of Muus' responsibilities is the rink's ice cooling plant -- an estimated 2,500-square-foot space in the depths of the home of UND hockey.
And by 2020, the refrigerant gas used to operate his system -- R-22 -- no longer will be produced or imported into the U.S., part of a global effort to reduce greenhouse gases and protect the ozone layer.
And therein lies Muus' dilemma: Should the Ralph continue to spend money on increasingly hard-to-get -- and therefore increasingly expensive -- R-22, or should the facility undergo a costly renovation to change its ice-making equipment?
It's a question being asked in communities throughout North Dakota and Minnesota, where nearly half of those states' approximately 300 rinks run on R-22.
"Unfortunately, not everyone is creating a plan … but any plan you do create is thousands and thousands of dollars," said Dave Wescott, a certified ice technician who consults for rinks across the country including arenas in towns throughout North Dakota and Minnesota. "It's a big, big deal, especially for small municipalities."
A complete ice system overhaul can be a $1 million upgrade -- a considerable cost for cash-strapped communities.
R-22, which was most commonly used in air conditioning systems, began phaseout with the Montreal Protocol, an international treaty signed in August of 1987. The treaty was designed to protect the ozone layer by phasing out the production of numerous substances responsible for ozone depletion.
The treaty targeted dates in 2004, 2010 and 2015 for the United States to hit R-22 consumption benchmarks.
On Jan. 1, 2020, the Montreal Protocol requires U.S. chemical manufacturers to no longer be able to produce R-22 to service existing systems.
At REA, Muus has enough R-22 on hand -- a supply estimated at more than 3,000 pounds -- to provide a wait-and-see period, perhaps as long as 10 years.
R-22 isn't the only freon available. Another option is R-134A, widely used in cars and refrigerators. There's also R-410A (often used in home air conditioners) and R-507 (a blend of two common freons).
Muus, however, said these freons don't run as efficiently on his system as R-22. Others said those alternative freons aren't perfectly compatible with existing systems previously running on R-22.
Wescott, owner of All Star Arenas in Tampa, Fla., was driving zambonis at 17. Now 57, he's worked the ice at the Winter Olympic Games in Turin, Italy, in 2006 and Salt Lake City in 2002. He spent two years (2011 and 2013) as the head of ice maintenance for the NHL's Carolina Hurricanes and he has consulted International Ice Hockey Federation events at the REA and Scheels Arena in Fargo.
Because of the alternative freons, Wescott thinks communities dealing with renovation projects right now are needing upgrades just as much for the age of the ice plants as for the R-22 phaseout itself.
"If you're using a system that still runs R-22, you've probably got a system that needs to be upgraded," Wescott said. "The typical life cycle of industrial plants is 30 years. At that point, it's going to start giving you grief enough that you'd have to consider replacement."
If a new freon isn't the answer, Muus would like to see other rinks testing new technology before the REA commits to an alternative direction.
Alternatives aren't great
The alternatives to move on from R-22 aren't great at the moment. Muus is intrigued by carbon dioxide systems, although their use is extremely rare. He doesn't want to use ammonia -- even though he said it's the most efficient. He's scared away by its potential health hazards and corresponding ventilation needs.
"When I heard about this, I was nervous because I didn't know what the changes would be," Muus said. "The CO2 systems weren't out there yet and the thought of bringing in ammonia … you have an ammonia leak and people are getting sick. I personally want to stay away from that if I can."
In 2017, three ice rink workers died of ammonia poisoning due to a 30-year-old plant leaking through rust and corrosion in Fernie, B.C., a community of 5,000 near Vancouver.
Ammonia plants are also twice the cost of freon plants, Wescott said.
As for carbon dioxide, Muus estimated there are fewer than a dozen rinks worldwide right now operating on that system, so a problem could exist with finding available product or finding someone to repair the unique setup.
One other drawback of the carbon dioxide system is the cost can be $1 million more than a typical cooling system, Wescott said. They also don't work in warm-weather climates, he said.
"A lot of rinks have R-22 and a lot of rinks match exactly what our mix is," Muus said. "Five or six years down the road, if someone says here's the new king of ice-making, I'd be really excited to try that. … But I'd like you to try it first."
At least the REA has a deep supply of R-22. Other rinks aren't so fortunate.
After the 2020 deadline, arenas still have choices. They can use any R-22 they may have in supply, buy from other rinks' supply or purchase recycled R-22.
Some, though, worry the cost of R-22 will take a sharp rise as the supply is depleted.
Smaller arenas
In Grand Forks, Eagles Arena had been operating on its original cooling system from 1985. After an unsuccessful effort to convert the old system to a new freon, Eagles will be undergoing a $850,000 reconstruction this summer to put in a new plant, Park District Executive Director Bill Palmiscno said. The reconstruction also will include new compressors and a new electrical system.
Grand Forks' other rinks already have transitioned away from R-22. Icon Sports Center was built in 2014 with an updated system, while Purpur Arena installed a new plant three years ago.
Gambucci Arena was converted to a newer freon system after a $50,000 upgrade, according to Palmiscno.
East Grand Forks is at a crossroads with the R-22 phaseout. The city is debating whether to continue with R-22, replace the ice systems at the Civic Center and VFW or build a new arena. The East Grand Forks City Council hired JLG Architects for $10,000 in mid-June to explore the three options.
In the meantime, EGF Parks and Recreation Director Reid Huttunen told the City Council he plans to buy about 2,000 pounds of R-22 from Grand Forks' Midwest Refrigeration at $12.59 per pound -- $25,180 in total. The city has about 450 pounds stockpiled, which staff draw from when they need to patch part of the systems. The city has used about 1,500 pounds of R-22 over the past six years, Huttunen estimated.
Grafton's Centennial Center already underwent an upgrade that included a new cooling system at a cost of about $350,000, Business Manager Matt Oppegard said. The city worked with the local Blue Line Club on the project, which also featured a new lobby.
The Centennial Center, which had been operating on a cooling system from the late 1980s, went through the renovation about a year ago.
Thief River Falls has two ice arenas: the Ralph Engelstad Arena, which shares the same name as the large arena in Grand Forks, and Huck Olson Memorial Arena. Both rinks still use R-22, although the Huck is scheduled for renovation, according to former arena manager Missy Sletten.
"The plan right now is to stay with R-22 (at the Ralph) and have some on hand if needed," Sletten said. "It's a newer system. We have a 5- to 10-year plan, but with the new Huck install, that changed the plan."
In mid-June, Thief River Falls' City Council accepted the low bid from Midwest Refrigeration for new refrigeration equipment at the Huck at a cost of $269,648.
The Gardens in Warroad is in a similar position. The Gardens has two ice sheets, with its Olympic sheet still running on R-22 and the other rink running on R-410A.
"We are planning on doing a renovation, so we're currently holding off on the switch," Arena Manager Jude Bouilanne said. "We don't go through a lot of R-22. Our system runs decent. We've got enough in stock for the next couple of years but the longer you wait, the more expensive the project is going to be."