Jays' Torres keeps Legacy out of the goal Tuesday
The Jamestown High School girls soccer team hosted Bismarck Legacy Tuesday evening.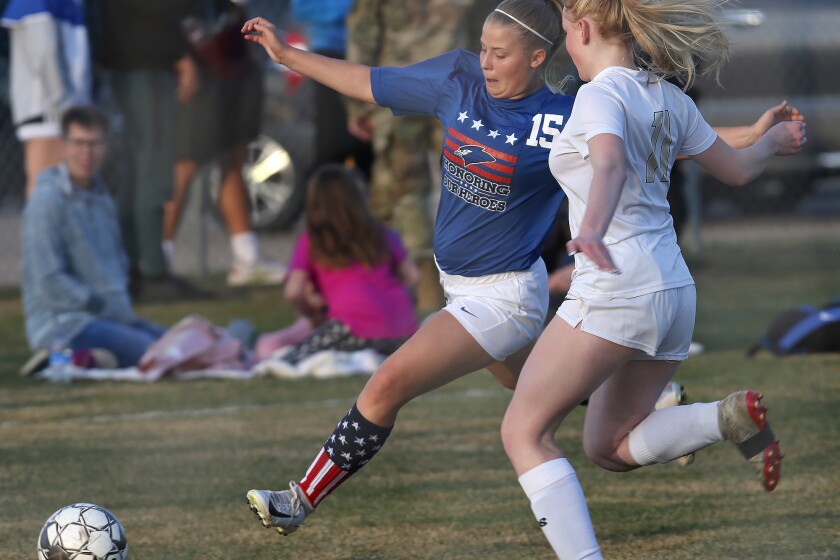 To say the Jamestown High School girls soccer team's goalkeepers have risen to the occasion would be an understatement.
"These girls have a fight in them," JHS head soccer coach Brandi Harty said. "These girls are not going to give it up. They fight until the very end."
Leah Torres, an eighth-grader for the Blue Jays, fought to the very end all right Tuesday night.
Torres assumed the starting spot in goal at Rotary Field and kept all four of Bismarck Legacy's shots out of the net. Torres first saw the varsity field on Saturday against Bismarck Century when starting goalie, Olivia Sorlie, suffered a broken wrist in the last 12 minutes of the game.
"I was terrified," Torres said of starting. "Like all day I was thinking about it, but I guess I did OK. I didn't let any balls in so that's probably the best part."
The 5-foot-nothing goaltender helped the Blue Jays to their second scoreless draw of the year. The Jays (2-1-2) and Sabers (2-2-1) are both sitting mid-pack in the West Region. Jamestown is expected to face West Region leader Minot on Friday at the Majettes' home venue. Minot is currently undefeated at 4-0 with their closest game coming against Mandan. The Majettes defeated the Braves 3-0 back on April 9.
After a stellar first half of strong defense and many attempts at the net, Legacy found a new gear that almost caused Torres to go 3-for-4 in saves.
A Saber attacker came sprinting down the field to capitalize on what was almost a perfectly teed-up shot. The kick ended up landing just wide of the net and Torres was there to recover the ball before the Sabers could get another shot off amidst cheers from her teammates and a sigh of relief from her head coach.
"It is very scary for young girls to step in and she did it perfectly," Harty said. "She did what she was supposed to do and I couldn't be prouder of her. Olivia is done for a while but that's OK. We'll get (Sorlie) in the field when we can and move on from there. It's just something that we have to adjust to and deal with."
Torres and Sorlie have been working with goaltending coach Donovan Gibson -- a tactic that gives the Jays a definite advantage in the box. Harty said that having Gibson, a former goalkeeper himself, has a very keen eye for seeing what the Blue Jays need in the box from the basics to the challenging tactics.
"I think if it would be anyone else (working with us) I wouldn't have saved any of those," Torres said of Gibson. "Donovan is an amazing coach."
Torres had a chance to put all that working knowledge into action with about four minutes left to play in regulation. Legacy came sprinting up the middle and shot the ball high and what seemed to be out of the reach of the eighth-grader. Legacy had another thing coming as Torres jumped and caught the high-sailing ball.
The official called for a corner kick following the play -- a kick which Torres also saved.
While the Jays' netminder was credited for keeping balls out of the net officially, the eighth-grader gave all the credit to her teammates in the back part of the field.
"Our defense was amazing," Torres said. "I couldn't have done it without them. Especially Hannah Sjostrom -- she saved me a couple of times. Everybody did their part. I have never been happier with a team. They all want it more than anybody else -- they are pretty great."
Bismarck Legacy 0, Jamestown 0
BL 0 0 -- 0
JHS 0 0-- 0
Scoring
First half
No scoring
Second half
No scoring
Shots on goal: BL 4; JHS 18
Saves: BL, Brooklyn Gallion, 8 JHS, Leah Torres 11
Records: Bismarck Legacy 2-2-1, 2-2-1 WDA; Jamestown 2-1-2, 2-1-2