Jimmie hockey opens season tomorrow in Bismarck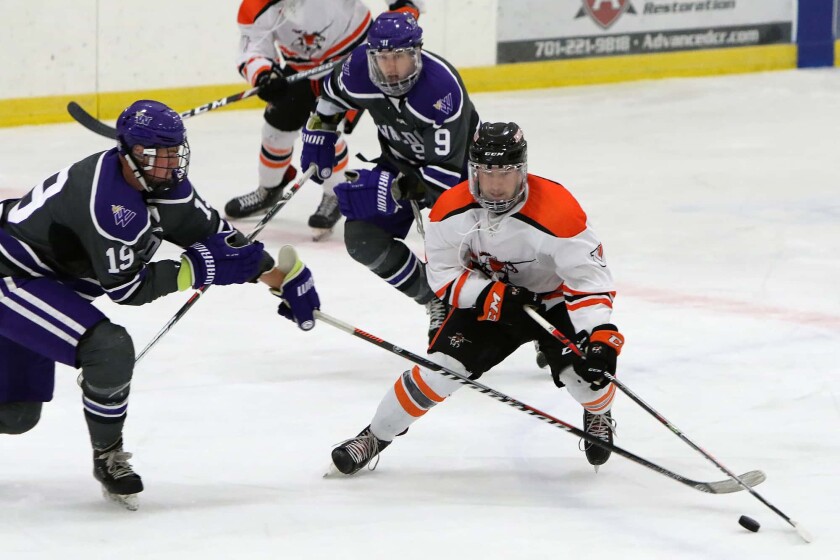 University of Jamestown head hockey coach Dean Stork is going to learn a lot about a very fresh group of Jimmies in the coming weeks.
The American Collegiate Hockey Association Division I Jimmies will open the season tomorrow playing at the University of Mary in Bismarck with 16 freshmen in uniform. The Jimmies graduated 14 seniors last season who were all part of the program's inaugural recruiting class.
Compounding unfamiliarity on the ice has been working around campus COVID-19 protocols. Stork said initial practices this fall could only consist of 12 players at a time and only prior to last week's ACHA Division II games against U-Mary was the team able to conduct intrasquad scrimmages and work on systems.
The Jimmies lost its opening pair of D-II games to U-Mary 7-4 and 4-1 on Oct. 2-3.
"It's a bit of a scramble right now," Stork said. "I've got 28 (total) freshmen out of 48 skaters. We're very young and it showed over the weekend."
Jamestown will be led by seniors Tyson Brouwer, Vladislav Zamzhytski, Jason Richter and Tyler Chavez-Leech. Richter, a fifth-year senior forward along with goalie Brouwer, is UJ's all-time leader in goals scored with 44 but will be sidelined with an injury to start the season.
Brouwer was named MVP of the ACHA's Division I Independent Conference last season, posting a 23-8 record with six shutouts, a save percentage of .936 and a goals-against-average of 1.76. The Jimmies finished last winter at 28-8 overall and were scheduled to play in the ACHA national championship tournament last March in Frisco, Texas, prior to the postseason being canceled due to COVID-19.
Also returning after earning Independent Conference rookie of the year honors is sophomore forward Aidan Potas. Potas tallied 18 goals in 2019-20 as a true freshman. Chavez-Leech is returning at forward after posting 11 goals and 17 assists as a junior.
Stork said national tournament expectations will be tempered a bit with a largely new group of skaters. UJ has already won 92 games over the program's first four seasons and was planning to appear in a third national tournament last winter.
"It's gonna take us a couple years," Stork said. "I'm getting to know them a little bit at practice in our little groups, but this is a group that needs a lot of teaching. We lost a special group in that class last year and it's very noticeable. It's gonna take a year or two."
But the Jimmies are playing hockey, which currently has to be considered a win. UJ is scheduled to travel to Iowa State on Oct. 9-10 and open at home on Oct. 23 hosting rival Minot State at 7 p.m.
"It was a tough start but now we're slowly getting into a practice routine with our numbers," Stork said. "It's gonna be a different year. There's gonna be a lot of ups and downs."