Jimmies breeze past seventh-ranked Mustangs
At 6-foot-11, it's pretty clear what Devon Schultz's strength is on the basketball court.
University of Jamestown men's basketball coach Danny Neville told the redshirt junior to take advantage of it Wednesday hosting seventh-ranked Morningside College.
"He just told me to dunk the ball," said Schultz, who crammed a trio of dunks through the cylinder off the bench in the first half. "He said don't worry about finishing; don't worry about making moves. Just get the ball and dunk it and that's what was on my mind."
Schultz scored eight of his 10 energizing points in the first half on four shots, as the Jimmies rolled to a convincing 85-73 victory over Morningside to open Great Plains Athletic Conference play. Flexing impressive depth, the Jimmies moved to 4-0, defeating the Mustangs -- ranked first in the GPAC preseason coaches' poll -- for the first time since raising the GPAC tournament championship banner on Morningside's home court in February 2019.
"Schultz, this is his fourth year here, so we're asking him to step up," Neville said. "Before the game, I just told him to be confident and be yourself."
In the year of the great unknown, Neville got back one starter this week but lost two others. Senior transfer Allante' Pickens was back directing the point after missing the past two games in COVID-19 quarantine, but sophomore guard Marc Kjos and senior forward Brady Birch were unavailable in what turned out to be a 20-point game in the second half.
UJ's Devan Praska and Brock Schrom were thrust into the starting lineup. Schrom finished with 15 points and six rebounds, while Schultz and true freshman guard Will Cordes provided huge minutes off the bench.
Cordes, from Shakopee, Minnesota, rifled off seven of 16 total points during a 16-10 UJ run to close the first half, flipping a 26-25 Morningside lead with 5:47 to play to 41-26 Jimmies at the break.
The lead swapped hands nine times in the first half. UJ was also without reserves Cole Woodford and Mitch Larson against the Mustangs.
"I thought we had a really focused practice this week and guys were engaged," Neville said. "We didn't really dwell on the guys that were gone. Next man up and that's why we believe in those guys and give those guys a chance.
"Will Cordes, he hit some jumpers that were huge for us and a freshman doing that is pretty cool."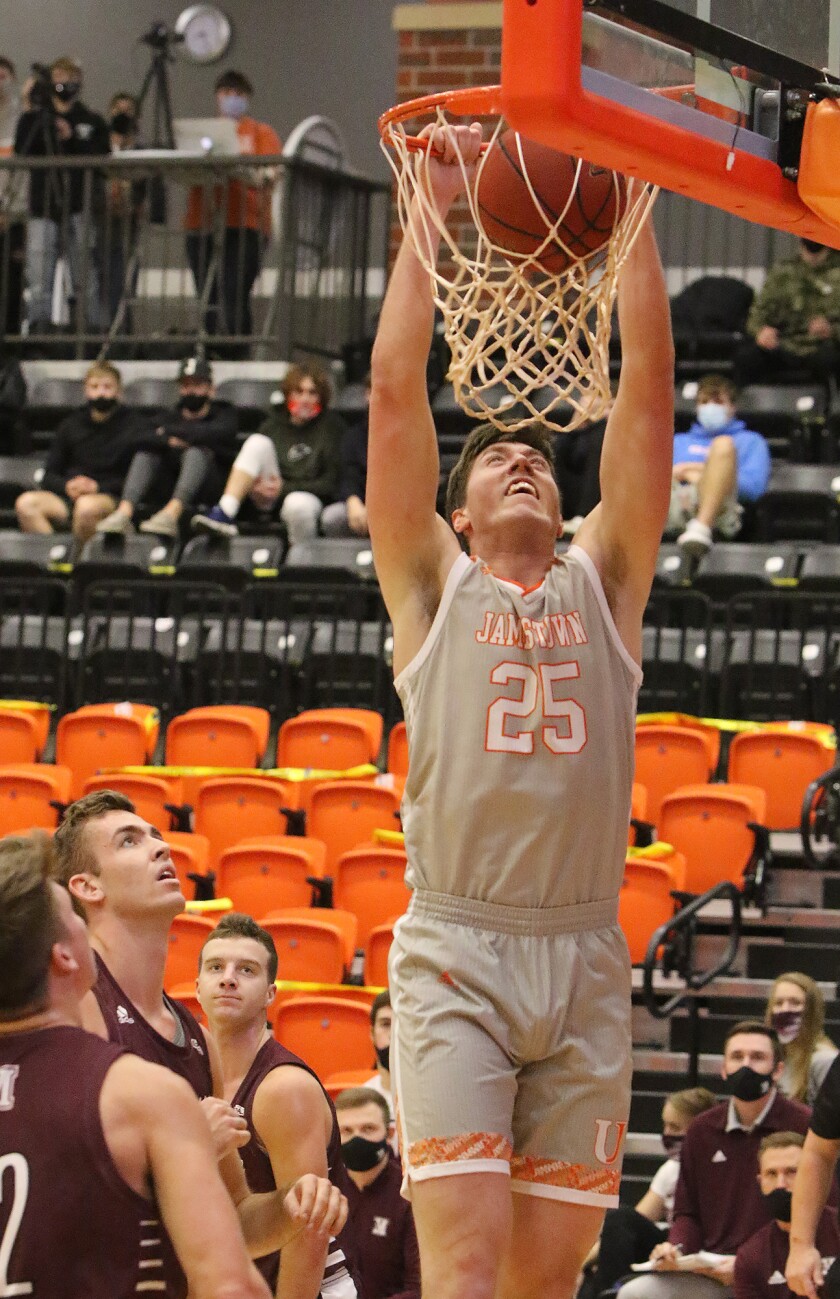 Pickens kicked off eight straight UJ points to open the second half with a 3-pointer, and the Jimmies would ultimately pull ahead 63-43 with 12 minutes remaining in the game. Morningside's 6-6 senior center Trey Brown was getting his, finishing with 29 points, but contributions elsewhere fell short for the visitors.
Jamestown's Mason Walters and Co. limited all-conference guard Zach Imig to six points and four assists while limiting the Morningside offense to 5 of 16 from 3-point range. The Jimmies also outrebounded the Mustangs 35-24.
"We got contributions inside but we got very little on the perimeter, and we've gotta be more balanced than that," said Morningside men's basketball coach Jim Sykes. "I liked the way we fought, but it was when we were 20 points down. If we woulda maybe fought like that when the score was even it may have been a different outcome, but Jamestown was ready to play."
"(Cordes) had a helluva game, and those guys get opportunities like that because other guys are out and they took advantage of it. So, congratulations to them."
Walters was on triple-double alert after 20 minutes with seven points, seven rebounds and five assists. The 6-9 sophomore was largely unstoppable, finishing with 22 points, 17 rebounds and six assists.
Walters said he enjoyed dishing the basketball in the first half while working through double teams, as he sparked the Jimmies in every area of the court.
"Just easy dump-offs for layups. I love a dunk for them more than a bucket for me," Walters said of setting up his teammates. "We had a couple guys out but we had a good week of practice and we were ready to go."
The Jimmies were able to coast to the 12-point victory after putting the game out of reach early in the second half. Pickens and Jack Tally also finished in double-digit scoring for the Jimmies, both with 10 points.
"I thought we stuck to the game plan and we did a really good job of staying focused on the defensive end," Neville said. "We had our length to our advantage and I thought our guys stepped up and really played well tonight."
The Mustangs (2-1) were ranked at the top of the NAIA Division II polls for most of last season and were ranked seventh in the preseason in NAIA's first year of single-division play. Morningside graduated All-American center Tyler Borchers and all-conference guards Alex Borchers and Matt Hahn from last year's team.
Sykes has guided Morningside to eight GPAC regular-season titles and three GPAC tournament titles.
"Our guys are aware we're going to get everyone's best shot. They think we're the team we were last year and we're not," Sykes said. "We're gonna work into that, hopefully, and find some answers."
The Jimmies have a second meeting at rival Valley City State on Saturday in Valley City before returning to GPAC play on Nov. 18 hosting Northwestern College (2-0). The Red Raiders received votes in the NAIA preseason top 25 coaches' poll and were picked second in the GPAC by conference coaches.
UJ, picked to finish fourth in the GPAC, defeated VCSU 94-69 at home on Oct. 30.
"It's really early," Neville said. "(Morningside's) a good team and they're just gonna continue to get better and now it's on to Valley City."
"That's always gonna be a fun game," Schultz added of Saturday's rivalry matchup, which is scheduled to begin at 6 p.m. at VCSU's W.E. Osmon Field House. "Obviously, it's tough with fan restrictions and stuff like that, but I still think it's gonna be rowdy."
University of Jamestown 85, (7) Morningside College 73
MC 36 37 -- 73
UJ 41 44 -- 85
MC -- Trey Brown 29, Aidan Vanderloo 13, Jacob Fierst 8, Joey Skoff 7, Ely Doble 6, Zach Imig 6, Collin Hill 2, Will Pottebaum 2. Totals: 26-53 FG, 5-16 3-pointers (Vanderloo 3, Doble, Fierst), 16-23 FG, 24 Rebounds (Imig 7), 17 Fouls, 13 Assists (Imig 4), 12 Turnovers, 9 Steals (Doble 2, Imig 2).
UJ -- Walters 22, Will Cordes 16, Brock Schrom 15, Jack Talley 10, Devon Schultz 10, Allante' Pickes 10, Devan Praska 2. Totals: 33-57 FG, 6-19 3-pointers (Talley 2, Pickens 2, Walters, Cordes), 13-19 FT, 35 Rebounds (Walters 17), 15 Fouls, 23 Assists (Walters 6, Praska 5), 14 Turnovers, 3 Blocks (3 with 1), 3 steals (3 with 1).
Records: Jamestown 4-0, 1-0 GPAC. Morningside 2-1, 0-1.