Jimmies continue late-season surge sweeping Tigers
Saturday in Nebraska, the Jimmies had already hit two home runs in the fifth inning against Hastings College with Katie Merchant coming to the plate.
Saturday in Nebraska, the Jimmies had already hit two home runs in the fifth inning against Hastings College with Katie Merchant coming to the plate.
Injured teammate Katie Reisdofer looked up from keeping score in the dugout and began negotiating her on-the-fly-coaching fee with her University of Jamestown softball teammates.
"If she hits it out, you all owe me $10 for hitting lessons," Reisdorfer recalled.
Merchant squared up the first pitch she saw for a two-run homer to left, part of a four-homer, nine-run inning during UJ's two-game sweep over the Broncos.
"I was like, I'll send my Venmo," Reisdorfer said. "You're welcome."
Back at Trapper Field on Tuesday, the Jimmies were a noticeably different team than the one that departed Jamestown to win three of four Great Plains Athletic games over the weekend. A team that had been struggling offensively appeared loose, had swagger, and remained dialed in at the plate against visiting Dakota Wesleyan University.
Especially right fielder Santina Zito, who clubbed a bases-clearing double in game 1 during a 3-for-5, four-RBI afternoon, adding to the six hits and six runs she had just produced down south.
The Jimmies cruised over the Tigers, winning 5-1 in seven innings and 9-0 in five.
"I'm seeing it really well and just kinda not thinking so much," said Zito, who's batting .474 (9-for-19) with a homer in UJ's last six games. "I went into a couple of games where I was over-analyzing my swing, just thinking too much when I was in the box."
She nearly swatted her fourth home run of the season in game 2, but her shot to dead center found the fence for a double. Everyone thought it had a chance at leaving, even Zito.
"Off the bat I did," Zito laughed. "I was kinda sad when it hit off the bottom but, I mean, a double's good enough."
"I put the fence too far back," UJ softball coach Kevin Gall joked. "But hopefully that means Zito's going to get going here and (Mariah) Wick is almost producing more now in the 9-spot than she was in the 2-spot, so it's nice to see her get going."
Wick, who had been mired in a slump, looked recharged as well. She went 1-for-2 with a walk and a run scored while batting ninth in the opener, before batting 1-for-2 with a walk and three runs scored in the nightcap.
Wick weathered an 0-for-17 stretch entering last weekend's road trip but is batting .529 since leaving town.
UJ's Morgan Geiszler and Sydney Prussia both homered in game 2, while third baseman Gracie Fisher went 3-for-5 with a double and two RBIs in the two wins.
Second baseman Jenna Remenar also hit the ball hard, doubling and driving in a run in the second game.
"The start of the first game I thought we were too loose," Gall admitted. "It's almost a signal if we start popping things up we're trying to lift it and against good pitching, we're not going to be successful doing that."
Reisdorfer pointed that out Saturday, as the Jimmies made 10-fly ball outs to prompt a few pointers from the catcher .
"I was looking down the book and I was like, 'Guys, we haven't hit a ground ball yet. Hit the ball on the ground and stop dropping your shoulder,'" Reisdorfer said. "I was just expecting to get some base hits up the middle, but then we exploded."
Reisdorfer is still nursing a bruised left leg after being hit between pads by a foul tip against Concordia last Wednesday. The senior started behind the plate Tuesday in game 1 and singled in the fourth inning. Freshman Megan Neiles started behind the plate in game 2.
"It feels good," Reisdorfer said. "I'm really glad I got to get thrown in there again today and get ready for senior day on Saturday."
The pitching plan Tuesday was to start Merchant and freshman Lucy Sinkkonen and bring in ace Kat Miska in the sixth inning of both games. Merchant twirled five innings of one-run softball before handing the ball over to Miska, who recorded four strikeouts over the Tigers' final six outs.
UJ's offense provided enough punch in game 2 for Sinkkonen to fly solo. She needed just 56 pitches to get through five clean innings, allowing just four hits.
Merchant improved to 12-6. Sinkkonen improved to 3-3 in 42 innings pitched.
"It's really gratifying to see (Sinkkonen) come off the field after a scoreless inning," Gall said. "She's got a big smile on her face and she's having fun, and that's what it's all about. We think she's really gonna be good, it's just been a little more difficult to get Lucy innings than we thought it was going to be with Kat and Merch."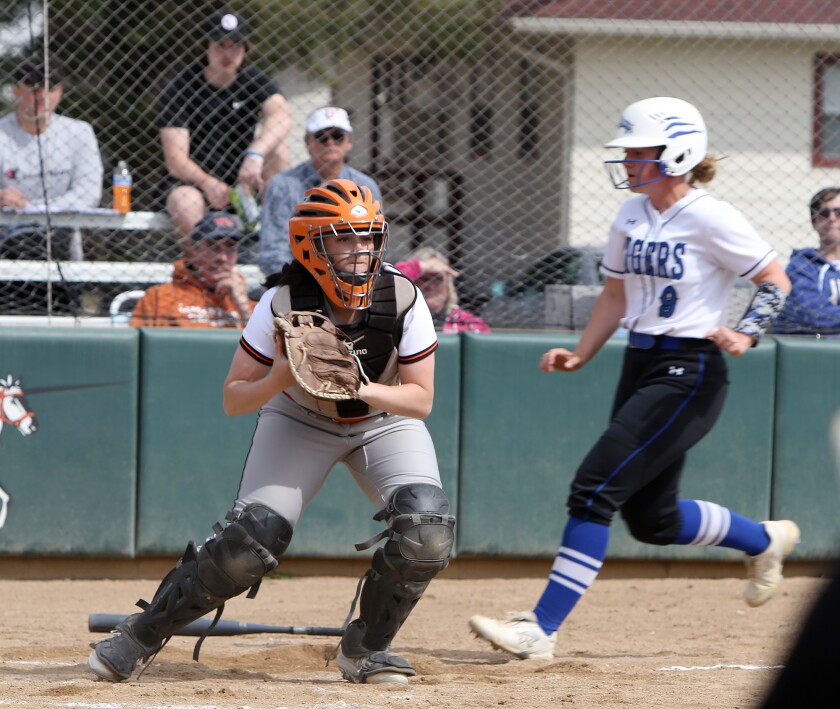 The Jimmies have one last conference doubleheader of the season scheduled for this Saturday hosting No. 11 Morningside College.
The Mustangs (39-6, 17-3 GPAC) were swept by Midland (28-7, 16-2) on Tuesday, as the Warriors passed the Mustangs for the top spot in the conference.
Jamestown (31-11, 14-6) sits third and will likely be on the road to start the conference tournament on May 5. Morningside finishes against the Jimmies, while Midland wraps up with two games at Dakota Wesleyan and two games at Northwestern.
The Red Raiders (25-13, 12-8) and Concordia (29-5, 11-7) are just off the pace, each with four to play.
"We're just hoping to continue hitting and playing clean defense because we know it's going to be a tough game against Morningside," Zito said. "It's gonna be a big game, lots of pressure and we're ready for it. We're excited."
University of Jamestown 5, Dakota Wesleyan University 1
D 001 000 0 -- 1 6 0
J 004 100 X -- 5 8 2
Batteries: D, Alyssa Burke, Meghan Daffern (5) and Madeleine Sargent. J, Katie Merchant, Kat Miska (6) and Katie Reisdorfer, Megan Neiles (6). W-Merchant. L-Burke.
Highlight: D, Burke 4 IP, 6 H, 5 R, 5 ER, 3 BB, 1 SO; Haley Linke 2-4, RBI; Alyssa Garcia 2-3.
J, Merchant 5 IP, 6 H, 1 R, 1 ER, 0 BB, 1 SO; Miska 2 IP, 0 H, 0 R, 1 BB, 4 SO; Zantina Zito 1-3, 2B, 2 RBI; Morgan Geiszler 1-4, R, SB; Sydney Prussia 1-3, SB; Gracie Fisher 2-3; Reisdorfer 1-2, Neiles 1-1, Mariah Wick 1-2, R, SB.
Records: Jamestown 30-11, 13-6 GPAC. Dakota Wesleyan 9-22, 1-14.
University of Jamestown 0, Dakota Wesleyan University 0
D 000 00 -- 0 4 2
J 321 3X -- 9 7 1
Batteries: D, Kyllie Ramirez, Meghan Daffern (3), Katelyn Farris (4) and Regan Grossi. J, Lucy Sinkkonen and Megan Neiles. W-Sinkkonen. L-Ramierz.
Highlights: D, 2 IP, 4 H, 5 R, 2 ER, 2 BB, 0 SO; Daffern 1 1/3 IP, 3 H 4 R, 4 ER, 2 HR, 1 BB, 0 SO.
J, Sinkkonen 5 IP, 4 H, 0 R, 0 BB, 1 SO; Morgan Geiszler 1-2, HR, RBI, BB; Santina Zito 2-3, 2B, RBI, 2 R, SB; Sydney Prussia 1-3, HR, 2 RBI, 2 R; Jenna Remenar 1-3, 2B, RBI; Mariah Wick 1-2, BB, RBI, 3 R, SB; Gracie Fisher 1-2, 2B, 2 RBI.
Records: Jamestown 31-11, 14-6 GPAC. Dakota Wesleyan 9-23, 1-15.