Jimmies defeat Chargers in season finale
We are part of The Trust Project.
A day to remember for Jamestown's 13 seniors wouldn't have happened without the future of Jimmie football showing up to play.
Sophomore quarterback Cade Torgerson passed for 173 yards and connected with sophomore receivers Garrett Mitchell and Marcus Giles for fourth-quarter touchdowns. Freshman linebacker Zachary Phillips recovered a fumble, sophomore Jordan Olson intercepted a pass, sophomore linebacker Tanner Grocott sacked the quarterback and the University of Jamestown defeated Briar Cliff University 31-10 on Saturday at Taylor Stadium.
The Jimmies used a 17-point fourth quarter to ran away from the Chargers and senior cornerback Troy Stuard saw it coming. Stuard, along with seniors Jimmy Hatch, Jordan Mann, Aundre Purnell, Zeb Taber, Liam Huseby, Nick Thompson, Marcelo Sanchez, Gavin Pancirov, James Newman, Josh Garcia, Oscar Rodriguez and Conrad Volsch all played their final game for UJ.
"I see them work hard every day," Stuard said of the Jimmies' underclassmen. "So just coming out here and actually putting a full game together ... it took a long time in the season but we did it.
"I love these guys, man. I love these guys."
Torgerson and Mitchell broke down the dam on the first play of the fourth quarter. Leading 14-10, a flea-flicker tossed back to Torgerson by junior running back Tanner Mathern went 43 yards down the right sideline to Mitchell and into the end zone, putting the Jimmies up 21-10 with 14:52 to play.
Torgerson, making his first career start under center for the Jimmies, completed 9 of 22 passing attempts with Mitchell hauling in two receptions for 70 yards.
"We were going to call a flea-flicker right before the quarter, and then quarter happened and we were like, 'All right, well let's stick with it. We want to make it happen,'" Torgerson said. "We got the look we wanted and Garrett made a heckuva catch and scored."
Mitchell finished the season leading the Jimmies with 48 catches for 677 yards and six touchdowns.
"The future's looking good," Mitchell said. "We got a lot of young guys buying into the process here and that's all we want. Just guys to keep moving forward and working hard.
"But it wasn't for us underclassmen, it was for the seniors," Mitchell added. "We wanted to send them out a good note, wanted them to remember why they're a football player."
Mitchell's TD wouldn't have happened without first-year linebacker Phillips jumping on a loose ball during the Chargers' final drive of the third quarter. Briar Cliff quarterback Nate Villalobos was unable to handle a snap out of the shotgun on a first-and-10 in Jimmie territory and Phillips was Johnny-on-the-spot, putting the Jimmies on their own 40 with 1:46 to play before the fourth in a four-point game.
"It's a crazy feeling," Phillips said. "Quarterback snapped it and then it was loose. We fought for it, I recovered it and it's the best feeling in the world to be here on (Rollie Greeno) field.
"We're only going to get better from here."
Both teams struggled to find footing on a greasy playing surface in Saturday's 40-degree "heat". But the Chargers struggled worse, punting the ball nine times on offense.
A pair of stalled BC drives in the final frame, the latter of which was capped by Grocott's sack of Villalobos, helped lead to a 21-yard Sean Fenlon field goal that put UJ ahead 24-10 with 5:25 to play. Olson intercepted Villalobos on a third-and-18 on BC's next drive, eventually setting up an 11-yard TD pitch and catch from Torgerson to Giles with less than four minutes to play.
Villalobos, listed as a senior defensive back, had only tossed two passes entering Saturday and took over for sophomore quarterback Diontre Collins-Jones in the second quarter after the Chargers' first four drives all resulted with a punt. The Chargers (5-6) ended the year losing their final three games.
Giles's touchdown capped a strong day for the sophomore from Blaine, Minnesota. Torgerson found Giles six times for 88 yards.
"Really just wanted to finish it out well for the seniors," Giles said. "They put so much into this program and we wanted to send them out right ... and Torgy made it happen, for sure, in his first start."
A 1-yard touchdown run by Josiah Cage and a 6-yard TD scamper by Hatch had the Jimmies leading 14-0 with 6:48 to play before the half. But 10 straight points scored by BC followed, capped by a Villalobos 5-yard scoring run that ended a 58-yard drive to open the third.
The Jimmies put up 338 yards of total offense, led on the ground by Mathern with 59 yards on 18 carries. The Jimmies limited the Chargers to 190 yards of total offense.
"We just wanted it more," Stuard said. "We talked about it, but we ended up having to go out and show it and we just played our heart out today."
A season of ups and downs ended victoriously for first-year head coach Brian Mistro. A sound victory using all three phases of the game -- UJ sophomore punter Izaak Myles averaged 44.7 yards per punt over six kicks -- was galvanized by leaving no doubt in the final quarter.
"It's good to finish a game. That was really fun for us to see," Mistro said. "It's a young group and it was a little trial by fire for them."
The Jimmies finished the season at 2-9. More victories should be on the way.
"We have a lot of good pieces coming back, and, to be honest with you, I really am excited for the type of people that they are going into the offseason," Mistro said. "They're going to be the guys that are going to hold everybody accountable to make sure we're doing the things that we need to be doing.
"That's what I'm looking forward to the most. Watching these guys grow, mature and progress as people in our program."
University of Jamestown 31, Briar Cliff University 10
MU 0 3 7 0 -- 10
UJ 7 7 0 17 -- 31
Scoring
First quarter
UJ, Josiah Cage 1 run (Sean Fenelon kick), 4:01.
Second quarter
UJ, Jimmy Hatch 6 run (Sean Fenelon kick), 6:48.
BC, Jesus Lopez 20 field goal, 0:00.
Third quarter
BC, Nate Villalobos 5 run (Lopez kick), 10:51.
Fourth quarter
UJ, Garrett Mitchell 43 pass from Cade Torgerson (Fenelon kick), 14:52.
UJ, Fenelon 21 field goal, 5:25.
UJ, Marcus Giles 11 pass from Torgerson (Fenelon kick), 3:26.
Total offense: BC, 190 (69 rushing). UJ, 338 (165 rushing).
Individual stats
Passing: BC, Nate Villalobos 9-21-1 119; Diontre Collins-Jones 1-3-0 2. UJ, Cade Torgerson 9-22-0 173.
Rushing: BC, Villalobos 17-36; Collins-Jones 5-13; Stanton Lee 4-12; Bryan Peters 5-8. UJ, Tanner Mathern 18-59; Jimmy Hatch 12-52; Josiah Cage 6-26; Torgerson 6-18; Marcus Giles 1-(-2).
Receiving: BC, Kobe Johnson 3-68; Rashad Brown 6-51; Peters 1-2. UJ, Giles 6-88; Mitchell 2-70; Zeb Taber 1-15.
Tackles: BC, MJ Montgomery 8; Orlando Haymon 8; Jovon Woods 7. UJ, Darrick Jones 11; TJ Milk 7, Troy Stuard 6.
Sacks: BC, Robert Robinson 1-7. UJ, Tanner Grocott 1-6, Jones 0.5-4; Marcelo Sanchez 0.5-4.
Interceptions: UJ, Jordan Olson 1-0.
Fumble recoveries: UJ, Zachary Phillips 1-20.
Records: Jamestown 2-9, 2-7 GPAC. Briar Cliff 5-6, 4-5.
1
/
5:
Briar Cliff's Bryan Peters (44) pushes off on Levi Scribner of the University of Jamestown Saturday, Nov. 16, 2019, on Rollie Greeno Field. John M. Steiner / The Sun
2
/
5:
University of Jamestown's Troy Stuard (21) attempts to break up the pass caught by Kobe Johnson of Briar Cliff Saturday, Nov. 16, 2019, on Rollie Greeno Field. John M. Steiner / The Sun
3
/
5:
University of Jamestown's Jimmy Hatch (1) picks up some running yards between two Briar Cliff defenders Saturday, Nov. 16, 2019, on Rollie Greeno Field. John M. Steiner / The Sun
4
/
5:
Briar Cliff's Rashad Brown (14) slips on Rollie Greeno Field Saturday, Nov. 16, 2019, in front of University of Jamestown's John Sullivan and Aundre Purnell (8). John M. Steiner / The Sun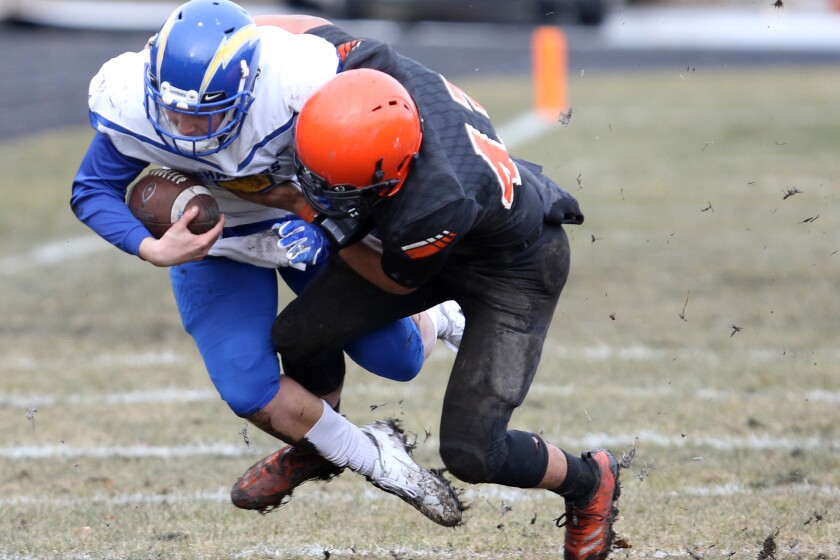 5
/
5:
Briar Cliff's Elijah Brown gets tackled by Brooks Canfield of the University of Jamestown Saturday, Nov. 16, 2019, on Rollie Greeno Field. John M. Steiner / The Sun