Jimmies dominate, advance to national quarterfinals
The NAIA's top-ranked women's volleyball team exemplified why stats are only numbers on Wednesday at the national tournament.
The NAIA's top-ranked women's volleyball team exemplified why stats are only numbers on Wednesday at the national tournament.
The Providence University Argos -- winners of 20 straight matches -- were averaging more kills, more assists and more digs per set than tournament favorite University of Jamestown.
But not the least bit intimidated, the Jimmies figuratively balled up those stat sheets and delivered them to the wastebasket to finish pool play at the Tyson Events Center in Sioux City, Iowa. The Jimmies out-hit, out-blocked and out-served the Argos in a convincing 3-0 sweep.
Jamestown has won Pool A and is moving on to Thursday's national quarterfinals to play Eastern Oregon at 5 p.m. Eastern Oregon swept Central Methodist, Missouri, 25-18, 25-11, 25-12 to win Pool H Wednesday afternoon.
UJ's set scores against the Argos read: 25-22, 25-16, 25-18.
"We were so much more ourselves today than we were yesterday," UJ head women's volleyball coach Jon Hegerle said. "I always say we either have to survive or we can thrive, but either way we gotta stay alive.
"Yesterday we survived and today we thrived."
The Jimmies fell behind Viterbo, Wisconsin, 2-1 in Tuesday's pool-play opener before rallying to a five-set victory behind Kalli Hegerle's career-high 23 kills . But against Providence, a school located in Great Falls, Montana, the Jimmies came out swinging, and maybe a little too hard.
Five of UJ's seven service errors came in the opening set of the sweep, but it was almost like an orchestra tuning its strings. Once the Jimmies were in pitch, they were ready for Broadway.
"We did want to start serving aggressively, so we knew that sometimes that does mean making errors from the service line," said Anna Holen, a junior outside hitter for the Jims. "But then we got in our groove and our serves were working for us."
After committing one of UJ's early errors at the line, Holen produced back-to-back kills late to help the Jimmies push a 20-20 tie into UJ's 25-22 set 1 victory. Holen (11 kills) and Kalli Hegerle (10) led the Jimmies' attack, which was much more balanced Wednesday even with Holen attempting 36 of the Jimmies' 112 attacking attempts.
UJ hit .330 in the match with just eight attacking errors and out-blocked the Argos 10-2.
But the domination started at the service line. Junior defensive specialist Hannah Schiele finished with a match-high three service aces, followed by Jackie Meiklejohn, Sydney Ellingson and Ellie Holen all with one.
"We told them if we miss a few that's OK, but we have to go after them serving because yesterday we didn't," coach Hegerle said. "We served so much tougher today, and we defended tougher and we passed better. That's the type of volleyball we need to play because that's our edge."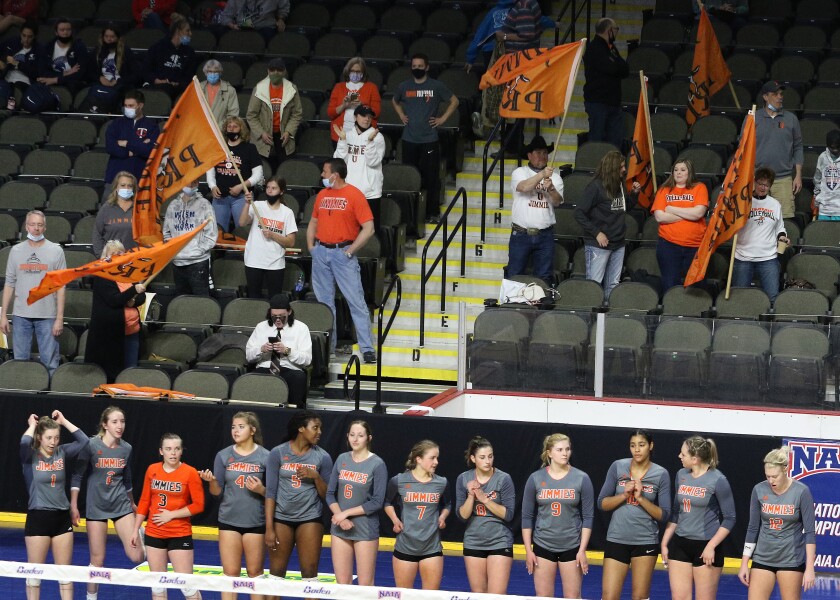 Anna Holen broke the Argos spirit in the second with back-to-back kills that helped UJ jump ahead 17-10. A Schiele ace helped the Jimmies establish control early in the third, a set Holen ended with her 11th kill for match point.
"Our setters did a great job of mixing the ball in our offense and I just tried to be as aggressive as I could this game, and it worked out for me," Holen said. "I think yesterday early on we were definitely playing not to lose rather than to win, so our mindset was to get after it and be the aggressors."
The Argos were limited to hitting .145 with 20 attacking errors. Providence senior Sacha Legros -- the nation's leader in digs per set entering at 7.5 -- recorded 14 digs.
Providence swept Viterbo on Tuesday, after watching the Jimmies barely get past the V-Hawks. But Jamestown -- playing in its fifth straight national tournament -- knows well that one match in Sioux City isn't a very reliable scouting report.
UJ's Taylor Sabinish finished with eight kills, while setters Meiklejohn (25 assists) and Megan Gaffaney (15) combined for 40 assists.
"I don't know if we've played as sloppy as a match as we did yesterday, and they just mopped up on Viterbo," Hegerle said. "I don't think they were quite prepared for what we are really like."
At 22-3, the Argos' only other two losses both went five sets.
Hegerle said Kalli's left ankle didn't give her too much trouble after she stepped on a Viterbo player and rolled it over in the opening set Tuesday against the V-Hawks. Kalli didn't commit a single attacking error in 20 attempts Wednesday.
"She didn't have the pop that she usually has, but it doesn't matter," coach Hegerle said. "She's such an incredibly smart player. She had a great game again today."
A win Thursday would send Jamestown back to the national semifinals in back-to-back seasons.
"We're not the same team as last year, so we're not putting too much pressure on ourselves in terms of trying to do the same thing as last year," Holen said. "We're just taking it one game at a time and trying to enjoy it as much as we can."
NAIA Women's Volleyball
National Tournament Pool Play
At Sioux City, Iowa
Pool A
(1) University of Jamestown 3, (15) University of Providence (Mont.) 0
PU 22 16 18
UJ 25 25 25
PU -- Kills: Jensyn Turner 9, Sadie Lott 8, Ember Schwindt 6, Cydney Finberg-Roberts 4, Bailey Christensen 4, Isaura Santos 3, Renae Davis 2, Adysen Burns. Assists: Finberg-Roberts 31, Taylro Christensen 2, Lott, Turner. Aces: Caleigh Cookson, Sacha Legros; Digs: Legros 14, Christensen 9, Burns 9, Lott 7, Finberg-Roberts 5, Davis, Cookson 2, Turner. Blocks: Lott .5, Schwindt .5, Fineberg-Roberts .5, Christensen .5.
UJ -- Anna Holen 11, Kalli Hegerle 10, Taylor Sabinash 8, Corina Huff 6, Nicole Schmitz 5, Jayla Ritter 4, Jackie Meiklejohn. Assists: Meiklejohn 25, Megan Gaffaney 15, Sydney Ellingson 4, Holen. Digs: Ellingson 20, Holen 13, Meiklejohn 8, Hannah Schiele 4, Gaffaney 4, Sabinash 3, Huff. Blocks: Ritter 2.5; Hegerle 2.5; Schmitz, 2, Huff 2, Sabinash .5, Holen .5. Aces: Schiele 3, Meiklejohn, Ellingson, Ellie Holen.
Records: Jamestown 29-1. Providence 22-3.
April 27
(1) University of Jamestown 3, (17) Viterbo University (Wisc.) 2
VU 23 25 25 15 13
UJ 25 19 19 25 15
VU -- Kills: Maya Roberts 19, Kenzie Winker 15, Grace Rohde 10, Katie Frohmader 8, Rekah Drevlow 7, Mariah Calkins 3, Lauryn Sobasky 2, Abbey Johnson. Assists: Sobasky 27, Johnson 26. Digs: Adrianna Reinhart 18, Johnson 13, Chloe Jackscht 11. Blocks: Calkins 2.5, Drevlow, Winker. Aces: Cassidy Spies 2, Sobasky, Reinhart, Jade Putz, Johnson.
Jamestown -- Kills: Kalli Hegerle 23, Taylor Sabinash 10, Corina Huff 10, Anna Holen 9, Jayla Ritter 9, Nicole Schmitz 7. Assists: Jackie Meiklejohn 31, Megan Gaffaney 28, Sydney Ellingson 2. Aces: Gaffaney, Schiele, Ellie Holen. Digs: Ellingson 29, A. Holen 18, Gaffaney 11, Schiele 9, Meiklejohn 8, Schmitz 4, Hegerle 2, E. Holen 3, Ritter 2. Blocks: Ritter 4, Hegerle 1.5, A. Holen 1.5, Schmitz, Sabinash, Huff.
Records: Jamestown 28-1. Viterbo 14-8.
April 27
Providence, Montana 3, Viterbo, Wisconsin 0 (25-14, 25-22, 25-18)