Jimmies Roundup: Miska, Ward named GPAC pitcher, softball player-of-the-week
The University of Jamestown softball, men's volleyball and men's golf team received honors this week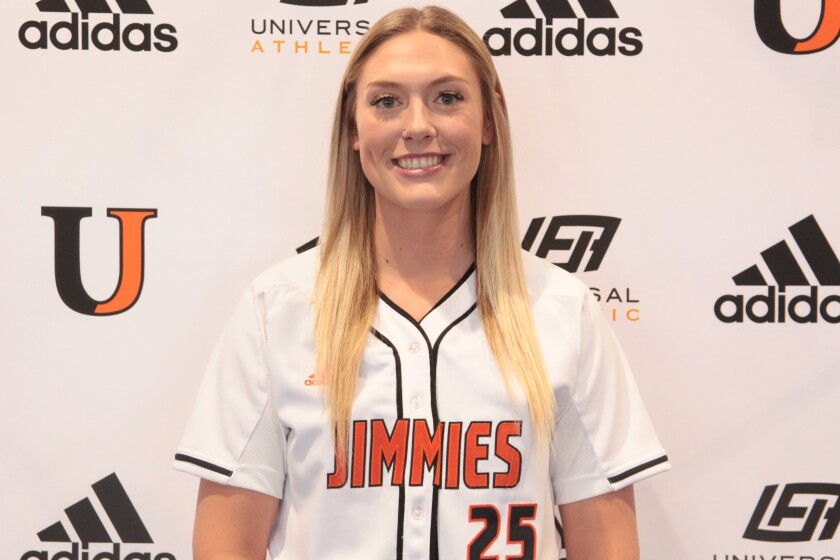 UJ's Kat Miska was named this week's GPAC/Hauff Mid-America Sports pitcher-of-the-week. Miska was a perfect 3-0 in three appearances for Jamestown last week. The junior held (RV) Concordia to one run on three hits over seven innings in a 3-1 win, then turned around to strike out 17 in seven innings in the Jimmies' 7-3 win at Doane. Miska finished the week with six shutout innings at Hastings, striking out 12 without issuing a walk. The Jimmies topped the Broncos 11-6.
For the week, Miska struck out 36 and held opposing batters to a .171 average. She currently leads the GPAC in ERA (1.03), batting average against (.164), strikeouts (195), and is third in wins (15).
Kassi Ward, the GPAC softball player-of-the-week, hit safely in the Jimmies last six games and had multiple hits in four of the match-ups. Against Doane, Ward was 3-for-4 with a double, home run and 3 RBI. She doubled down in game two finishing 4-for-4 with a pair of homers, a double, three runs scored, and 5 RBI. For the week, Ward hit .636 (14-for-22) with a slugging percentage of 1.136 and an on-base percentage of .667.
UJ men's volleyball players named to All-American Team
The National Association of Intercollegiate Athletics (NAIA) announced the 2021 Men's Volleyball All-America Teams along with Player and Coach of the Year on Monday and the University of Jamestown had some athletes in the mix.
Derek Owens, a freshman middle blocker for the Jimmies and Samuel Jackman a sophomore right side were named to the second-team, while Tanner Woods earned honorable mention status.
Owens, the Great Plains Athletic Conference (GPAC) Player of the Year, led the Jimmies with a .504 hitting percentage and tallied 172 kills. The freshman out of Andover, Minnesota made 54 stops at the net Jackman hammered home 178 kills while hitting .274.
Woods had a team-high 198 kills and hit at a rate of .307. He recorded a .958 reception percentage and posted 33 total blocks.
Brad Rostratter of Vanguard (Calif.) was named the 2021 NAIA Coach of the Year and Felix Chapman of Grand View University was named the 2021 NAIA Player of the Year. Chapman previously earned NAIA Player of the Year honors in 2019 and 2020. Chapman led the nation in total kills (434) and kills per game (5.49).
Bobby Henige of Benedictine Mesa (Ariz.) was the first to be named NAIA Defensive Player of the Year. Henige finished the season with 44 block assists and 13 solo blocks for 57 blocks on the season averaging one block per set. The middle blocker set a season-high eight blocks against Park Gilbert (Ariz.).
All-American Teams
First Team
Kyle Anema, Vanguard (Calif.)
Francisco Arredondo, Grand View (Iowa)
Felix Chapman, Grand View (Iowa)
Bobby Henige, Benedictine Mesa (Ariz.)
Aaron Kummer, St. Xavier (Ill.)
Jeff Lam, Lourdes (Ohio)
Raffy Polanco, Grand View (Iowa)
Bryce Thompson, Vanguard (Calif.)
Landon Fuller, Benedictine Mesa (Ariz.)
Second Team
Derek Owens, University of Jamestown (N.D.)
Samuel Jackman, University of Jamestown (N.D.)
Felipe Guirau, Park University (Mo.)
Shane Ooms, St. Xavier (Ill.)
Matthew Roussin, Vanguard (Calif.)
Daynte Stewart, Indiana Tech
Jordan Moses, Ottawa (Ariz.)
Luciano Bucci, Park Univeristy (Mo.)
Jay Montalvo, Campbellsville (Ky.)
Honorable Mention
Tanner Woods, University of Jamestown (N.D.)
Grant Ooms, St. Xavier (Ill.)
Christopher Morikawa, UC Merced (Calif.)
Ryan Gunn, Georgetown College, (Ky.)
Joao Vitor Bonanoni, Missouri Valley
Kacper Dobrowolski, Georgetown College (Ky.)
Joudiel Poveymirow, Siena Heights (Mich.)
Ricardo Gehrke, Lourdes (Ohio)
Miljan Kastratovic, Missouri Baptist.
Player of the Year: Felix Chapman, Grand View (Iowa)
Defensive Player of the Year: Bobby Henige, Benedictine Mesa (Ariz.)
Coach of the Year: Brad Rostratter, Vanguard (Calif.)
Jimmies wind up sixth at GPAC Golf Championships
The University of Jamestown men's golf team finished sixth of 11 teams at the GPAC Championship, which concluded Tuesday at Dakota Dunes Country Club in Dakota Dunes, South Dakota.
Much like his team, Tate Olson also wound up sixth in the individual side of things. Olson shot a final round 73 to finish at 12-over 300 (74-73-80-73). Jackson Worner was the Jimmies' next highest finisher tying for 12th at an 18-over 306 (81-74-76-75).
Treyton Forsman also cracked into the top-20 placing 19th with a 27-over 315 (82-81-73-79), Hudson Roling (82-81-82-80--325) and Benjamin Schaefer (92-87-76-85--340) rounded out the Jimmies' five-man team.
Jonny Douglas of Morningside took top honors at 2-over 290 (72-67-77-74).
The Jimmies' score of 307 was its second-lowest of the four-round tournament. UJ finished at 88-over 1240 (319-309-305-307), Morningside was the top team at 18-over 1170 (295-291286-298) and will represent the GPAC at the NAIA Men's Golf National Championship slated for May 18-21 at the TPC Deere Run in Silvis, Illinois.