Blue Jays 'have a lot of athletic kids' on the team this season
The Jamestown High School boys basketball team is scheduled to open the season on Dec. 6 at Bismarck St. Mary's.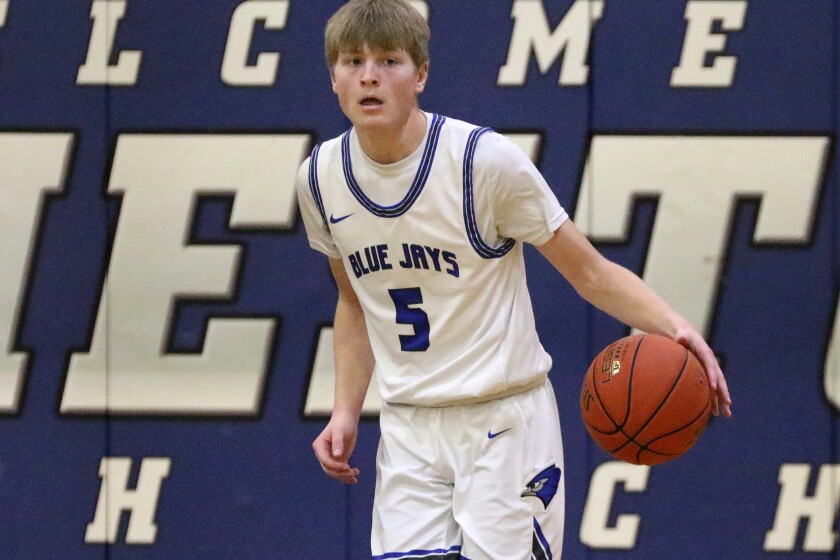 We are part of The Trust Project.
JAMESTOWN — Jacoby Lloyd has got a problem but it's pretty much the best problem a head coach could have.
"We didn't have a real cohesive summer because we have a lot of kids who are multi-sport athletes," Lloyd, the head coach of the Jamestown High School boys basketball team, said. "As the fall sports have kind of finished, I see more and more kids in the gym putting in the time."
The Jamestown High School basketball teams and boys hockey team were in action on Feb. 4.
If all goes according to plan this winter the Jays' athleticism could cause the rest of the West Region some not-so-good problems.
"It's a weird year because we do have a lot of kids coming back with a lot of experience but Adam (Kallenbach) did so much for us last year that he kind of covered up for our lack of experience last year," Lloyd said. "We don't have a lack of experience. We have a lot of role players who played significant minutes for us (last year) but (this year) they need to take those roles and expand them."
Lloyd is entering his sixth year at the helm of the Blue Jays program which consequently is the same number of varsity team members who will be returning to Jerry Meyer Arena.
"We have about six kids coming back with varsity basketball experience and most years, I would say that bodes very, very well for us but I think if you look at the entire WDA, there's a lot of kids that are returning," Lloyd said.
The Jays lost Kallenbach — the current school record holder for points scored in a game (50) — their main man in the post, Luke Van Berkom, shooter Devin Beach and Preston Kroeber to graduation. Jamestown's returners who have seen varsity minutes are Caydann Cox, Mason Lunzman, Payton Hochhalter, Ryan Larson, Dalton Lamp and Noah Meissner.
The six returners and the rest of the Jays began practices on Nov. 21 and are scheduled to take on Bismarck St. Mary's at home on Dec. 6 at 7 p.m.
Last year, Lloyd said the Jays did an awesome job at the little things like rebounding and playing a solid defensive game. The one thing that stuck out to Lloyd that the Jays needed to work on last year was making shots.
"That comes with confidence and a lot of repetition against varsity competition," Lloyd said. "You saw it in spurts last year like when we beat Minot at home and competed with Century. Those games were flashes in the pan of what we could be.
"But then there were games like the one at St. Mary's where defensively we were playing really well but things just were not clicking offensively," he said. "Hopefully, that's been solved with one year of varsity basketball experience and we have more confidence, we're bigger and faster and our decision-making is a little bit better."
Lloyd said Kallenbach was the Jays' main ball handler last year but this season he is predicting that the Jays will have six to eight athletes who are able to handle a basketball, shoot at a fairly high level and bring the ball up the court if need be.
"We will be relatively skilled, we will just lack a lot of size though," Lloyd said. "Hopefully we can kind of wear some other teams out with our athleticism."
The biggest things Lloyd is planning to tackle through the first couple of weeks of practices are developing some cohesion from an offensive standpoint and nailing down the fundamentals on defense.
Lloyd will also be working to prepare his team for any offensive or defensive situation they might face early on in the year before he gets the opportunity to scout out any WDA teams.
"Offensively, our kids just need to know what their strengths are and what their teammates' strengths are and then play to those as much as we can," Lloyd said.
"I've been really pleased with our kids' dedication — we don't do a lot of up-and-down work because we want to be respectful of the fall sports they are playing but they've gotten bigger, they've gotten stronger, they've gotten faster," he said. "We have a lot of athletic kids which is definitely a good thing."