Breanna Oettle bringing confidence, skill to Blue Jay volleyball
The Jamestown High School volleyball team hosted Watford City on Saturday.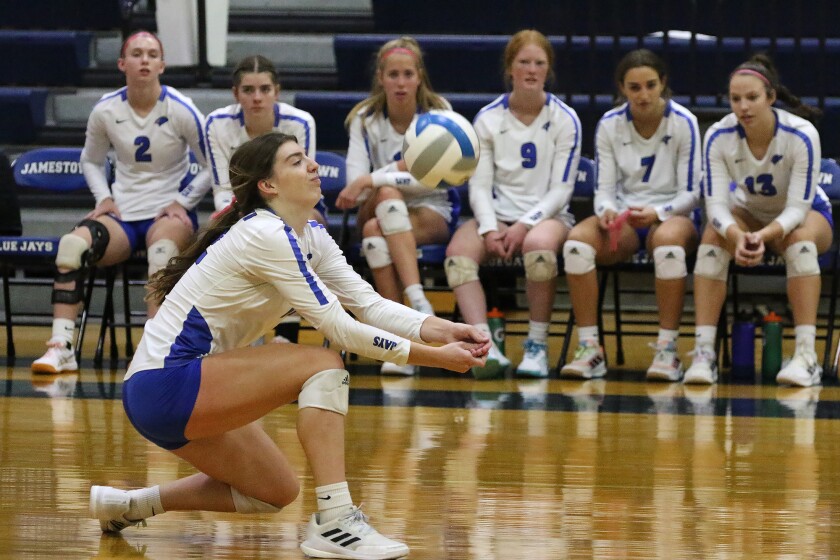 We are part of The Trust Project.
JAMESTOWN —- When it comes to volleyball no one really knows what to expect from Breanna Oettle — except for Jamestown High School head volleyball coach Sara Hegerle.
"She's one of those kids who you just cheer for in everything she does," Hegerle said. "She's low maintenance, she's low drama, she's really mature. There are no questions when it comes to her."
Oettle, a senior defensive specialist for the JHS volleyball team, suffered a torn ACL last July which ended up sitting her on the bench for two of her three sports seasons.
Now, after 14 months of recovery, she's back and people are just now learning what they can expect from the senior DS.
"I played volleyball all summer so (playing varsity) doesn't feel any different," Oettle said.
Oettle's new-found presence in the backcourt helped lead the Jays to a 3-0, 2-point win over Watford City Saturday afternoon to improve 10-2 in the WDA and 17-2 overall.
Coach Hegerle's crew is set to be back in action on Tuesday hosting Bismarck Legacy at 7 p.m. Legacy is one of the two WDA teams who have served the Jays a loss this season.
The Jamestown High School gymnastics and girls hockey teams were in action on Dec. 1.
The Jays' strength came out against the Wolves.
Watford's offense proved capable of sticking with the Jays through eight but that's when the Blue Jays began to pull away. A 5-0 run by the home team put them up 13-8 forcing Watford to call a timeout.
The five-point lead gave the Jays some breathing room and the Jays ran with it.
With a combination of big blocks, big swings and powerhouse serves the Blue Jays ended the first 25-15.
Things were more of a chess match in the second as both teams were efficient on the block and sharp on offense. The Jays were up 22-21 but that score shifted quickly with a lift called on Makenna Nold and an out-of-rotation call on the Jays made it 23-22 Wolves.
"They won their first two-point match against Mandan and that makes a big difference," Hegerle said. "They are the first team out of the Bismarck school district and us that has won a two-point match. That was good for their program.
"They have some good athletes, they compete hard and they are going to catch some fire at some point — you saw it today — it got us pretty nervous."
Jamestown managed to tie things up at 23 apiece and then with a kill Haylie Hakanson helped get the Jays' the lead back and bring up game point.
Aspyn Peterson ended the second with an ace.
The Jays established a 16-4 lead to begin the third and final frame but there was no reason to count the Wolves out.
Renae Mogen's squad fought to stay in rallies and took advantage of the Blue Jays' missed serves and attacks that missed the court lines.
Jamestown rebounded to come out on top 25-16.
"I think everybody is going to try to bring their best against us," Oettle said. "Every team in the West is scrappy. No one is going down without a fight.
"We're on a nice run. We're working together really well. We're a strong team."
Jamestown 3, Watford City 0
WC 15 23 16
JHS 25 25 25
WC — Final stats not available.
JHS — Kills: Bernadette Newman 11, Makenna Nold 10, Haylie Hakanson 9, Leah Trumbauer 6, Kinley Anderson 6, Benet Fronk 3, Addison Marker 1. Assists: Nold 22, Edie Hegerle 17, Aspyn Peterson 1. Digs: Peterson 14, Newman 12, Rylee Joseph 8, Hegerle 6, Nold 5, Benet Fronk 4, Breanna Oettle 3, Hakanson 1. Aces: Nold 4, Hakanson 3, Hegerle 2. Blocks: Anderson 4, Newman 1, Hakanson 1, Trumbauer 1, Nold.
Records: Watford City 3-10 WDA, 10-16 overall; Jamestown 10-2, 17-2