Former Jimmie Brady Birch helping M/P-B coaching staff
Birch is entering the job with 159 games of college basketball experience under his belt.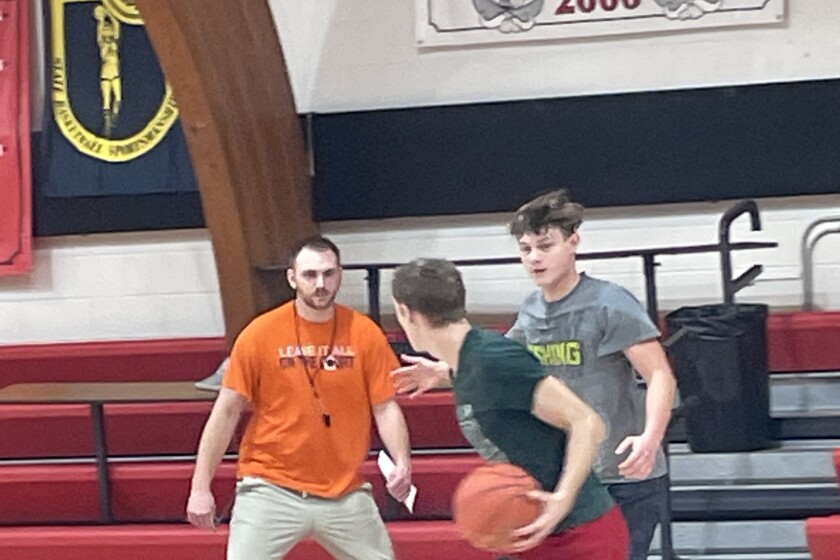 We are part of The Trust Project.
MEDINA, N.D. — After a five-year career at the University of Jamestown, Brady Birch knew he wanted to stay in basketball while starting his teaching career.
"I knew once I got the job teaching (at Pingree-Buchanan) that I wanted to get into coaching some sort of basketball whether that be somewhere around the area or if they had a position open at (Medina/Pingree-Buchanan) that would've been an awesome fit," Birch said.
After graduating from UJ with a Master's in Education, Birch was hired as a physical education and health teacher at the Pingree-Buchanan Public School District. The offer to be an assistant coach for the boys basketball team came soon after his initial hire.
Thunder head coach Bob Young said the decision to bring Birch to his staff was an easy one.
"I wanted to add him to the staff because I thought he with his experience playing at (the University of Jamestown) locally, all the kids knew who he was and then his basketball knowledge from having that experience," Young said. "We thought that would be really good for our team. When I got into coaching, somebody gave me an opportunity and I wanted to do that for him to be honest."
During his career at UJ, Birch averaged 7.2 points per game and 4.6 rebounds per game and added 72 total blocks, 89 total steals and 162 total assists.
"I feel like I have a pretty good grasp on where basketball is in today's age and have a couple of concepts that I learned at UJ that maybe they don't apply at M/P-B quite yet," Birch said. "I can give them a bunch of different looks that maybe they haven't seen before and speed up the game because that's where the game is going towards nowadays."
Birch joins a staff that includes assistant coaches Teage Kinzell and Paul Monson. Young said Birch sees things that maybe he, Kinzell and Monson might miss and help the team as a whole.
"He brings a lot to our staff, he's helped out already," Young said. "Five minutes into the first practice he got fired up with some kids, we were doing full-court layups and was trying to encourage them to get after it a little bit. Right away I could tell he fit in with the rest of us. The kids respond to him really well and they've had a lot of private conversations with him and he's been able to work with some of them individually and also as a team."
The Jimmies had a kill percentage of .421 in the win.
Despite Birch being 6-foot-6 and the Thunder having six players who are 6-foot or taller, Young said Birch works with the entire team rather than just the big men. Birch said he feels the players respect his authority and want to hear what he teaches about the game.
"I know whenever I blow my whistle and I have something to say whether that's after a scrimmage or during practice or after practice, I definitely get the sense that they're listening and they want to learn from me," Birch said. "So, I think that's pretty cool."
As he heads into his first season as a coach, Birch wants to continue to improve his craft and help the players improve.
"I just want to work on building relationships, the same way I do in teaching and at the end of the day if you teach one kid something new it's a win," Birch said. "So, I'm not reaching for the stars with this first coaching gig but I'm definitely hoping I could have some kind of effect on them when it's all said and done this year and moving into next year."
Young said all four coaches are heavily involved in scouting their opponents as they all watch tape and compare their notes on what they saw that the Thunder can take advantage of.
"I had him watch the North Border tape and give me a breakdown of what he saw," Young said. "My other coaching staff members, coach Monson and coach Kinzell did the same thing and we plan to all have our individual game plan or scout when we have games.
"Then we're just going to compare notes and use the preparation time we have to figure that out," he said. "The same thing will go with Carrington, he'll watch a scout tape and try to look at some things we can do to be successful on that day."
Birch said his favorite part of coaching is the relationships that he gets to build with the players. Before the Thunder prepare for their season opener on Thursday, Dec. 29, against Carrington, Birch said he is looking forward to learning from Young.
"We haven't had a game yet. We've had a scrimmage but I'm taking a step back and watching still," Birch said. "I haven't gotten a chance to watch him in a game setting yet. I'm still waiting for that first game where I'll be getting the notepad out and jotting down some things that I want to do better and I think that he does well and learn from him that way."
This story was updated to correct that Birch is employed by the Pingree-Buchanan Public School District not Medina High School.