Hockey a generational passion for Jamestown's Romsdal family
Easton and Vaughn Romsdal are one of two sets of brothers on the 2023 Blue Jay boys hockey team.
JAMESTOWN — Jeff Romsdal passed on his love of hockey to his sons, Easton and Vaughn, from the day they were born.
"We are both named after hockey equipment," Vaughn said. "Easton and Vaughn are both names of hockey equipment brands. So as you can imagine, hockey season is very important to us."
Looking at their pedigree, it's clear why JHS head coach Matt Stockert named the Romsdal boys to the Blue Jays' 2022-23 squad.
"Hockey season in both our household is intense," Vaughn said. "Hockey on both sides of my family dates back to my great-grandparents. They played it, my grandparents played it, my dad played it, my uncles played it, my stepdad coached it, and now Easton and I are carrying on the tradition of this great sport in our family."
The boys' grandfather on their dad's side was a standout hockey player for Moorhead and wound up being recruited to the University of Minnesota-Duluth as a goaltender.
"His passion started because they grew up across from the outdoor rink in Fergus Falls, Minnesota," Jeff said. "He watched the high schoolers play and then they would find some figure skates and tape and glue together the high schoolers' broken sticks and start playing.
"My dad got me on skates at 2 and would take me and my sister to open skating at Wilson Arena and to the outdoor rinks at McElroy Park," he said. "I have many memories of skating outdoors and I just developed that passion for hockey from there. The passion has just gone from generation to generation."
Jeff moved from Jamestown to Fargo as a third grader and then five years later, as an eighth grader, the family moved to St. Cloud, Minnesota, where Jeff played high school hockey. Jeff said he received offers to play collegiate-level hockey but instead chose to pursue a degree at North Dakota State University.
Still, he remained closely connected to the game.
"I coached hockey right out of high school and did that for 10 years until I had kids," Jeff said. "I took a short break but then when I got them on skates, I coached them and I've been coaching them and other kids ever since."
While overseeing Hockey Day North Dakota, Jeff has coached his boys through Jamestown's youth regular-season programs and then when Easton was competing at the Termite level, Jeff kick-started The Jamestown Flyers teams — a group of teams that compete during the spring and summer months.
"I've coached every year that we've had those teams," Jeff said. "It's really helped to develop all of the kids and they look forward to the Flyers' season."
The kids might look forward to postseason teams, but there's nothing quite like a backyard game in the middle of January for Easton and Vaughn.
"Our greatest memories come from countless hours of pond hockey as youngsters behind Dad's house," Vaughn said. "Easton and I are extremely competitive and it all started on the pond. We would fight and yell. One time Easton even broke my stick over an argument. It's all fun and games. In the end, we make it up to each other."
When they aren't training or battling themselves, the brothers are often at Wilson Arena reffing youth hockey games.
"That's something my dad did and he encouraged us to learn the game from that perspective as well," Vaughn said. "We have fun with it."
Reffing youth games often bring back memories from the old days and while mostly good, Vaughn said he hopes this decade's group of youth skaters have some better first memories than their referees did.
"My first personal memory with hockey wasn't a good one," Vaughn said. "We take a giant group picture every year with all the hockey players from varsity to Termites and the first memory I have with hockey is bawling my eyes out when separated from my parents and put in line to take the picture. My mom said that Easton did the same thing."
But in the past 16 years, the good memories far outweigh the bad for the Romsdals.
"During that hockey season, it's almost only hockey until supper," Easton said. "We're at practice or a game and then we try and find something to do like pond hockey. If the three of us were to face off on the pond, I think I would win simply because I'm better. They know I would win too."
While Vaughn might be accustomed to facing off against Easton, being on the same team is a bit of a new experience for the pair.
"The last time we played hockey together was (Ter)mites and we loved it because we are already best friends," Easton said.
Vaughn, a sophomore, is slotted as one of the Jays' defensemen while Easton, a senior, is predominately a threat on offense. Easton is a second-year varsity team member while Vaughn is in his first year as a varsity player.
"I am proud of them for playing the game the right way," Jeff said. "They are good teammates and they work hard. They are very selfless teammates. They have a lot of care for their teammates and their team's success and have a lot of passion."
Vaughn has been on the bench for all but seven of the Blue Jays' games this season. The sophomore has been nursing an ankle injury that took him out of playing contention for eight weeks. The sophomore got back to playing last week and has been drinking in the chance to be back on the ice.
"They are both very smart players," Jeff said. "Vaughn is a little bit more of a greedy player and he's deceptive. He's got a pretty heavy shot from the point. He's very physical. He uses his body to his advantage ... he has a big structure out there. Easton's taller than him but they weigh the same.
"Easton has good vision on the ice," he said. "He knows where to be, and he's more of a finesse player. They both have really good hands and can handle the puck well."
Easton has played in all 21 games this season. The senior has accounted for five of the Jays' 76 goals scored and has also been credited with 13 assists for a total of 18 points.
"Playing with Easton is amazing because I've looked up to my older brother my whole life," Vaughn said. "Watching him make plays and thrive this season has been amazing."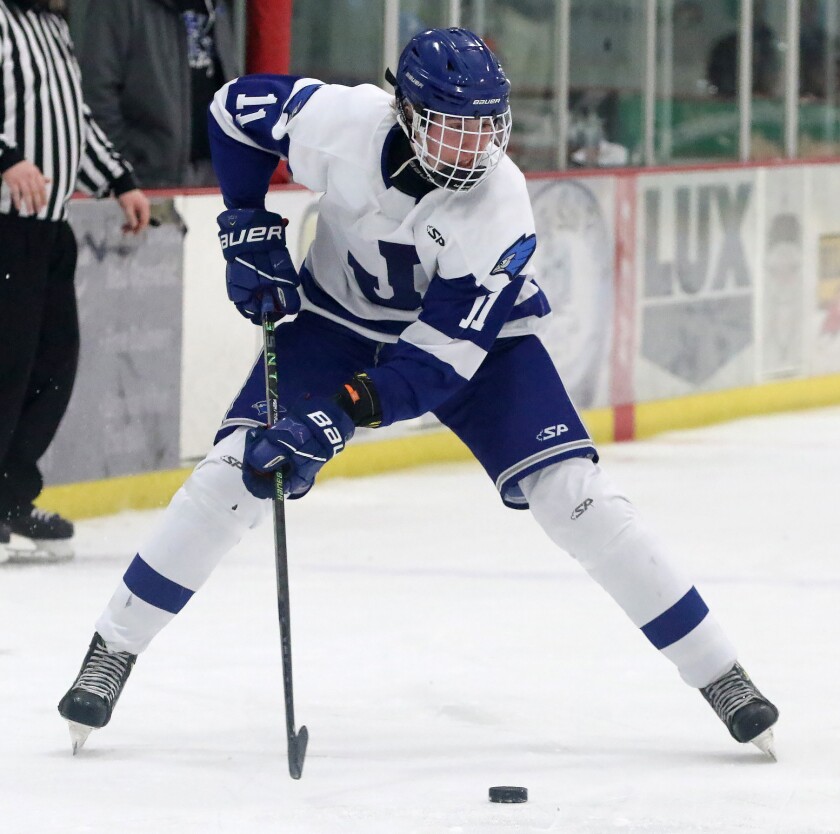 The pair along with the rest of the Blue Jay squad is slated to head to Minot later this week for the 2023 West Region Hockey Tournament. The Blue Jays earned the No. 4 seed and will face off against fifth-seeded Mandan on Thursday at 1:15 p.m. at MAYSA Arena. The Jays split with the Braves during the regular season, losing 4-1 on Jan. 10 and winning 3-2 on Feb. 7.
"There's not a kid on that team that I haven't coached," Jeff said. "I know the kids pretty well, I know the skill level well and I know there is an intensity and passion for the game with this group.
"They have the ability to go as far as their desire takes them," he said. "I think they could easily win it if they play the game the right way and put all of their passion and effort into it. It'll be fun to watch."