Last 50 years 'have gone by fast' for Jamestown's Lora Fisher
Lora Fisher, a Jamestown native, has judged prep gymnastics for 50 years.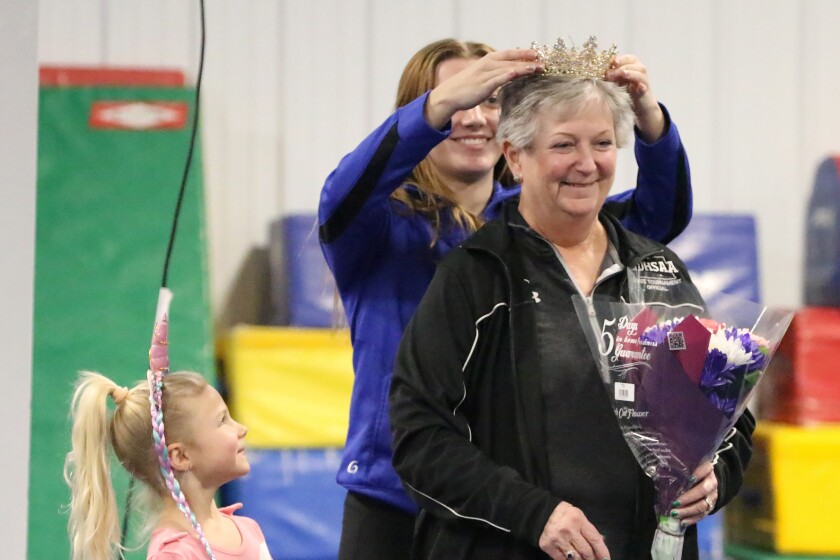 We are part of The Trust Project.
JAMESTOWN — When asked what her greatest gymnastic accomplishment was, Lora Fisher's mind went back to a gymnastics meet in the winter of 1973.
"I beat Robin Huebner once," Fisher said. "She fell on beam and I didn't. Of course, she was like a seventh grader and I was a senior — but still."
Where does Fisher's half-a-century of judging prep gymnastics fit into her list of accomplishments?
Perhaps just under her defeat of the 1976 Olympic hopeful.
Fisher was honored for 50 years of gymnastics at the Jamestown High School gymnastics team's annual Knights of Columbus (KC) Invite on Jan. 6. Fisher has plans to retire at the end of the 2023 season.
"Everyone's making such a big deal out of this," Fisher said with surprise in her voice. "I haven't really thought about it like that — it's gone by so fast."
Fisher has been involved in gymnastics since she was in second grade when the Jamestown Parks and Recreation Department held a summer program. Fisher was one of many who was coached by the legendary Delores Paulson who was credited with bringing the sport of gymnastics into the state of North Dakota.
Fisher was a part of the Blue Jays' 1970 State Gymnastics Championship Team. She continued competing through her senior year of high school in 1974.
Her junior year is when the sport turned into a sort of career for Fisher.
"Paulson made us do the rules book and take the test," Fisher said. "She felt that if we were in the sport, we should know the rules so once I passed the test I was ready to judge. Back then we had a middle school program and a grade school program so you started with that and it just grew from there."
Following her graduation from JHS, Fisher attended college in Minnesota. While in Minnesota, Fisher judged gymnastics meets on the side. The Jamestown native moved back to North Dakota after college and continued to pursue gymnastics as a judge, a fan and an executive.
Fisher and Marilyn Falk started the Jamestown Gymnastics Club in 1978. When a vacancy developed at the director position, Fisher stepped in as the club director for a couple of years.
Fisher's daughter, Rachel, competed for the Blue Jays gymnastics program during her high school days. Fisher's son Ryan has been on the board at the gymnastics club for 11 years.
Fisher's granddaughters Sydney and Molly currently compete in the sport. Sydney is a senior on the Blue Jays' roster while Molly is competing in one of the club's youth levels.
"Once stuff is in your blood that you have a passion for — you can't let it go," Fisher said.
In 1990, Fisher received the National Federation Interscholastic Officials Association Distinguished Service Award. Two years later she received an award for 20 years of service. In 2011, she was awarded the North Dakota Gymnastics Official of the Year.
Fisher has judged 25 state meets, 38 regional meets and over 400 regular season meets.
"They've changed so many things in these 50 years," Fisher said. "The difficulty is one thing. Routines used to contain combinations of mediums and superiors. Then they added high superiors and now they have bonus high superiors and advanced high superiors and then you get a bonus for doing a high-level back-to-back or a low-level back-to-back.
"I even know what some moves are called anymore," she said. "When I go, 'Holy cow!' that move must be a good one."
These days, Fisher spends the majority of her time at the vault scoring table.
"That event hasn't changed that much and I feel that that is the fairest to the girls," Fisher said. "We're looking for gymnasts to have a tight body with their head down. A gymnast should have a good block because that will give them repulsion to get off the horse so if they want to flip or twist, their body is already up in the air."
Fisher was one of the vault judges at the KC Invite. Jamestown's Julia Skari was selected as the second-best vaulter with a score of 8.600. As a team, the Jays placed second on vault with a score of 33.825.
"There have been so many gymnasts that have just been amazing and fun to watch," Fisher said. "At first I thought it would be hard to say goodbye to all of this but it's time. I've made some wonderful friends and I have had some great times."
With Fisher leaving the scorers' table there will be a vacancy that the North Dakota High School Activities Association will need to fill.
"We don't have a lot of judges," Fisher said. "Two pairs of eyes are always better than one but I probably judge more by myself than I do with someone else. All sports are having a hard time getting refs so that's why I say, coaches, make 'em take the test.
"It's time for the younger folks to step up," she said. "Thank you for the wonderful memories and great friendships. I feel that I am blessed to have the opportunity to do it and the opportunity to continue to be a part of it."