Linton/HMB has three top-five finishers in Battler Invitational
The team brought six wrestlers to Gettysburg and had three finish in the top five.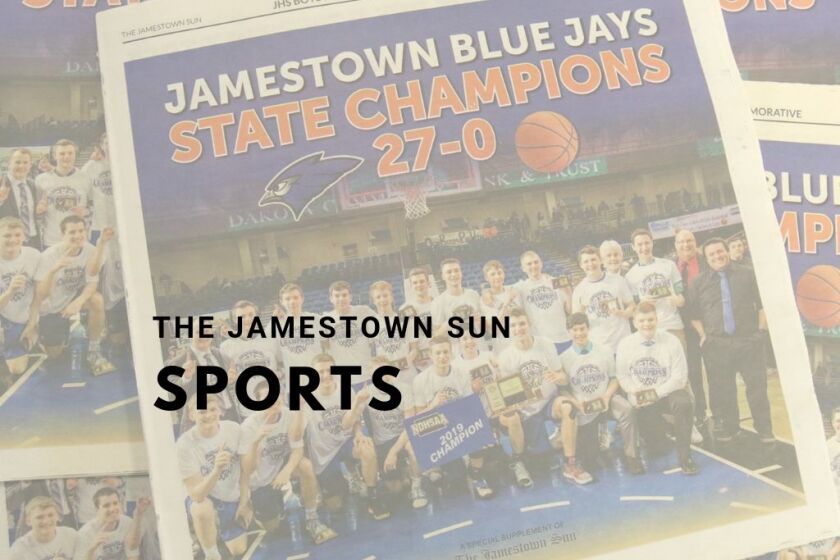 Three Linton/Hazelton-Moffit-Braddock wrestlers finished in the top five in their respective weight classes Saturday, Jan. 15, at the Battler Invitational in Gettysburg, South Dakota. Holter Bridwell finished fourth, Dominic Vetter finished fifth and Landon Schumacher finished second in their weight classes.
Bridwell started his team's day off in the 113-pound bracket with a pinfall win over Chamberlain's Xavier Donovan. In the quarterfinals, Bridwell got a 9-2 decision win over Clark Willow Lake's Taylor Merkel.
His run in the championship bracket ended in the semifinal when Bridwell lost to Lemmon/Mcintosh's Gage Anderson via decision. Bridwell responded to the loss with a decision win over Donovan in the consolation semifinals. In the third-place match, Potter County's Nicholas Schlachter won by technical fall over Bridwell.
The Lions' Vetter hit the mat in the 182-pound bracket, and received a first-round bye. In the quarterfinals he lost via pinfall to South Border's Herman Hauk. Vetter received a bye past the consolation second and third rounds before losing on a 5-2 decision to Clark Willow Lake's Kasey Michalski. Vetter got a forfeit win over Sunshine Bible Academy's Jimmy Burma to finish in fifth place.
The Lions' highest finisher, Schumacher started his day off with a pinfall win over Deuel's Reed VanWormer in 25 seconds. In the quarterfinal, Schumacher got another pinfall win over CEB/Dupree's Cameron Dekle. In the semifinals, Schumacher would be the beneficiary of a 5-1 decision over Groton's Cole Bisbee. His run would come to an end in the championship match after South Border's Baxter Sand got a pinfall win.
Top five finishers:
South Border, 264.0, 2. Chamberlain, 167.0, Webster, 120.0, Clark Willow Lake, 112.0, 5. Pierre T.F. Riggs, 90.0
113-pound weight class:
Holter Bridwell
Champ. Round 1: Holter Bridwell won via pinfall over Chamberlain's Xavier Donovan (Fall 6:35)
Quarterfinal: Bridwell won by decision over Clark Willow Lake's Taylor Merkel (Dec. 9-2)
Semifinal: Lemmon/McIntosh's Gage Anderson won by decision over Bridwell (Dec. 9-2)
Cons. Semis: Bridwell won by decision over Donovan (Dec. 6-1)
3rd place match: Potter County's Nicholas Schlachter won via tech fall over Bridwell (TF-1.5,4:56 (15-0))
126-pound weight class:
Garrett Zink
Champ. Round 1: Deuel's Gavin Kloos pinfall win over Garrett Zink (Fall 2:15)
Cons. Round 1: Zink received a bye Cons. Round 2: Zink pinfall win over Pierre T.F. Ruggs' Carson Stoeser (Fall 2:16)
Cons. Round 3: Webster's Trace Shoemaker won by decision over Zink (6-0)
132-pound weight class:
Blake Odden
Champ. Round 1: Deuel's Jaxon Quail pinfall win over Blake Odden (Fall 3:03)
Cons. Round 1: Webster's Gage Baumgam won via decision over Odden (Dec. 9-2)
145-pound weight class:
Blake Ketterling
Champ. Round 1: Newell's Chase VanDerBoom pinfall win over Blake Ketterling (Fall 3:33)
Cons. Round 1: Ketterling pinfall win over Webster's Gavin Witt (Fall 2:58)
Cons. Round 2: Faulkton Area's Garrett Cramer pinfall win over Ketterling (Fall 1:54)
160-pound weight class:
Landon Schumacher
Champ. Round 1: Landon Schumacher pinfall win over Deuel's Reed VanWormer (Fall 0:25)
Quarterfinals: Schumacher pinfall win over CEB/Dupree's Cameron Dekle (Fall 0:52)
Semifinals: Schumacher win by decision over Groton's Cole Bisbee (Dec. 5-1)
Championship: South Border's Baxton Sand pinfall win over Schumacher (Fall 3:47)
182-pound weight class:
Dominic Vetter
Champ. Round 1: Dominic Vetter got a bye
Quarterfinals: South Border's Herman Kauk pinfall win over Vetter (Fall 4:37)
Cons. Round 2: Vetter got a bye
Cons. Round 3: Vetter got a bye
Cons. Semis: Clark Willow Lake's Kasey Michalski decision win over Vetter (Dec. 5-2)
5th place match: Vetter wins via forfeit over Sunshine Bible Academy's Jimmy Burma (For.)