Linton-HMB wrestling takes part in the Miller/Highmore/Harrold Invitational
The team finished 15th and had three wrestlers finish in the top 10.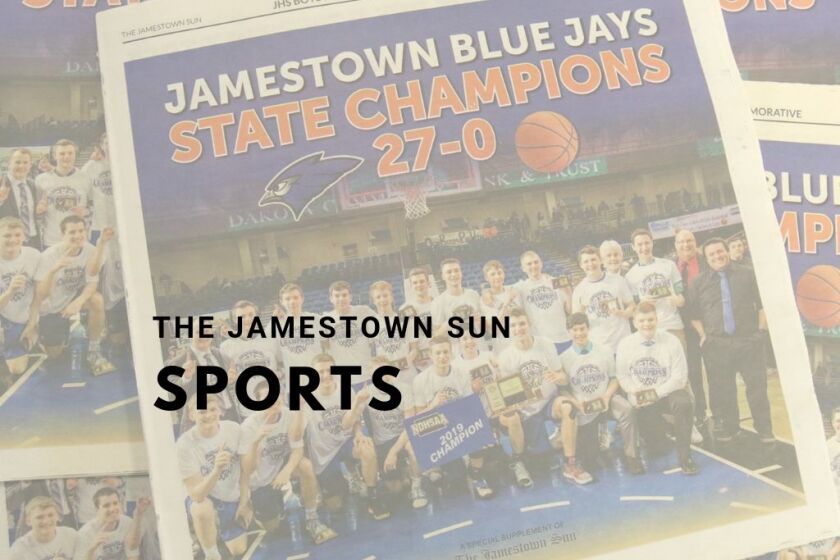 The Linton-Hazelton-Moffit-Braddock boys wrestling team took part in the Miller/Highmore/Harrold Invitational on Saturday, Jan. 8, in Highmore, South Dakota. The team had eight wrestlers participate, Gerard Goldade, Holter Bridwell, Garett Zink, Blake Odden, Blake Ketterling, Landon Schumacher, Kane Lund, Dominic Vetter. The Lions (1-2) finished the event in 15th.
The Lions' highest finisher was Schumacher who finished third and scored 22 team points in the 160-pound weight class. The Lions had two other top 10 finishers in Bridwell who finished sixth with 11 team points in the 113-pound weight class and Zink who finished seventh with seven team points.
Schumacher started his day off with a pinfall win over Deuel's Brian Blachford before losing to Redfield's Mason Fey via pinfall at the 1:29 mark in the quarterfinals. Schumacher rebounded with a pinfall win over Burke/Gregory's Mason Janak. In the third round of the consolation bracket, Schumacher beat Burke/Gregory's Jhett Eklund via pinfall and followed that up with a victory over Miller/Highmore/Harrold's Gunner Brueggeman. In the third-place match, Schumacher was matched up against Sioux Valley's Russell Sheets and won with another pinfall victory.
Bridwell started his day off on the right foot with a pinfall victory 36 seconds into the match over Phillip Area's Oakley Menzel. Bridwell dropped to the consolation bracket after losing by major decision 13-0 to Ipswich/Bowdie's Brady Unser. In the second round of the consolation bracket, Bridwell won by pinfall over Phillip Area's Tyson Dartt 34 seconds into the match. His pinfall streak ended when he beat Mt. Vernon/Plankinton/Corsica/Stickney's Mason Bosworth in a tight 5-4 decision. In the semifinals, Redfield's Conner Zens would get the 9-1 majority decision win over Bridwell to send him to the fifth-place match. Bridwell would finish his day losing by major decision 12-0 to Wessington Springs, Woonsocket/Wolsey-Wessington's Jacksen Carter.
Zink received a first-round bye before taking on Redfield's Jacob Fehlman who sent him to the consolation bracket with a pinfall win. Zink responded with a pinfall win of his own over Faulkton Area's Carter Schulte. In the third round of the consolation bracket, Zink lost by a 12-1 majority decision to Clark/Willow Lake's Josh Kannegieter. Zink would end his day on a high note with a pinfall victory of Wagner's Dan Soukup in the seventh-place match.
The Lions return to the mats at 5 p.m. on Thursday, Jan. 13, when they go to Rugby.
Top 5 finishers:

Redfield, 215.5, 2. Mt. Vernon/Plankinton/Corsica/Stickney, 159.0, 3. Parkston, 148.0, 4. Phillip Area, 134.5, 5. Burke/Gregory, 132.5
106-pound weight class:
Gerald Goldade:
Champ. Round 1: Redfield's Brady Risetter pinfall win over Gerard Goldade (fall 1:06)
Cons. Round 1: Phillip Area's Gatlin Cordes major decision over Goldade (MD 14-3)
113-pound weight class:
Holter Bridwell:
Champ. Round 1: Linton's Holter Bridwell pinfall win over Phillip Area's Oakley Menzel (fall 0:36)
Quarterfinal: Ipswich/Bowdie's Brady Unser major decision win over Bridwell (MD 13-0)
Cons. Round 2: Bridwell pinfall win over Phillip Area's Tyson Dartt (fall 0:34)
Cons. Round 3: Bridwell decision win over Mt. Vernon/Plankinton/Corsica/ Stickney's Mason Bosworth (dec 5-4)
Cons. Semi: Redfield's Conner Zens major decision win over Bridwell (MD 9-1)
5th place match: Wessington Springs/Woonsocket/Wolsey-Wessington's Jacksen Carter major decision win over Bridwell (MD 12-0)
126-pound weight class:
Garett Zink:
Champ Round 1:Garett Zink received a bye
QFinals: Redfield's Jacob Fehlman pinfall win over Zink (fall 1:32)
Cons. Round 2: Zink pinfall win over Faulton Area's Carter Schulte (fall 0:27)
Cons. Round 3: Clark/Willow Lake's Josh Kannegieter major decision win over Zink (MD 12-1)
7th place match: Zink pinfall win over Wagner's Dan Soukup (fall 3:42)
132-pound weight class:
Blake Odden:
Champ. Round 1: Faulkton Area's Parker Geditz pinfall win over Blake Odden (fall 1:50)
Cons. Round 1: Miller/Highmore/Harrold's Colby Rittel pinfall win over Odden (fall 4:58)
145-pound weight class:
Blake Ketterling:
Champ. Round 1: Clark/Willow Lake's Elliot Bratland pinfall win over Blake Ketterling (fall 4:55)
Conso. Round 1: Ketterling received a bye
Cons. Round 2: Mt.Vernon/Plankinton/Corsica/Stickney's Landon Boyd decision win over Ketterling (dec 3-0)
160-pound weight class:
Landon Schumacher:
Champ. Round 1: Landon Schumacher pinfall win over Deuel's Brian Blachford (fall 1:42)
QFinals: Redfield's Mason Fey pinfall win over Schumacher (fall 1:29)
Cons. Round 2: Schumacher pinfall win over Burke/Gregory's Mason Janak (fall 2:13)
Cons. Round 3: Schumacher pinfall win over Burke/Gregory's Jhett Eklund (fall 2:11)
Cons. Semis: Schumacher sudden victory win over Miller/Highmore/Harrold's Gunner Brueggerman (SV -1 7-2)
3rd place match: Schumacher pinfall win over Sioux Valley's Russell Sheets (3:27)
170-pound weight class:
Kane Lund:
Champ. Round 1: Wessington Springs/Woonsocket/Wolsey-Wessington's Keegan Haider pinfall win over Kane Lund (fall 1:26)
Cons. Round 1: Ipswich/Bowdle's Justin Rorhbach pinfall win over Lund (fall 4:20)
182-pound weight class:
Dominic Vetter:
Champ. Round 1: Redfield's Corbin Schwartz pinfall win over Dominic Vetter (fall 2:53)
Cons. Round 1: Vetter received a bye
Cons. Round 2: Howard's Griffin Clubb pinfall win over Vetter (2:42)