Louder than Words: Hakanson shaping to be big name for Jays
Haylie Hakanson is a three sports athlete at Jamestown High School.
Haylie Hakanson is the living, breathing definition of what it means to let your actions speak louder than your words.
"It's her first year out for track but I've had her in class so I know Haylie," Jamestown co-head track and field coach Mike Dietz said. "She's a competitive kid and she's really coachable. We ask all of our kids to be coachable and for some, it comes easier.
"She's one that takes coaching to heart. She analyzes what needs to be done and she knows how to fix and change things. I am happy with her success so far but I am not completely surprised because I know she's an athlete that is really coachable."
Hakanson is shaping up to be one of the Jays' top performers on the track and field team this season. The junior has been on the Blue Jay varsity basketball and volleyball squads since the beginning of her sophomore season.
Hakanson was a softball player for four years and said she was ready for a change and wanted to try something new. The three-sport athlete said she doesn't like not being active so she decided to give track a try.
Prior to competing at the high school level, Hakanson did track for one year when she was in sixth grade.
"Annie (Nabwe) and Hunter (Petersen) have said that track is competitive and fun," Hakanson said. "I think it has definitely lived up to that expectation. I am surprised by how much I like it. I was unsure to begin with but I'm very glad I joined now."
Petersen, a Minnesota State University Moorhead (MSUM) track and field commit and state placer in the high jump last year, has been a mentor to Hakanson in the opening weeks of the season.
Hakanson said that in addition to the coaching she's getting from Petersen and Coach Beach, her athleticism and experience in other sports has helped to contribute to her ability to get higher with each attempt at the bar.
Hakanson said her time on the basketball court helped to condition her aerobically while volleyball kept her hops in shape.
During her three months spent with head volleyball coach Sara Hegerle, Hakanson played in 99 total sets and produced the fourth most kills for the team at 173. The junior did not see too much time spent in the back row, but even so, she managed to serve up seven aces and popped up 37 balls the Blue Jay setters. The middle was also credited with the second-most blocks up front with 36.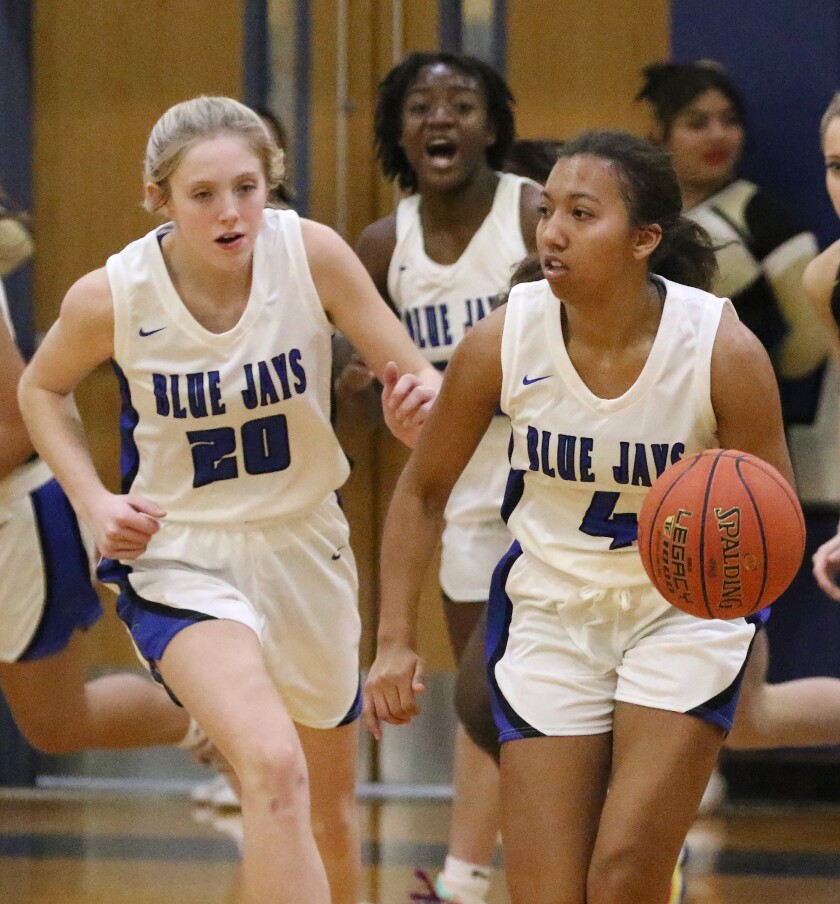 Hakanson, a regular sub-in for head coach Andy Skunberg and the Jays, played 257 total minutes this season. At the hoop, the junior nabbed 53 rebounds — nine of which came in the second round of the WDA tournament. She was also responsible for 11 assists and four steals. The junior was out for a stint in February having suffered an inline stress fracture on her foot.
The injury hasn't seemed to plague Hakanson in the opening month of the track season.
Hakanson managed a 4 foot 9 inch jump at last week's Class A High School Indoor Meet at North Dakota State University (NDSU) to crack into the top-10 finishers. On Tuesday at the WDA Indoor at the University of Mary, Hakanson matched Petersen's 4'11 performance to tie for second place.
"I didn't have much of a choice to do high jump," Hakanson said. "I had never done track before and had just asked the coaches to tell me what events they want me to be doing. My favorite thing about it is the competition with yourself and just trying to get higher every jump."
Hakanson said her main goal for this season is to qualify for State in high jump. Hakanson said she thinks she will be able to accomplish that goal and hopefully get an even higher mark down the stretch.
While she has been a natural selection for high jump, Hakanson has other talents the Jays will likely be utilizing throughout the course of the season. Hakanson said she training for javelin and some type of running event.
"Track has been really fun so far I'm happy I joined," Hakanson said. "The girls and coaches are fun and make practices and meets very enjoyable. Coach Beach has been really patient and encouraging with me and I can tell he really cares about all of us."
Dietz added:
"I am excited to have her. I am glad she has already seen some success and I think that she is going to continue to build off of that success."