Mustangs lock down in 50-39 Stutsman tourney win over Carrington
The Mustangs had an effective field goal percentage of 43.4.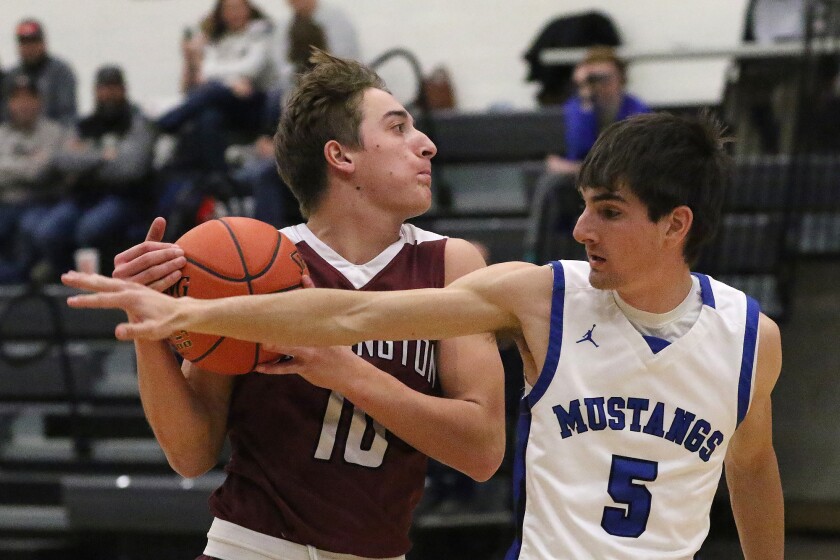 We are part of The Trust Project.
JAMESTOWN — The South Border Mustangs and head coach Corey Bader preach turning defense into offense and that showed as they scored 12 points off 17 turnovers in a 50-39 win over Carrington on Thursday, Dec. 5, at the Jamestown Civic Center.
"(Defense) is what we pride ourselves on," Bader said. "It's going to start with our defense leading to our transition game. We get some fastbreaks, that's a huge part of our game."
Late in the first half, the Mustangs (4-1) trapped a Cardinal (3-2) in the corner and forced a Cardinals timeout, prompting Trevor Schmidt to scream in excitement.
"That's our main game," Schmidt said. "We usually hope to keep teams under 50 (points), if we keep teams under 50 that's when we know we have a shot to win the game."
An early second-quarter Cardinals timeout did little to stop the momentum as with 2:10 to go in the first half, the Mustangs' Kaden Bader hit a floater to push the lead out to 22-11. However, the Cardinals would fight back from there as with 30 seconds to go in the first half, Josh Bickett hit a three to cut the deficit to 22-16. Moments before the first-half buzzer sounded, Bickett knocked down a runner to cut his team's deficit to 22-18.
"We got a little fire in our belly and got some stops on (defense)," Cardinals head coach Tim Ranum said. "Defensively, we were solid for the most part, got a little pace on offense in the half court, hit some shots. But we're talking about a spurt of five (possessions) and to me that's not a spurt. We missed a lot of shots there and that didn't help."
However, a 10-2 run to open the third quarter from the Mustangs saw them stretch the lead out to 32-20. Early in the fourth quarter, the Cardinals would get it to as close as 36-30 but it wasn't enough to keep up with the Mustangs who shot 42% from the field in the second half.
The Jamestown High School boys hockey team has 13 seniors on its roster this season. It's the largest senior class the sport has had in almost 20 years.
One of the Bader's pregame keys for his team to win this game was to score in transition, which his team did, as they scored 12 points off turnovers and four second-chance points.
"I thought we did ok," Bader said. "I thought we forced once in a while a little bit too much and didn't see the open guys but I thought late down in the game we made some pretty good decisions when the press came on. We didn't turn the ball over a lot and I thought that really sealed the deal."
The Mustangs are back in action at 6 p.m. on Friday, Jan. 6, when they take on Ellendale. The Cardinals look to bounce back at 3 p.m. on Jan. 6, when they face Kidder County.
CHS 39, SB 50
CHS: 11 7 10 11–39
SB: 14 8 14 14–50
Points leaders:
CHS: Hudson Schmitz 14, Grady Shipman 10, Josh Bickett 8
SB: Trevor Schmidt 18, Levi Buchholz 13, Kaden Bader 7
Assists leaders:
CHS: Jack Erickson 1, Shipman 1, Schmitz 1, McCoy Beckley 1SB: Bader 6, Luke Scherbenske 2, Buchholz 2, Connor Kosiak 2
Leading rebounders:
CHS: Schmitz 9, Shipman 6, Bickett 4, Erickson 4
SB: Schmidt 19, Bader 7, Kosiak 5
Full bracket below:
Day One Games:
D-5 No. 1 Ellendale 61 vs. D-6 No. 4 Kidder County 35
D-6 No. 2 South Border 50 vs. D-5 No. 3 Carrington 39
D-6 No. 1 Medina/Pingree-Buchanan vs. D-5 No. 4. Griggs-Midkota, 6 p.m.
D-5 No. 2 Edgeley/Kulm-Montpelier vs. D-6 No. 3 Napoleon/Gackle-Streeter, 7:30 p.m.