'This is a historic day': NDHSAA approves revised 3-class basketball plan
In an 8-2 vote, the North Dakota High School Activities Association Board of Directors approved implementation of the plan for the 2023-24 school year
VALLEY CITY, N.D. — The North Dakota High School Activities Association Board of Directors voted to approve and implement the proposed three-class basketball plan for the 2023-24 school year at a special meeting held at NDHSAA headquarters Wednesday, Feb. 8.
The board unanimously approved the revised three-class basketball plan that was presented to member schools last month.
Board vice president Josh Johnson then motioned to implement the plan for the upcoming school year. That motion passed 8-2 with board member Paul Jundt and board president Dave Schoch being the two "nay" votes.
Board member Kirsten Baesler was not present for either vote.
"I think (we have a) clear direction for what next year is going to look like as far as basketball classifications go," NDHSAA executive director Matthew Fetsch said. "I think the board reflected the wishes of the membership."
After the board reviewed the proposed plan in detail and made revisions last month, a survey was sent out to member schools asking for input. Fetsch noted during Wednesday's meeting that the board received 135 responses representing 113 basketball teams. More than 85% of the membership indicated they'd favor a decision being made at Wednesday's meeting.
Of that 85%, nearly 66% of schools noted they preferred to implement the plan for the 2023-24 school year, with the other 34% indicating they would prefer to wait for the new plan to begin.
"That was the first question," Fetsch said. "When do you need to know what's going on for next year? And it was overwhelming that they wanted a decision (today), whether that meant three divisions next year or two for one more year.
"There was a lot of good discussion and a lot of good points on both sides," he said, adding the plan "will be a work in progress moving forward."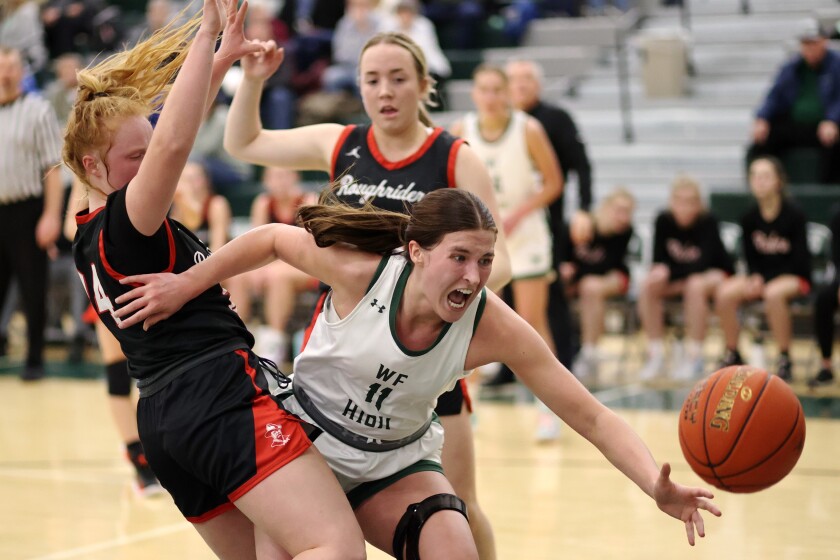 The original three-class plan was presented to the board on Dec. 1, and while it formally accepted the plan at the time, the decision on implementation was kicked down the road until Wednesday as the board wanted more time to examine and modify the plan.
Perhaps the biggest adjustment to the original plan was the removal of a proposed multiplier rule for students enrolled in schools outside their districts.
Under that rule, students open-enrolled in schools would count as more than one student, dramatically increasing private schools' enrollment count under the three-class plan. That was seen as a non-starter for schools like Fargo Oak Grove, Dickinson Trinity, Bismarck's Shiloh Christian and Bismarck St. Mary's.
Enrollment lines were also tweaked from the original plan. The largest division, Class AA, will include schools with enrollments of 650 students or higher. The middle division, Class A, will include schools with enrollments from 162.5 to 650. The lowest division, Class B, will include of schools with enrollments of 162.5 and below.
Another caveat in the plan states that "public and non-public schools located within a Division AA school district with 100-399 students shall be placed in Division A. Public and non-public schools located within a Division AA school district with 400 or more students shall be placed in Division AA."
Under this framework, private schools such as Bismarck Shiloh Christian and Dickinson Trinity — both with enrollments below 162.5 — would be classified as Division A schools.
The state's largest division, AA, will have East and West regions similar to what's in place in the current Class A format. The new Class A system will include four regions, while Class B will have four regions and eight districts.
The board previously set a deadline of Feb. 22 for implementation of the revised plan for the 2023-24 school year before Wednesday's vote.
Johnson said he made his motion to implement the plan for the upcoming school year based on the majority input the board received from NDHSAA's member schools.
"This is a historic day for the North Dakota High School Activities Association," Johnson said. "It's also significant for our students, for our schools and for our communities all across North Dakota, whether that be Class B schools or Class A schools.
"The proposal that was brought forth was brought in an effort to address competitive balance and student participation in the sport of basketball. I think the action (today) by the NDHSAA is going to accomplish that."
The plan includes changes to the state tournament format, as well, with girls Class A to be held in Minot and Class B in Jamestown. Boys Class A will be held in Fargo while Class B will be held in Minot. The Class AA boys and girls tourney will remain in Bismarck.
Schoch, the board's Class B northwest representative, voted "nay" as he shared concerns about negative impacts to some of the schools he represents.
"The 'no' vote for me was because my area has some schools that will be adversely affected," Schoch said. "I think if we could have waited a year, we might have been able to figure out some solutions to help them."
Jundt made it clear early in the meeting that he was in favor of approving the revised plan but wasn't comfortable with implementation next year, which is why he voted "nay."
Johnson acknowledged there's still much work to be done, as no plan will be perfect for all.
"We know that implementation of this plan in 2023-24 is going to bring about challenges. And there's going to be more important decisions that are coming," he said, noting the "far-reaching, positive impact that this is going to have all across the state of North Dakota."
To view the approved plan in full, click here .