Soccer 'finds the positive' after going head to head with Minot
The Jamestown High School soccer team kicked off its home season with a tilt against Minot on Aug. 18.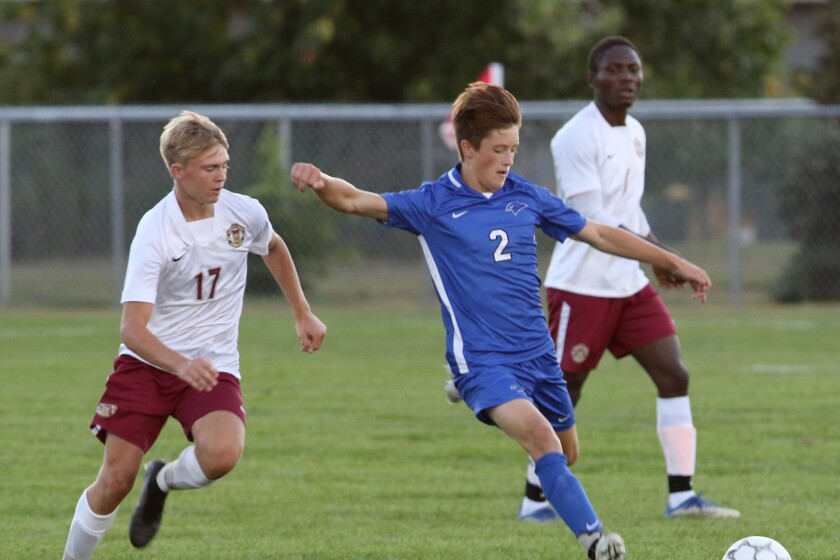 We are part of The Trust Project.
JAMESTOWN — If members of the Jamestown High School boys soccer team could conjure up a physical image of what a silver lining woud look like, it would probably bear a striking resemblance to Grant Lunde.
Following a 2-0 loss to Minot Thursday evening, members of the Blue Jay soccer squad gathered together and started analyzing all the positives that came out of the 80 minutes spent on Rotary Field.
Lunde's name was tossed out as one of those positives.
"One of the things that the captains have decided to do this year is give props after every practice and every game," JHS head soccer coach Brandi Harty said. "We always try to find the positive in anything that we do.
"Grant is brand new to this. He really is doing well. He is growing by leaps and bounds so we try and recognize those things because those are important."
Harty and the Jays dropped to 1-1-0 in the West Region standings, while the Magicians are now 3-1-0 overall and 1-1-0 in the WDA.
The Jays are set to host Dickinson on Tuesday with the first kick scheduled for 7:30 p.m.
The Jimmies went 2-for-4 on the power play in the loss.
Neither the Jays nor the Magicians did a whole lot — or any —scoring in the first half. Minot outshot the Jays 6-1 in the first frame but Lunde proved his worth, keeping the ball out of the net.
Lunde pitched his first shutout of the year in the team's season opener against Legacy on Aug. 16.
"A lot of people don't understand that Grant started as a field player and just started developing into a goalkeeper the last month and a half of the season last year," Harty said. "What he's overcome as a sophomore and new is amazing to me. He's very athletic kid."
A series of four shots in the second half were all stopped by Lunde but it was on a long slow kick that got the best of the sophomore.
The ball split his legs and slipped into the back of the net to give Minot the lead. Minot kept the pressure on Lunde, scoring once more at the 62nd-minute mark.
"He made a lot of great saves tonight. It is unfortunate that first goal did happen but that's just one mistake out of a lot of positive things he did tonight," Harty said.
It wasn't just Lunde who got his name written in the silver linings playbook.
Due to some injuries, Harty said her crew needed to adjust defensively. Freshman John Belzer had to step in for the first time in his career and play a full 60 minutes.
"I expected us to compete like we did," Harty said. "I knew that we would struggle a little bit in the attack but there were little bursts of energy and our boys showed that they could be creative and can attack against good teams."
It just helps when you have a little more depth on your side.
"Our boys are fit so their fitness is not a concern to me, our biggest problem right now is just injuries," Harty said.
Connor Traut did not make an appearance Thursday evening due to an ankle injury he sustained in the team's season opener on Aug. 16. Ryan Larson was also out with a shoulder injury while Carter Genter was on the sidelines with a bum knee.
Even with three key players out, Harty has high hopes for what her team can do the remainder of the season.
"We can play with this team," Harty said. "We are very capable and I think that if we stay healthy and get some players back, that game up in Minot will be different. I really believe that."

Minot 2, Jamestown 0
MIN 0 2 — 2
JHS 0 0 — 0
Scoring
First half: No scoring.
Second half: 1. MIN Brayden Oswalt, (unassisted), 52nd minute; 2. MIN, Vincent Palaia (unassisted), 62nd minute;
Goalkeeper saves: Minot, John Dufner, 2; Jamestown, Grant Lunde, 17
Shots on goal: Minot 17; Jamestown 2
Records: Minot 3-1-0, 1-1-0 WDA; Jamestown 1-1-0, 1-1-0