Schmidt leading consistent Mustangs boys' basketball team
Schmidt is trying to lead the Mustangs back to the state tournament for the first time since Ashley made it in 1972.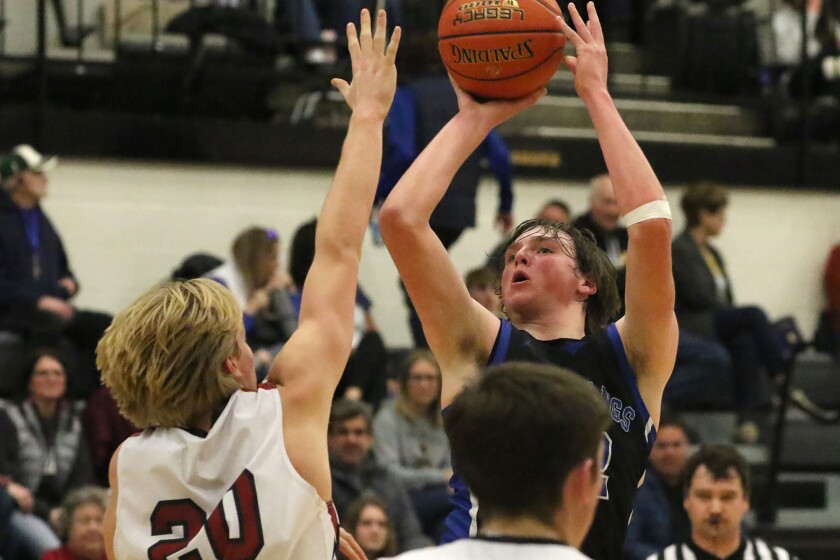 WISHEK, N.D. — Heading into the 2022-23 season, the South Border Mustangs were predicted to finish third in District 6 by The Hoopster. Currently, the Mustangs sit first in the district, and one of the big reasons for that is junior Trevor Schmidt.
"He's a huge part of our team," Mustangs head coach Corey Bader said. "We feed off of him, that's how we get our open shots. There's times where they're double-teaming him and he's kicking out and we're knocking down big shots. It's a combination of both obviously, it takes a team but with his stats and what he's doing, he's a vocal point of our team."
As of Jan. 25, the Mustangs sit at 8-4, 2-0 in district play and are on a two-game winning streak. This season, Schmidt is averaging 21.5 points per game, 10 rebounds, 2.9 steals per game, 4.7 assists and 1.2 blocks while shooting 52% from the field and 70% from the free-throw line.
Schmidt credits his success to his teammates and their play on the floor.
"The team as a whole is better which opens stuff up for me," Schmidt said.
Schmidt said his leadership and his emotions are both his best skill and something he wants to continue to work on as the season goes along.
"I can run the court pretty well, I can help my teammates keep their head up," Schmidt said. "Sometimes, I get too mad and get myself in my head and get taken out of the game for a little bit. I struggle for a while but once I get back in it I'm OK."
While he is shooting well from the field, Schmidt said he works on his 3-point shot the most. He said the most underrated part of his game is his mid-range game.
As one of only six upperclassmen on his team, Schmidt has taken on a leadership role for his team. Bader said Schmidt is the most vocal leader on the team and helps organize the team.
"A lot of my teammates see the time I put in and playing with me they get some confidence," Schmidt said. "They do the best they can and I do the best we can every night and sometimes are better than others but we always push through as a team."
Bader said Schmidt is able to thrive under pressure and helps the team win tight games.
"There's clutch times where we go to him and he's been delivering," Bader said.
Schmidt is listed on the roster at 6 feet, 4 inches, which he said gives him an advantage over other undersized players.
"I can't jump as high as some people but I got long arms which helps get some boards and you're able to see where the ball comes off sometimes so you can position yourself in the right place," Schmidt said. "That helps a lot too."
Despite only playing for the Mustangs since his freshman year, Bader has known Schmidt since he was in second grade and has seen Schmidt work and improve his craft every year.
"He's improved every year, his IQ. He's got a passion for basketball," Bader said. "Basketball is his sport, that's his passion, he plays all the time. So, obviously, he's putting the time and the work in. I would say Trevor is probably one of the top players in the region but is not a naturally-gifted athlete. Trevor works for everything he's got."
On Jan. 7, Schmidt and the Mustangs finished third at the Stutsman County Tournament with a 66-63 win over Edgeley/Kulm-Montpelier. During the tournament, Schmidt averaged 18.6 points per game.
"We know he's a good player but I think he's understanding even more team basketball and I think he's letting the game come to him," Bader said. "He's not over forcing, he's letting the game come to him, what the defense is giving him. If they plug it up, he can step out, if they're playing on him (with one defender) he can post, he just seems more settled and playing more free and looser than he has in the past."
The Mustangs are back in action at 6 p.m. Thursday, Jan. 26, when they host the Rebels.
"It should be another fun game, a winnable game if we come out to play," Schmidt said. "I think it will go back and forth, it should be a good game."