'We'll take it': Blue Jays survive late push from Dickinson
The Jamestown High School girls basketball team hosted Dickinson on Jan. 7.
We are part of The Trust Project.
JAMESTOWN — Ella Falk's highlight reel will likely be a full-length movie by the time she finishes high school.
She just keeps making great plays.
Saturday afternoon was a perfect example.
Down 58-59, Falk a senior guard for the Jamestown High School girls basketball team, landed a 20-foot jumper to give her team a one-point advantage with 16.9 seconds remaining in regulation.
"We have a veteran group and I like to let them play a little bit," JHS head coach Andy Skunberg said. "We got the ball in and our original play didn't work and then all of a sudden I saw Ella with the ball and she's done this many times so we just kind of let her go and she made a great shot to give us the lead."
The Jays topped the Midgets 61-59 to collect their third conference win of the season. Jamestown is now 3-3 in the WDA and 4-3 overall. The Blue Jays are slated to travel to Mandan on Tuesday for a 5:45 p.m. tipoff.
"We played great defense down the stretch and got her to shoot the free throw. I am proud of their resiliency," Skunberg said. "Credit to our girls for not giving up and battling back. We held them to 10 times at the free throw line. That's eight points alone on free throws that we gained and when you win by two that's kind of your difference."
Falk wasn't just good on the offensive Saturday afternoon.
After getting her team the one-point lead, Falk transitioned quickly to defense and blocked Dickinson senior Caton Pearcy's shot attempt.
"I was just predicting that she was going to shoot it," Falk said. "She had made like three or four so I just went all or nothing — it would have looked really bad if she didn't end up shooting it."
Senior Haylie Hakanson regained possession of the rock with 3.1 seconds left in the game.
"We've kind of been lectured about not diving for the ball on the ground so that's kind of what was in my head was to go and get the ball," Hakanson said.
Hakanson inbounded the ball to Falk who would end up shooting two due to a Dickinson foul.
"I just really wanted to make both free throws," Falk said. "I only ended up making the one but that was enough."
The victory over Dickinson was the Jays' second of the weekend. Skunberg's crew cruised to an easy 92-26 win over Williston Friday night. Skunberg said the pair of wins is thanks to the Jays' ability on defense and the veteran group of scorers.
Blue Jay sharpshooter Breanna Oettle was credited with five 3-pointers for 15 points on Saturday — the first of which gave the Blue Jays a 13-6 lead over the Midgets. Oettle scored 33 points between Friday and Saturday.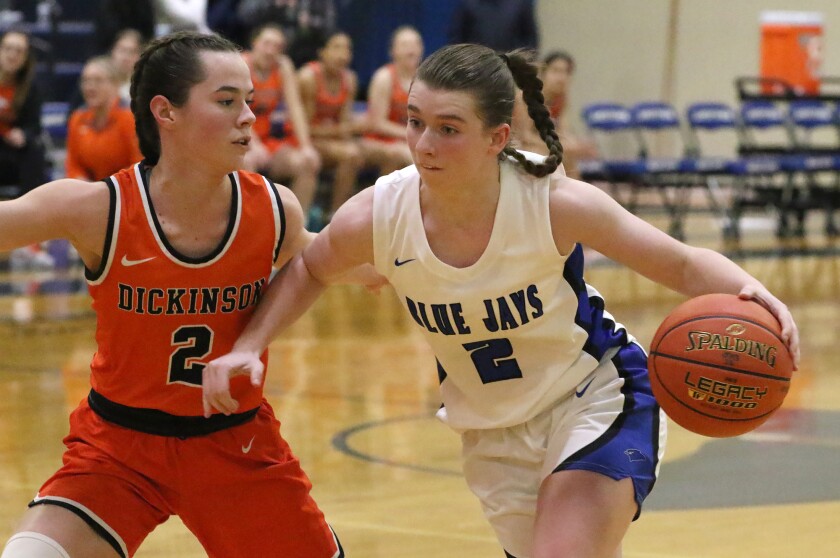 While Oettle's shots were landing, the rest of the Jays had some trouble landing their shots which gave Dickinson some room to work.
Junior Abbey Dutke gave the Midgets their first lead of the afternoon, burying back-to-back 3-pointers to make it 14-13 Dickinson.
The Midgets maintained the lead through the first, despite a late 3-point shot from Leah Trumbauer that brought the Jays' within two.
"I give Dickinson a lot of credit," Skunberg said. "They battled hard and they came ready and they shot very well tonight — probably the best they have all year."
Katie Falk put a bit of a damper on Dickinson's shooting the rest of the second half.
The senior forward hit three buckets to make it 56-54 Blue Jays. She nabbed 12 defensive and 16 total rebounds. She was the team's leading scorer with 17 points.
"Katie had a great end to the second half to give us the lead," Skunberg said.
It was a bit of a nail-biter but Skunberg said the Jays' last two games give them a big momentum boost heading into the rest of their season.
"We'll take it," Skunberg said. "From here, it's just one game at a time."
Jamestown 61, Dickinson 59
DHS 31 28 — 59
JHS 29 32 — 61
DHS — Stats unavailable.
JHS — Katie Falk 17, Breanna Oettle 15, Ella Falk 9, Teagan Bosche 7, Haylie Hakanson 6, Rylee Joseph 3, Leah Trumbauer 3, Jada Walter 1. Totals: 20 FG, 12-19 FT, 14 fouls. 3-pointers: Oettle 5, Bosche 1, Joseph 1, Hakanson 1, Trumbauer 1.