Rebels rejoice: E-K-M tops Lions, gets a second chance at state
Minutes after Edgeley/Kulm/Montpelier boys basketball fans mobbed the court Thursday night at the Jamestown Civic Center, 364 days of frustration flooded out of the Rebels' head coach Kevin Strobel.
Minutes after Edgeley/Kulm/Montpelier boys basketball fans mobbed the court Thursday night at the Jamestown Civic Center, 364 days of frustration flooded out of the Rebels' head coach Kevin Strobel.
It's goldarn tough to win the Region 3 tournament.
It's even harder to win it consecutively facing the winningest head coach in the history of North Dakota boys hoops, let alone wading through last year's mental anguish of a canceled Class B state tournament. Near the west baseline, Strobel looked at his team -- his community -- celebrating a 46-28 win over Linton/HMB and it was as if shackles came unchained from the man's shoulders in that very moment.
"They were determined ... almost speechless to be honest with ya," Strobel said, his voice breaking. "We won it last year. We didn't get to go and play, now this year we won it again.
"It's not easy to win three games to win the region. I don't care what year it is, but this year the top five teams were so strong and we earned it."
The Rebels and the Lions were the kings of Region 3 this season playing nearly polar-opposite offensive styles. North Dakota Sports Hall of Fame coach Dan Carr's Lions preferred to score from the perimeter, while the Rebels let fly one 3-point attempt in Tuesday's overtime victory against the Oakes Tornadoes in the semifinals, relying rather on size and physicality near the bucket.
Strobel opted to defend the Lions' all-state Lucas Schumacher on the outside with 6-foot-2 senior Jorgen Paulson, an athlete that doesn't typically light up traditional boxscores but has the ability to take over games in other ways. Paulson, with the help of junior guard Dalton Madcke, limited Schumacher to nine points on 4 of 18 attempts from the field, including 1 of 11 from 3-point range.
"Schumacher's a helluva player," Paulson said. "He can hit it anywhere ... 26 feet out. I just thought I had to get out there and we just had to talk on it. If there were screens, we had to switch and we just did what we came here to do.
"We just went for it."
The Lions were noticeably in trouble by halftime, trailing 24-13. Six EKM players were already into the scorebook, led by Madcke -- who banked in a 3-pointer with 5 seconds remaining in the half -- with seven points, while only Schumacher (5) and senior Carter Renz (8) had scored for the Lions through 16 minutes.
That trend continued. Renz would score a game-high 16, while Trace King turned in one of four Linton/HMB 3-pointers on 30 total attempts, to produce the Lions' 28 points when combined with Schumacher's nine.
"(EKM's) got a little length and I'm sure that bothered us a little bit, but I don't think we were patient enough, especially to start the game," said Carr, whose 20 wins coaching the Lions this season brings his staggering career total to 772. "We just didn't get into a rhythm and I thought we were forcing stuff. I would've liked to see us be a little more patient and a little more aggressive to the basket, and we just didn't do that tonight."
With that being said, the Lions probably would've liked their odds at advancing to a 21st state tournament after only allowing 46. Linton/HMB bookended a 12-game winning streak with two losses to EKM to end a solid season.
"We had a fun year," Carr said. "There was a lot of excitement and I'm very proud of them. I'm proud of the strides they made.
"(EKM) played very good defense. They worked hard at it and they're a good team. They'll represent us well."
An 11-3 run by the Rebels to open the second half all but put the game away. Paulson and EKM's 6-6 Alex Huber both converted traditional 3-pointers at the foul line and Paxton Mathern buried a triple from distance, pushing the advantage to 19 at 35-16 with 4:45 to play in the third.
The Lions would only score 12 more points the rest of the way.
"Just tremendous, not only scoring and balance but our defense was just light's out," Strobel said. "The guys were just a determined bunch of athletes tonight and they showed up to defend.
"I don't know if (the Lions) got too many open ones? I know Renz had a couple uncontested ones, but other than that everything was contested."
The Rebels' 6-7 senior center Chayse Entzi led the Rebels with 11 points, while Huber turned in seven points and 10 rebounds. The Rebels also received nine key points off the bench from junior Adam Nitschke, whose 3-pointer to start the second quarter broke a 6-6 tie and EKM never looked back.
Huber was named Region 3's senior player of the year.
"Words can't even explain how excited I am," Huber said. "We had to shut down Schumacher and Renz. We all stepped up and played good defense, and it showed."
The state Class B boys basketball tournament begins next Thursday (March 18) in Minot. The Rebels will play Region 6 champion Rugby in the opening-round at 2:30 p.m. Click here to view the entire tournament bracket.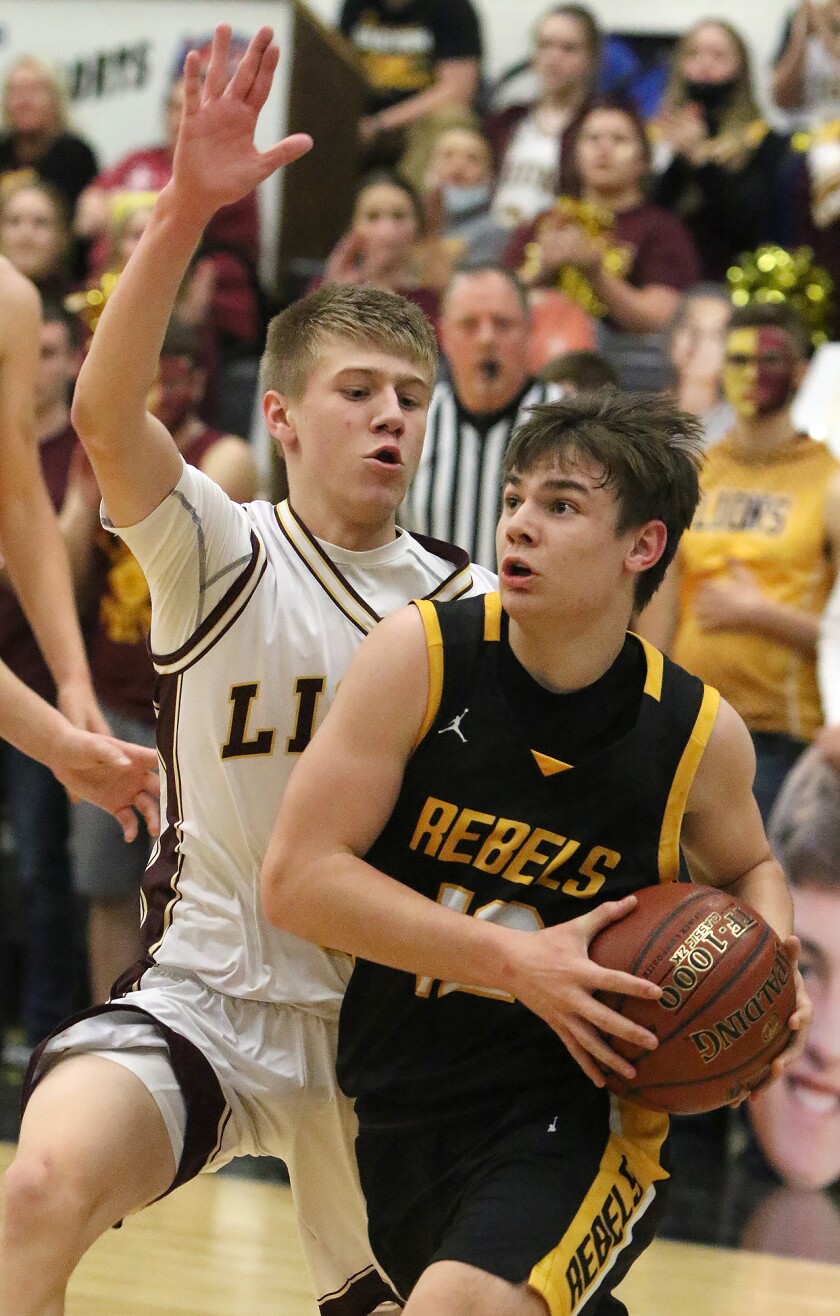 Edgeley hasn't been to the state tournament since winning the Class B title in 1990. Kulm last advanced in 1958, winning a state championship as well; Montpelier was represented with Litchville-Marion-Montpelier in 2000.
Last year's Region 3 championship was won by EKM over Strasburg/Zeeland on March 12. Shutdowns due to COVID-19 were already happening nationwide and the Class B boys basketball tournament was canceled the following day.
"Our coach yesterday told us to all go home and get a good night's rest and that's what we did," said EKM's Dalton Madcke. "We came here ready to play."
Region 3 Boys Basketball Tournament
At Jamestown Civic Center
(4) Edgeley/Kulm/Montpelier 46, (9) Linton/Hazelton-Moffit-Braddock 28
EKM 6 18 15 7 -- 46
LMHB 6 7 11 4 -- 28
EKM -- Chayse Entzi 11, Adam Nitschke 9, Alex Huber 7, Dalton Madcke 7, Paxton Mathern 7, Jorgen Paulson 5. Totals: 18-47 FG, 3-12 3-pointers (Mathern, Madcke, Nitschke), 7-12 FT, 41 Rebounds (Huber 10), 13 Fouls (Mathern), 9 Assists (Mathern 3, Madcke 3), 8 Turnovers, 1 Block (Paulson), 5 Steals (Mathern 3).
LHMB -- Carter Renz 16, Lucas Schumacher 9, Trace King 3. Totals: 11-47 FG, 4-30 3-pointers (Schumacher 2, King, Renz), 2-5 FT, 27 Rebounds (Schumacher 7), 13 fouls, 2 Assists (Schumacher, Landon Bosch), 7 Turnovers, 2 Blocks (Renz, Schumacher), 5 Steals (Schumacher 2).
Records: Edgeley/KM 22-2. Linton/HMB 20-4.
Region 3 Awards
Senior Athlete of the Year: Alex Huber, Edgeley/KM
Coach of the Year: Dan Carr, Linton/HMB
(Tournament seeding/records in parentheses)
March 8
G1: (D6-1) Linton/HMB 55, (D5-4) Ellendale 53
G2: (D5-2) LaMoure/LM 71, (D6-3) Strasburg/Zeeland 40
G3: (D5-1) Oakes 76, (D6-4) Napoleon/GS 51
G4: (D5-3) Edgeley/KM 67, (D6-2) Kidder Co. 55
March 9
G5: Linton/HMB 50, LaMoure/LM 38
G6: Edgeley/KM 69, Oakes 68 (OT)
March 11
Championship: Edgeley/KM 46, Linton/HMB 28